---
Album info
Album including Album cover
Martin Valcke (b. 1963), Jowan Merckx (b. 1961): Suite in C Major:

1

Valcke, Merckx: Suite in C Major: l'Envie d'être Samedi & la Cuite prise

04:35

Martin Valcke, Marnix De Cat (b. 1967), Jowan Merckx: Suite in E Minor:

2

Valcke, Cat, Merckx: Suite in E Minor: Gestold

04:17

Suite in D Minor:

3

Valcke, Cat, Merckx: Suite in D Minor: Laster

04:06

Suite in A Minor:

4

Valcke, Cat, Merckx: Suite in A Minor: Time crawls -when it should fly-

04:49

Suite in E Minor:

5

Valcke, Cat, Merckx: Suite in E Minor: le Lac profond & Ricochets

03:42

Suite in G Major:

6

Valcke, Cat, Merckx: Suite in G Major: Klapka & les Oiseaux à l'Aurore

02:44

Suite in G Minor:

7

Valcke, Cat, Merckx: Suite in G Minor: Zonderdak

02:22

Suite in A Minor:

8

Valcke, Cat, Merckx: Suite in A Minor: Stomend in de Zon

04:27

Martin Valcke, Jowan Merckx: Suite in G Minor:

9

Valcke, Merckx: Suite in G Minor: Charbel

05:35

10

Valcke, Merckx: Suite in G Minor: Raymond's Adieu

08:24

Suite in E Minor:

11

Valcke, Merckx: Suite in E Minor: Château Desclée & Aline

06:35

Martin Valcke, Marnix De Cat, Jowan Merckx: Suite in G Minor:

12

Valcke, Cat, Merckx: Suite in G Minor: 't Wolfsuur

06:35

Martin Valcke, Jowan Merckx: Suite in C Major:

13

Valcke, Merckx: Suite in C Major: l' Intimité déployante & en Chair et en Os & slippery

10:44

Total Runtime

01:08:55
Info for Time Crawls

The English broken consort was as one of the most popular instrumental chamber music forms around 1600. 'Exquisite Authors' or composers such as Thomas Morley, Peter Philips, William Byrd, and John Dowland wrote entire books full of 'Lessons' for this ensemble consisting of wind, string and plucked instruments. Their adaptations of popular tunes and dance-like pavanes and galliards often served as entertainment during theatre plays. Compositions like Hold fast or Follow me provided a humorous note, while the slow Tears and Lamentations of a Sorrowful Soul brought contemplation. The instruments offered extra symbolism: violins and viols were used for harmonious love scenes, flutes for fear and death, and plucked instruments for festive occasions.
Jowan Merckx, a member of ZEFIRO TORNA, had some of his own melodies rearranged by Flemish composers Martin Valcke and Marnix De Cat. This newly composed consort music is performed on historical instruments, by a team of international top musicians, who seamlessly shift between ancient, contemporary and improvised music. Enigmatic works such as 't Wolfsuur, Time Crawls and Le Lac profond fascinate with their sophisticated tonal language. Ingeniously crafted bourrées and jigs leave no one sit still and rouse to dance.
Jowan Merckx, flutes (flauti dolci & whistles)
Lotte Remmen, baroque violin
Jutta Troch, baroque harp
Liam Fennelly, viola da gamba
Alon Portal, violone, baroque bass
Jurgen De bruyn, lute, archlute, musical direction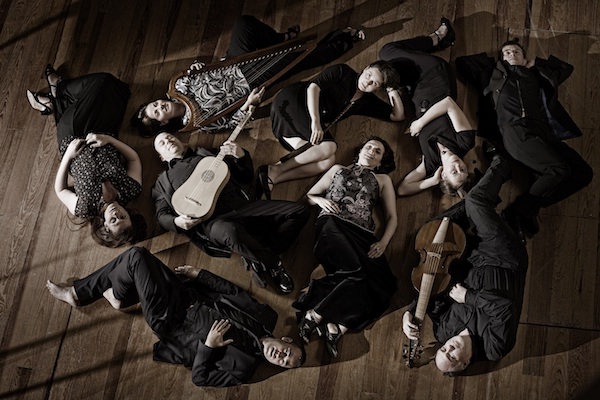 Zefiro Torna
The vocal-instrumental ensemble Zefiro Torna brings to life the cultural heritage from the middle ages, renaissance and baroque in a unique way. The ensemble does not limit itself to a merely historical approach but combines it with other musical traditions, as well as literature, science, philosophy and current art expressions in the field of fine arts, theatre and dance. This results in fascinating pieces of 'Gesamtkunst' around a variety of symbolic or allegorical themes.
Therefore, the ensemble entered into dialogue with individual artists, directors, choreographers, composers and performers as Anne-Mie Van Kerckhoven, Bram Bosteels, Brody Neuenschwander, Dick van der Harst, Ghalia Benali, Ief Spincemaille, Jeroen d'Hoe, Martin Valcke, Mauro Pawlowski, Sigrid T'Hooft, Stefaan Degand, Stevie Wishart, Timo Van Luijk, Tom Hannes and with ensembles as Abattoir Fermé, ARSENAAL/LAZARUS, Antwerps Kathedraalkoor, Figurentheater De Maan, Frank Vaganée Trio, Ialma, LOD, Pantalone, Psallentes, Ultima Thule, Vlaams Radiokoor/Hervé Niquet, Vocalconsort Berlin, ZOO/Thomas Hauert.
Through this approach, Zefiro Torna has gained international renown. The ensemble is a welcomed guest in prestigious (inter)national concert venues as Amuz, Bozar, Concertgebouw Brugge, De Bijloke, De Singel, Flagey, Handelsbeurs, Kaaitheater, Muziekgebouw aan 'tIJ Amsterdam, Philharmonie Haarlem, Radialsystem V/Berlin, Vredenburg Utrecht, Wilminktheater Enschede and art and music festivals as Brosella, Charleroi Danses, Festival de Wallonie, Festival van Vlaanderen-Mechelen, Klarafestival, Laus Polyphoniae, MAfestival Brugge, Zomer van Antwerpen, Banchetto Musicale/Vilnius, Biennale Alter Musik/Konzerthaus Berlin, Concentus Moraviae, Festival de Musica Antigua de Sevilla, Festival Oude Muziek Utrecht, Festival Seviqc-Brezice Slovenië, Frysk Festival, Gergiev Festival Rotterdam, Internationale Orgelwoche Nürnberg, Landshuter Hofmusiktage, Musikfestspiele Potsdam Sanssouci, Operadagen Rotterdam, Theaterfestival Boulevard 's-Hertogenbosch en Zeeland Nazomer Festival.
Their creations are regularly awarded and several of them have been released on the labels Et'Cetera, Warner Classics and Homerecords.

This album contains no booklet.