---
Album info
Album including Album cover
I`m sorry!
Dear HIGHRESAUDIO Visitor,
due to territorial constraints and also different releases dates in each country you currently can`t purchase this album. We are updating our release dates twice a week. So, please feel free to check from time-to-time, if the album is available for your country.
We suggest, that you bookmark the album and use our Short List function.
Thank you for your understanding and patience.
Yours sincerely, HIGHRESAUDIO
1

Unicorn

06:46

2

Fire Dance

04:23

3

Incantation

06:37

4

Wrong Number

04:32

5

Free Ride

05:18

6

Ozone Madness

06:27

7

Love Poem For Donna

04:32

8

The Last Stroke Of Midnight

04:33

Total Runtime

43:08
Info for Free Ride (Remastered)

The collaborations of Dizzy Gillespie and Lalo Schifrin went back to the early 1960s when the young Argentinian played piano in Gillespie's quintet. Schifrin's Gillespiana, a suite written for Gillespie and a big band, became one of the best known works of the era and its section called "Blues" a milestone in Schifrin's career. In 1977, Schifrin was established as a successful composer for television and movies but had maintained close ties with his former employer, who asked him to write the music that became Free Ride. The emphasis was on the funky pop side of jazz soul music. The electronic instruments included a synthesizer and the guitar of the appropriately nicknamed Wah Wah Watson. Also on hand among the backup musicians were Jerome Richardson, Oscar Brashear, Ernie Watts, and other stalwarts of the Los Angeles studio scene.
"Although Lalo Schifrin is justifiably praised for his soundtrack work, many jazz purists turn up their noses at his jazz dates, such as his '60s work with Jimmy Smith and Wes Montgomery. The things that make Schifrin an anathema to the diehards -- the huge orchestras, the pop and soul riffs, the general air of over the top theatricality -- are all over 1977's Free Ride, his reunion date with Dizzy Gillespie. (Schifrin had been Gillespie's arranger in the late '50s.) In fact, Free Ride is so painfully dated that it's transformed into cockeyed cool, just the sort of record ironic hipsters should listen to while they're reading the novelizations of '70s cop shows that they bought for a bundle off of eBay. Gillespie plays with his usual wit and panache, but most of the time, he sounds like a sideman on his own album; the real focus of Schifrin's arrangements is the funky wah-wah guitars and ARP synthesizer solos that take center stage on tracks like "Fire Dance" (which sounds exactly like it should be the theme for a Charlie's Angels spinoff) and the mellow disco of the closing "Last Stroke of Midnight." Occasionally, Gillespie gets to break out on his own album, with the lovely solo on "Love Poem for Donna" his particular standout. For what it is, Free Ride is really quite good (guests include Lee Ritenour and future star Ray Parker, Jr.), but it's very much a record of and for its time." (Stewart Mason, AMG)
Dizzy Gillespie, trumpet
Lalo Schifrin, keyboards, arranger, conductor
Oscar Brashear, trumpet
Jack H. Laubach, trumpet
Lew McCreary, trombone
Jerome Richardson, flute
Ernie Watts, saxophone
James Horn, saxophone, flute
Sonny Burke, piano, electric piano
Charles E. Spangler, synthesizer
Ray Parker Jr., guitar
Lee Ritenour, guitar
Wah Wah Watson, guitar
Wilton Felder, bass
Ed Greene, drums
Paulinho Da Costa, percussion
Digitally remastered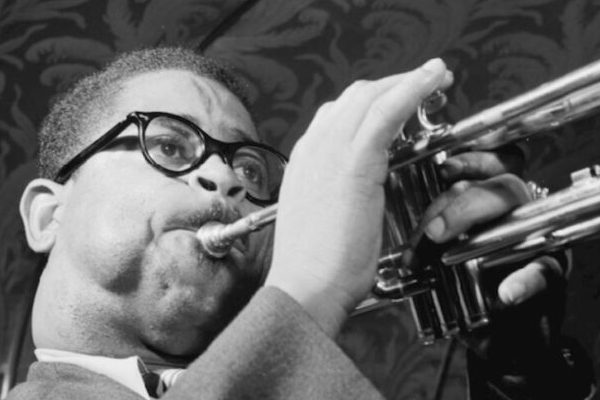 Dizzy Gillespie
John Birks "Dizzy" Gillespie was born on October 21, 1917 in Cheraw, South Carolina. Dizzy was the youngest of nine children. He started playing the piano at 4, trombone at 12, and the trumpet at 14. For the most part Dizzy was self taught. "Gillespie was born into a family whose father, James, was a bricklayer, pianist and band leader."3 Therefore trumpets, saxophones, guitars and pianos were at Dizzy's disposal. Tragically, Dizzy's father James died when he was just 10.
In 1935, Dizzy put his scholarly pursuits on hold at Laurinburg Institute in North Carolina on hold to move to Philadelphia to play in local groups. Dizzy joined the orchestra of Fran Fairfax in 1935, the orchestra of Teddy Hill in 1937, the orchestra of Cab Calloway in 1939, the orchestra of Ella Fitzgerald in 1942, and the orchestra of Earl Hines in 1943. During this period he acquired the nickname by which he has become universally known. "The name Dizzy resulted from his zestful behavior and was actually bestowed by a fellow trumpeter, Fats Palmer, whose life Gillespie saved when Palmer was overcome by fumes in a gas-filled room during a tour with the Frankie Fairfax band."
"In 1937, Gillespie met his future wife, Lorraine, a chorus dancer at the famed Apollo Theater: they were married in 1940 and remained together until his death." During a party for Lorraine, another band member bent Dizzy's trumpet in such a way that the upward 45-degree angle of the bell allowed him to hear the notes sooner than before. Also if he was looking at a chart and was looking down the horn pointed toward the audience. He enjoyed the unexpected side effects of the bent trumpet so much that he later ordered a trumpet constructed similar to the bent design.
Dizzy Gillespie and Charlie Parker have been attributed with the development of bebop and modern jazz. "Dizzy appeared on a Lionel Hampton record date, playing a solo on a tune entitled 'Hot Mallets' which many observers believe to be the first recorded example of what would later be called bebop." In 1945 Gillespie formed his own big band, with limited commercial success, that showcased the concept of big band bebop as a form of jazz.
In the late 1940s Dizzy was involved with a movement dubbed Afro-Cuban music. It brought Latin and African elements into the jazz scene. One of his most famous songs contributing to this movement was "Manteca."
In 1956 during Dwight D. Eisenhower's presidency, Dizzy organized a band to go on a State Department tour of the Middle East, Africa, and Asia which earned him the nickname "the Ambassador of Jazz." Gillespie played using the bebop style for the rest of his career. In 1960, he was inducted into the Jazz Hall of Fame. In 1979, Dizzy published his autobiography To Be or Not to Bop. In the 1980s he led the United Nations Orchestra. 1989 was a whirlwind year for Dizzy as he gave 300 performances in 27 countries. Dizzy died on January 1993 in Englewood, New Jersey.
"In the history of the development of jazz trumpet, Gillespie's place ranked second only to that of Louis Armstrong." Gillespie's career rarely failed to show fresh thought, excitement, and exuberant vitality. Dizzy created a legacy for inspiring musicians to follow. This musical legacy is best summarized by him, "The Music of Charlie Park and me laid a foundation for all the music that is being played now…. Our music is going to be the classical music of the future."

This album contains no booklet.