---
Album info
Album including Album cover
1

Sisar

06:59

2

Matkalla

06:46

Total Runtime

13:45
Info for Matkalla

Masa Orpana was born in Kangasala, Finland in 1973. He has worked as a professional musician since 1993. His main instrument is the tenor saxophone, but he also plays other saxophones, the clarinet, the flute and the guitar and writes music for his bands. He works with his own group Masa Orpana Honk and plays in Anssi Tikanmäki Orchestra, Jazzmuseo, Wiley Cousins Band and Rakka.
Masa Orpana, saxophone
Sami Sippola, piano
Ville Rauhala, double bass
Janne Tuomi, percussions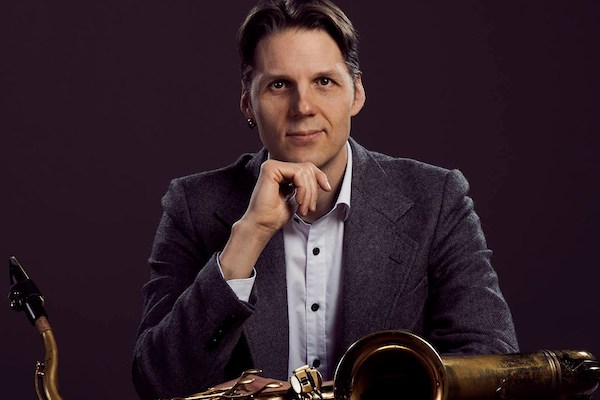 Masa (Matti-Juhani) Orpana
was born in Kangasala, Finland in 1973. He has worked as a professional musician since 1993. His main instrument is the tenor saxophone, but he also plays other saxophones, the clarinet, the flute and the guitar and writes music for his bands. He works with his own group Masa Orpana Honk and plays in Anssi Tikanmäki Orchestra, Jazzmuseo, Wiley Cousins Band and Rakka. Over the years Masa has played with the bands Groovy Eyes, Honky Tonk Men, Olmarin Unioni, One O'clock Humph, Funky Kingstone and Jazzgangsters too.
Masa is a versatile musician with a special interest in rhythm and blues and other roots music, jazz, rock and improvised music. He has always enjoyed playing in all kind of bands and performing live music on different occasions, from pub gigs to concert hall settings. With different groups he has played on many festivals and clubs in Europe and North America.
Masa has released five records under his own name: Honky Tonk Man (Alba Records 2005), Brothers (Alba 2008), Travelin' Home (Alba 2014), Rusty (EP; Alba 2018), Honk (Alba 2018). As a band member he appears on the albums of Groovy Eyes, Anssi Tikanmäki Orchestra, Holy Land and many more.
Masa has also played the woodwinds as a session player, appearing for example on the records of Marko Haavisto & Poutahaukat, Yö, Olli Lindholm, Suvi Teräsniska, Jonne Aaron, Pate Mustajärvi, Mikko Alatalo and Tulenkantajat. Masa has also worked as a theatre musician and saxophone and music theory teacher. Masa has played his sax with many legendary artists and musicians, including Diz Watson, Tony Uter, Junior Watson, Jo' Buddy; Ismo Haavisto and Eero Raittinen.

This album contains no booklet.