---
Album info
Album including Album cover
Isaac Albéniz (1860 - 1909): Suite española, Op. 47:

1

Suite española, Op. 47: I. Asturias

06:42

2

Suite española, Op. 47: II. Sevilla

05:26

3

Suite española, Op. 47: III. Granada

05:15

4

Suite española, Op. 47: IV. Cataluña

04:19

Joaquín Turina (1882 - 1949): Sonata, Op. 61:

5

Sonata, Op. 61: I. Allegro

04:17

6

Sonata, Op. 61: II. Andante

04:28

7

Sonata, Op. 61: III. Allegro vivo

03:37

Manuel de Falla (1876 - 1946): Siete canciones populares españolas:

8

Siete canciones populares españolas: I. El paño moruno

01:18

9

Siete canciones populares españolas: V. Nana

01:41

10

Siete canciones populares españolas: VI. Canción

01:09

Federico Moreno Torroba (1891 - 1982): Sonatina in A Major:

11

Sonatina in A Major: I. Allegretto

03:56

12

Sonatina in A Major: II. Andante

03:44

13

Sonatina in A Major: III. Allegro

04:20

Canciones españolas antiguas:

14

Canciones españolas antiguas: I. Anda, jaleo

02:28

15

Canciones españolas antiguas: II. Sevillanas del siglo XVIII

02:05

16

Canciones españolas antiguas: III. La Tarara, canción infantil

01:28

Tonadilla for two guitars:

17

Tonadilla for two guitars: I. Allegro ma non troppo

02:52

18

Tonadilla for two guitars: II. Minuetto pomposo

05:15

19

Tonadilla for two guitars: III. Allegro vivace

04:07

Total Runtime

01:08:27
Info for Canciones

Great to see this wonderful debut album from Canadian guitarist Adam Cicchillitti on the amazing Canadian label Analekta. Cicchillitti has been super active over the past couple of years, making a big splash on the guitar scene. Also note, recording engineer, editing, mixing, mastering by Drew Henderson. Here's a blurb from the album notes, "Few national music styles are as connected with one instrument as is Spain with the guitar. The instrument seems to contain the colours, the very spirit of the various and diverse regions of the country within its wooden casing. This album, entitled Canciones, also demonstrates most eloquently that many Spanish composers seem to have had an innate way with the profoundly intriguing possibilities of the instrument."
Few national music styles are as connected with one instrument as is Spain with the guitar. The instrument seems to contain the colours, the very spirit of the various and diverse regions of the country within its wooden casing. This album, entitled Canciones, also demonstrates most eloquently that many Spanish composers seem to have had an innate way with the profoundly intriguing possibilities of the instrument.
The present program features works by Spanish composers of the late nineteenth and twentieth centuries. If many (such as Joaquín Rodrigo and Joaquín Turina) wrote frequently and eloquently for the instrument, others heard on this recording (such as Isaac Albéniz and Manuel de Falla) wrote works originally conceived for other instruments (such as the piano and the voice) that were transcribed for guitar – which in retrospect was a natural development. Yet despite apparent differences, it is what binds and unites the composers to be found on this recording that is most important and rewarding. All the featured composers, from Albéniz to Federico Moreno Torroba and Rodrigo (the latter born in Valencia), were inspired by Spain's historically rich musical history and equally important folk music. Many, such as Albéniz and de Falla, were directly influenced by the father of Spanish musical nationalism, Felipe Pedrell, and all used folk music, folksong and Spanish dance as a direct and major source of inspiration for their guitar compositions. For his part, the celebrated author Federico Garcia Lorca not only sang folksongs, but accompanied them on the piano in arrangements of his creation.
All the composers present on this album not only evoked the popular and folk origins of much Spanish music, but each in his own very personal way etched out the contours of their nation in musical lines. Albéniz's Suite española (1887) and de Falla's Siete canciones populares españolas (1913) evoke various regions of Spain as though part of a musical as well as geographical voyage of discovery. The former's graceful "Granada" (serenata) describes the region of Andalusia as effectively as "Sevilla" (Sevillanas) does Seville. The courtly corranda epitomizes Albéniz's native Catalonia as touchingly as de Falla's "El paño moruno" recalls the rhythmically emphatic music of Murcia or his "Nana", the Andalusian lullaby the composer's mother sang to him. If Garcia Lorca's assimilation and reinterpretation of his native Andalusian folksongs was characterized by piquant harmonic inflections and twisting melodic arabesques, Joaquin Rodrigo preferred in his stately "Tonadilla" (a kind of dance-like musical intermezzo originally written for two guitars) to underline Spain's glorious musical history of a bygone age.
Two twentieth century masters of guitar composition, Moreno Torroba (born in Madrid) and the Sevilla born Turina were both inspired by the defining presence and inspiration of Andrés Segovia, the guitarist who gave the guitar an international credibility and notoriety. Moreno Torroba (who could not play the instrument) composed a youthful three-movement Sonatina for Segovia that blended classical form with a quintessentially Spanish romanticism that displayed the instrument's lyrical but also more overtly expressive possibilities. Turina's 1931 Sonata (also written for Segovia) fused a hint of French impressionism with the flamenco idiom in the way that the other so-called Spanish Nationalist composers such as Pedrell, de Falla, and Moreno Torroba did. These works also displayed a rhythmic vitality, tonal variety and range of sonority, matched only by the considerable technical fluency and proficiency demanded and required.
This album remains more than a series of musical snapshots of Spain. It is more a tapestry in music of the regions and contrasts of Spain, its sources of inspiration and its multiple influences. And to evoke Spain's beating heart and perhaps even its "soul," it is only natural that one turns to the guitar. (Richard Turp)
Adam Cicchillitti, classical guitar
Philippe Courchesne-Leboeuf, classical guitar
Steve Cowan, classical guitar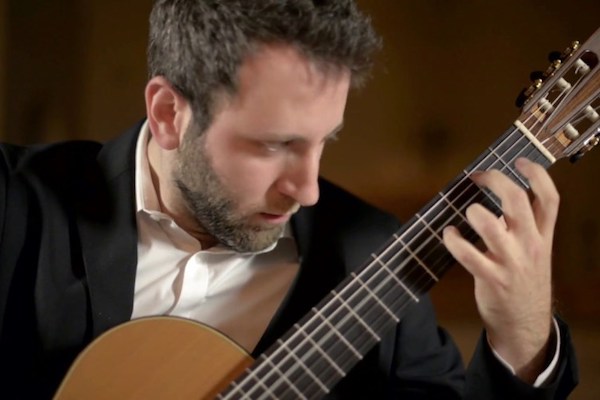 Adam Cicchillitti
There were several media accolades in 2017 for Montreal-born guitarist Adam Cicchillitti. The renowned American magazine Classical Guitar called him "a superb Canadian guitarist" and CBC Music included him on its list of Canada's top thirty most promising young musicians in classical music, describing him as an "ardent ambassador for classical guitar." His debut album Canciones, which was financed by the Canada Council for the Arts and MusicAction, was released in early 2018 under the Analekta label. The CBC music flagship classical music program In Concert mentioned that "every note stands out, like the brilliant distinct colours of a masterpiece by Pablo Picasso" when describing Adam's debut album.
Known as one of the most promising guitarists of his generation, Cicchillitti is an active performer, composer, teacher and arranger. His compositions and arrangements are published by renowned editor les Productions d'Oz. In 2016, he toured Eastern Canada with Jeunesses Musicales and baritone Philippe Courchesne-Leboeuf, showcasing his arrangements of German and Spanish song cycles for the intimate duo of voice and guitar. He has been a featured soloist at Angèle Dubeau's Fête de la musique, Canada's premier guitar festival Guitare Alla Grande, Place-des-Arts and Salle J.-Antonio Thompson. His critically-acclaimed video-recordings for Radio-Canada, featuring his arrangements of Schubert songs with Philippe Sly, have reached hundreds of thousands of people internationally through social media.
Adam is currently completing a doctorate in music performance at McGill University, studying with celebrated guitarist Jérôme Ducharme. Finalist, semifinalist and multiple prize-winner in several national and international competitions, Adam will tour with acclaimed guitarist Steve Cowan and Debut Atlantic in 2018. The duo will release a second album with Analekta, celebrating the music for two guitars by renowned Canadian composers, in October 2019. Adam is the founder of the guitar program at Ottawa Suzuki Strings and is a specialist in child pedagogy.

This album contains no booklet.