---
Album info
Album including Album cover
Richard Strauss (1864 - 1949): Enoch Arden, Op. 38, TrV 181 (Narrated in English):

1

Strauss: Enoch Arden, Op. 38, TrV 181 (Narrated in English): Long Lines of Cliff Breaking

07:11

2

Strauss: Enoch Arden, Op. 38, TrV 181 (Narrated in English): So These Were Wed

07:29

3

Strauss: Enoch Arden, Op. 38, TrV 181 (Narrated in English): She When the Day That Enoch Mention'd

08:13

4

Strauss: Enoch Arden, Op. 38, TrV 181 (Narrated in English): And So Ten Years, Since Enoch Left

08:53

5

Strauss: Enoch Arden, Op. 38, TrV 181 (Narrated in English): When Lo' Her Enoch Sitting on a Height

03:51

6

Strauss: Enoch Arden, Op. 38, TrV 181 (Narrated in English): And Where Was Enoch?

07:28

7

Strauss: Enoch Arden, Op. 38, TrV 181 (Narrated in English): Thus Over Enoch's Early Silvering Head

07:47

8

Strauss: Enoch Arden, Op. 38, TrV 181 (Narrated in English): Now, When the Dead Man Come to Life

09:08

9

Strauss: Enoch Arden, Op. 38, TrV 181 (Narrated in English): Woman, Disturb Me Not Now at the Last

04:41

The Castle by the Sea, TrV 191 (Narrated in English):

10

Strauss: The Castle by the Sea, TrV 191 (Narrated in English)

05:04

Total Runtime

01:09:45
Info for R. Strauss: Enoch Arden, Op. 38, TrV 181 & The Castle by the Sea, TrV 191

SOMM Recordings announces a major addition to the Richard Strauss catalogue with new recordings of his settings of two era-defining melodramas: the epic poem Enoch Arden by Alfred, Lord Tennyson, England's revered and longest-serving Poet Laureate, and German poet Ludwig Uhland's atmospheric interrogation of a traveller returning from a mysterious mediaeval fortress, The Castle by the Sea. Making their SOMM Recordings debuts are actor Christopher Kent and pianist Gamal Khamis.
Both works were composed for the distinguished German actor and director, Ernst von Possart. A powerful, potent and timeless tale of honour, love and sacrifice within a love triangle, Enoch Arden is one of Strauss's most evocative and emotional scores. The Castle by the Sea – here in its first recording of Christopher Kent's translation – is a miniature gothic masterpiece.
Christopher Kent has appeared widely on stage (alongside Robert Lindsay and Timothy Spall), screen and radio. One of the UK's best-known voice actors, he is also known for his extensive collaborations with leading musicians, and has been a regular recital partner of Gamal Khamis since 2016.
Gamal Khamis is a multi-award-winning pianist with a flourishing international career hailed by The Times for his "formidable keyboard skills". He made his Wigmore Hall debut aged 10, is a regular contributor to BBC Radio 3, and a member of Lipatti Piano Quartet.
Christopher Kent, actor, voice
Gamal Khamis, piano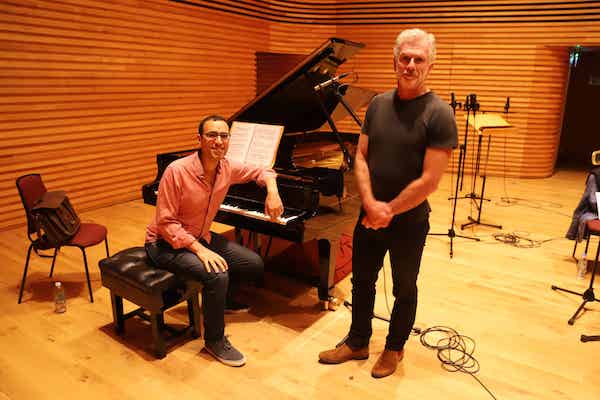 Christopher Kent
career as an actor has encompassed a wide range of classic and contemporary roles on stage, screen and radio. He now specialises in voice-over work for national and international clients and is one of the UK's busiest voice talents, available daily via ISDN, Source Connect and phone patch/FTP from his broadcast-quality London studio. His warm, natural and distinctive voice is familiar to audiences around the world and his fluency across a range of genres from medical narration to Shakespeare have made him an automatic choice for many leading clients including the BBC, ITV, Sky, Discovery and Nat Geo (documentaries & promos), Frozen 2, Artemis Fowl, The King's Speech (trailers) and Audi, Volvo, AEG & Vodafone (advertising)
Gamal Khamis
has performed at Carnegie Hall, Queen Elizabeth Hall and Sage Gateshead, as well as all over Europe, North America, Australia and New Zealand. He made his debut at the Wigmore Hall at the age of ten, and he gained a degree in Mathematics from Imperial College London before completing his formal education at the Royal College of Music, where he now works with the Vocal Faculty and the Junior Department. He has won major prizes at the Royal Over-Seas League Music Competition and the Ferrier Awards, and he has premiered works by many of Britain's leading composers including Eleanor Alberga, Daniel Kidane, Amy Bryce, Shiva Feshareki and George Stevenson. He has performed concertos by Mozart, Beethoven, R. Schumann, Grieg, Fauré, Saint-Saëns, Rachmaninoff, Stravinsky and Finzi with orchestras all over the UK, and he is a regular contributor to BBC Radio 3 In Tune, where he has performed alongside Sol Gabetta, Vilde Frang and Erwin Schrott.
Gamal is a Samling Artist, a member of the award-winning Lipatti Piano Quartet, and a coach and pianist on DEBUT's Horizon Project. He is on the Artistic Committee of the Park Lane Group, and he is an alumnus of the Banff Centre in Canada and the Concordia Foundation in London. Gamal performs regularly at both the Flatirons Chamber Music Festival in Colorado, USA, and the Marryat Players Chamber Music Festival in London. His recording of works by Richard Strauss alongside the actor Christopher Kent is released by SOMM Recordings in 2022, with support from the Richard Strauss Society. Gamal would like to thank The Carne Trust, The Finzi Trust and Help Musicians UK for their recent support of his career.

This album contains no booklet.