---
Album info
Album including Album cover Booklet (PDF)
Algirdas Martinaitis (b. 1950): The 3 M'art Comedy Seasons:

1

Martinaitis: The 3 M'art Comedy Seasons: No. 1, Commedia dell'arte Seasons

08:05

2

Martinaitis: The 3 M'art Comedy Seasons: No. 2, Ballet-Comedy Seasons

06:41

3

Martinaitis: The 3 M'art Comedy Seasons: No. 3, La caccia Comedy Seasons

07:13

Artizarra:

4

Martinaitis: Artizarra

05:07

Serenade for Mistress Europe:

5

Martinaitis: Serenade for Mistress Europe

18:31

Birds of Eden (Version for Orchestra):

6

Martinaitis: Birds of Eden (Version for Orchestra)

08:43

Valse triste:

7

Martinaitis: Valse triste

06:25

Chant de la lointaine:

8

Martinaitis: Chant de la lointaine

12:23

Total Runtime

01:13:08
Info for Seasons & Serenades: Works for String Orchestra

This album presents works for string orchestra by Lithuanian composer Algirdas Martinaitis (b. 1950) from his early breakthrough work Birds of Eden (1981) to a recent Valse triste (2020), giving a very broad vision of this composer. This programme is performed by Lithuanian musicians of the St. Christopher Chamber Orchestra conducted by Modestas Barkauskas and featuring violinist Rūta Lipinaitytė and soprano Asta Krikščiūnaitė.
For keen fans of music within the Baltic states, Algirdas Martinaitis is quite known for his works dancing between a serene beauty and sincerity before collapsing into an almost sarcastic nihilism, a style which he describes as "new animality". Within this style, much like Henryk Górecki's 'circus pieces', sarcasm, irony, and subversion of expectations become central to the music making. His early chamber works, including Birds of Eden, demonstrated his unique voice and saw him grouped with the neo-romantic movement within Lithuania. However, never wanting to be predictable or stuck in an idiom, he later shifted to a newer style. The Three M'art Comedy Seasons for solo violin and strings makes numerous musical references, not least to the famous Four Seasons of Vivaldi. Artizarra for string orchestra and harpsichord has an energised and bouncy nature which is comparable to J. S. Bach's concerti for multiple harpsichords or the latter movement of Górecki's concerto for the instrument. The album also two recent songs to lyrics by Oscar (Vladislas de Lubicz) Milosz (1877–1939), the famous Lithuanian French-language poet.
Asta Kriksciunaite, soprano
Ruta Lipinaityte, violin
St. Christopher Chamber Orchestra
Modestas Barkauskas, conductor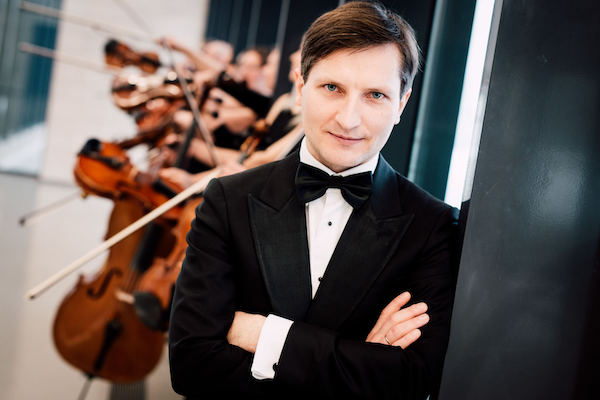 Rūta Lipinaitytė
studied at the Lithuanian Academy of Music and Theatre. Studies in Lithuania were combined with studies at the Malmö Academy of Music in Sweden with Prof. Alexander Fischer on violin and later at the Paris Conservatory of Music and Dance in the violin class of Boris Garlitzky. As a soloist, she has appeared with numerous orchestras including Dresden, Brno and Qatar Philharmonic, Croatian Radio Symphony, Lithuanian National Symphony Orchestra, and with Kremerata Baltica, Lithuanian, St. Christopher, Tallinn, Klaipėda, VDU, Šiauliai and Arkhangelsk Chamber Orchestras, Accademia d'Archi Arrigoni Chamber Orchestra and Moscow Chamber orchestra "The Seasons", to name a few. Although the repertoire of Rūta Lipinaitytė is versatile and diverse, Lithuanian contemporary music remains at the heart of the violinist. Lipinaitytė has released several music albums with Lithuanian music. Rūta Lipinaitytė was a member of the Grammy-winning Kremerata Baltica orchestra, established and headed by Gidon Kremer, since its foundation from 1998 to 2014. During 2004–09 the violinist was a member of the Kremerata Baltica Sextet.
Asta Krikščiūnaitė
The beauty and clarity of Asta Krikščiūnaitė's voice were noticed at a very early stage – she was awarded a Diploma at L. Pavarotti International Voice Competition in Philadelphia (USA); later she furthered her professional skills in the USA, where she studied under the tutelage of famous vocal teachers. During her professional career, she has performed operas, oratorios, chamber music, Lied, and contemporary works, among others. Krikščiūnaitė frequently collaborates with Lithuanian and foreign symphonic and chamber orchestras, and has performed in prestigious concert halls and at European music festivals.
St. Christopher Chamber Orchestra
is a collective known for its versatility, professionalism, and artistic imagination. The orchestra is a welcome guest not only in the prestigious concert halls of Lithuania but also abroad, such as the Paris Théâtre des Champs-Élysées, Reykjavik Harpa, Berwaldhallen in Stockholm, the UNESCO headquarters in Paris, the Royal Palace of Warsaw, St. Petersburg's Glinka Hall, Moscow's Tchaikovsky Conservatory, to name a few. The orchestra was formed in Vilnius in 1994 by the initiative of prof. Donatas Katkus.
Modestas Barkauskas
is one of the most accomplished and well-known young Lithuanian conductors. In 2006–2013 he studied orchestral conducting with professor Juozas Domarkas. Modestas Barkauskas is artistic director and conductor of the Vilnius St. Christopher Chamber Orchestra and Vilnius B. Dvarionas Youth Symphony Orchestra. He lectures at the Conducting and Choir conducting Departments at the Lithuanian Academy of Music and Theatre. In recent years, Barkauskas has presented many critically acclaimed programs with the Lithuanian National Symphony, Lithuanian Chamber and Latvian National Symphony Orchestras, Hamburger Camerata, Tallinn Chamber Orchestra, to name a few.

Booklet for Seasons & Serenades: Works for String Orchestra