---
Album info
Album including Album cover Booklet (PDF)
J.S. Bach (1685 - 1750): Passacaglia in C Minor, BWV 582 for six percussionists:

1

Passacaglia in C Minor, BWV 582 for six percussionists

07:39

Philip Lasser (b. 1963): Bach Echoes for Grand Vibraphone Hybrid Variations on Bach's A minor Flute Partita BWV 1013:

2

Bach Echoes for Grand Vibraphone Hybrid Variations on Bach's A minor Flute Partita BWV 1013: I. Allemande

05:34

3

Bach Echoes for Grand Vibraphone Hybrid Variations on Bach's A minor Flute Partita BWV 1013: II. Corrente

04:04

4

Bach Echoes for Grand Vibraphone Hybrid Variations on Bach's A minor Flute Partita BWV 1013: III. Sarabande

05:59

5

Bach Echoes for Grand Vibraphone Hybrid Variations on Bach's A minor Flute Partita BWV 1013: IV. Bourée Anglaise

03:46

J.S. Bach: Chorale "Christ ist erstanden, BWV 276":

6

Chorale "Christ ist erstanden, BWV 276"

04:19

Benjamin C.S. Boyle (b. 1979): Variations on a Bach Chorale for solo marimba:

7

Variations on a Bach Chorale for solo marimba

11:10

J.S. Bach: From "Cello Suite No. 5 in C Minor, BWV 1011":

8

From "Cello Suite No. 5 in C Minor, BWV 1011": Prelude (for solo bass marimba)

04:58

From "Well Tempered Clavier:

9

From "Well Tempered Clavier: Book II" for two marimbists Prelude and Fugue in G Major, BWV 884

03:46

10

From "Well Tempered Clavier: Book II" for two marimbists Prelude and Fugue in A Minor, BWV 889

05:34

Lane Harder (b. 1976): Prelude and Fugue for solo marimba:

11

Prelude and Fugue for solo marimba: E-flat Minor

07:30

12

Prelude and Fugue for solo marimba: D-flat Major

08:59

Total Runtime

01:13:18
Info for Bach Parallels

"Creating new works for marimba" and "Playing works by Bach on the marimba" are the two vessels on which I have been sailing through an ocean called a concert career. Although it seems that they are two quite different areas of works, they are in fact connected in an unexpected place and that is what, I strongly believe, led me to open my eyes to the territory beyond the usual horizon.  
When contemporary composers write new music for me, I always get deeply involved in their creative process even before they start writing the first note. Through my numerous experiences of closely observing how they use their mind and heart to compose, I have reached the point of believing that this must be the exact way that Bach created his music. This belief is the territory I mentioned and it also became the reason for which I dared to give another step forward when I interpret Bach's music.
While creating new works together with today's composers, I often propose my ideas or think with them of more effective ways to express their ideas on the marimba. I have frequently witnessed from this experience that not only do they have brilliant minds, but also their way of thinking is very flexible. Thanks to these valuable times together, I started feeling that I could imagine how Bach would have transcribed one of his works if he had been doing so for the marimba.
For this recording, I created a project to combine the two vessels together. I asked three composers to write pieces inspired by Bach and I have placed them in a parallel manner with Bach's works. The first half of the disc is dedicated to variations, beginning with "Passacaglia" and the second half to preludes and fugues.
Bach's music continues to be the source of our imagination after nearly 300 years. It was a true joy to see that this imagination bore the fruits of new music which embraces the sensitivities of our time and I am excited to hand them to the next generation. People might think of classical music as the music of the past. Rather, I would like to send a message that we are travelling in the midst of a big current of classical music which pulsates as living music.
Makoto Nakura, marimba, bass marimba, vibraphone, xylophone, glockenspiel
Reiko Kono, marimba, percussion (on tracks 1, 18, 19)
Recorded December 21, 2016 and September 2, 2019 at Sekiguchi Catholic Church, St. Mary's Cathedral, Tokyo, Japan
Recorded March 28 and 29, 2018 at Karuizawa Ohga Hall, Nagano, Japan
Engineered and mastered by Hideo Irimajiri
Produced by Makoto Nakura and Hideo Irimajiri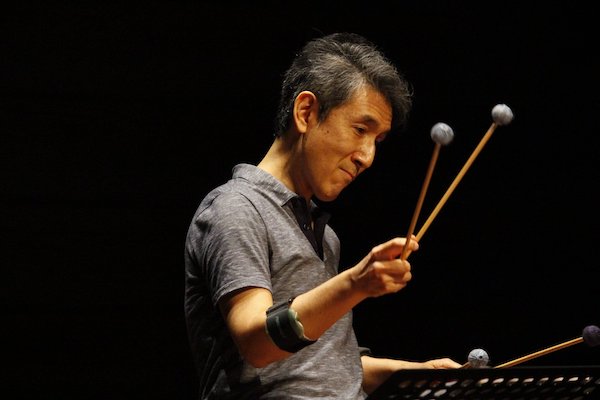 Makoto Nakura
is a musician whose artistry and astonishing virtuosity has been mesmerizing audiences for a quarter of a century. In 1994, Makoto moved from his native Japan to New York City, becoming the first marimbist to win first prize in the prestigious Young Concert Artists International Auditions. His critically acclaimed performances around the world have included venues in London, Paris, Berlin, Tokyo, Hong Kong, Seoul, Montreal, Mexico City, Sao Paulo and Buenos Aires.
In the U.S., he has performed for audiences in 41 of the 50 states, with orchestras such as the New York Chamber Symphony, the Chicago Sinfonietta and the Los Angeles Chamber Orchestra and, as a recital soloist, his long list of appearances includes Carnegie's Weill Recital Hall and Washington's Kennedy Center. He has appeared as a guest artist with The Chamber Music Society of Lincoln Center and appeared in many chamber music festivals as a chamber musician. A television portrait of Mr. Nakura was shown on CBS News Sunday Morning throughout the U.S.
Mr. Nakura has established himself as a dedicated champion of the music of our time. Since he founded the ISGM New Music Commissioning Fund in 2001, numerous solos, concertos, chamber works and interdisciplinary works have been commissioned from leading composers by the fund for him.
He has also been developing collaborative works with other art forms, such as a project with the American Ballet Theatre as well as ones with the spoken word, paintings and image projection.
Born in Kobe, Japan, Mr. Nakura began to play the marimba at the age of eight. He earned both Bachelor's and Master's degrees from Musashino College in Tokyo and continued his studies at the Royal Academy of Music in London from which he was named an Associate. In addition to teaching at the Kyoto City University of Arts for six years, he has also given masterclasses at many music colleges throughout four continents.
His recent honors include a National Arts Festival New Artist Award from the Japanese Agency of Cultural Affairs, the Barocksaal Award from the Aoyama Music Foundation in Kyoto, the Grand Prize from the Kobe Art Award and the BMI/Carlos Surinach Fund Marimba Commission.
He has released four CDs ("Ritual Protocol", "Triple Jump", "Wood and Forest" and "Tsuneya Tanabe Marimba Works") devoted to the works composed especially for him. His own transcriptions have borne the fruit of three critically acclaimed CDs "Bach Beat", "Bach Beat II" and "Tears and Prayers".

Booklet for Bach Parallels