---
Album info
Album including Album cover Booklet (PDF)
Jules Massenet (1842 - 1912): Ariane, Act I:

1

Massenet: Ariane, Act I: Prélude et Scène. Vers les rives blanches

02:58

2

Massenet: Ariane, Act I: Scène. Quoi ! dans le Labyrinthe énorme

01:26

3

Massenet: Ariane, Act I: Air. Délices de mon cœur violent

03:49

4

Massenet: Ariane, Act I: Scène. Ô frêle corps, trop faible, hélas !

02:45

5

Massenet: Ariane, Act I: Air. Chère Cypris, Cypris compatissante

03:02

6

Massenet: Ariane, Act I: Entrée de Phèdre. Ariane !

02:47

7

Massenet: Ariane, Act I: Arioso et Scène. La fine grâce de sa force

03:44

8

Massenet: Ariane, Act I: Duo. Cypris ! Heureuse qui suivit

02:31

9

Massenet: Ariane, Act I: Combat du Minotaure. À l'aide ! Roi Thésée

02:49

10

Massenet: Ariane, Act I: Scène avec Chœur. Libres !

02:30

11

Massenet: Ariane, Act I: Entrée de Thésée. Certes nous irons

01:47

12

Massenet: Ariane, Act I: Air et Scène. Ariane, ô bouche fleurie

01:50

13

Massenet: Ariane, Act I: Scène finale. Que les fleurs

02:21

Ariane, Act II:

14

Massenet: Ariane, Act II: Prélude et Scène. La nef sur l'onde lisse

05:16

15

Massenet: Ariane, Act II: Scène. Puis Athènes luira

01:34

16

Massenet: Ariane, Act II: Duo. Mais je n'ai pas rêvé ?

02:01

17

Massenet: Ariane, Act II: Arioso et suite du Duo. Il me semble

03:20

18

Massenet: Ariane, Act II: Air. Sais-tu combien je souffrirai

01:40

19

Massenet: Ariane, Act II: Arioso et Scène. Quand Hercule eut conquis

02:13

20

Massenet: Ariane, Act II: Tempête. C'est la tempête !

05:14

21

Massenet: Ariane, Act II: Scène finale. Et c'est vers Naxos

02:46

Ariane, Act III:

22

Massenet: Ariane, Act III: Prélude

03:22

23

Massenet: Ariane, Act III: Monologue. Là-bas, la vierge sauvage

01:42

24

Massenet: Ariane, Act III: Duo. Où vas-tu, Roi ?

03:24

25

Massenet: Ariane, Act III: Scène. Thésée !

01:14

26

Massenet: Ariane, Act III: Air. Ariane !

02:41

27

Massenet: Ariane, Act III: Entrée de Phèdre. É ! ô ! é ! ô ! é ! Curée !...

01:23

28

Massenet: Ariane, Act III: Duo. Hélas ! il me donna l'espoir

03:05

29

Massenet: Ariane, Act III: Air et Scène. Tu lui parleras, n'est-ce pas ?

04:26

30

Massenet: Ariane, Act III: Air. Oui, j'accomplirai cette tâche sacrée

04:33

31

Massenet: Ariane, Act III: Duo et Arioso. Phèdre !

02:55

32

Massenet: Ariane, Act III: Duo – suite. Non ! Je ne peux pas

02:17

33

Massenet: Ariane, Act III: Arioso et fin du Duo. Ô Vierge guerrière

03:52

34

Massenet: Ariane, Act III: Scène. Ciel !

01:54

35

Massenet: Ariane, Act III: Arioso et Scène. Exécrable Aphrodite

02:58

36

Massenet: Ariane, Act III: Air. Ah ! le cruel ! ah ! la cruelle !

04:20

37

Massenet: Ariane, Act III: Scène. Eïa ! Eïa ! Eïa !

00:45

38

Massenet: Ariane, Act III: Air. Au val qui se hausse et décline

01:56

39

Massenet: Ariane, Act III: Scène et Cortège funèbre. Horreur !

02:36

40

Massenet: Ariane, Act III: Pantomime

01:17

41

Massenet: Ariane, Act III: Arioso. Chère Cypris, Cypris compatissante

01:15

42

Massenet: Ariane, Act III: Duo. Qu'implores-tu, jeune reine affligée

04:20

Ariane, Act IV:

43

Massenet: Ariane, Act IV: Prélude et Lamentations. Ah ! Hélas !

04:28

44

Massenet: Ariane, Act IV: Air. Hélas ! avant que le dieu noir

02:32

45

Massenet: Ariane, Act IV: Scène. Je suis la Majesté blafarde

02:34

46

Massenet: Ariane, Act IV: Entrée des Nymphes. Mais, qu'est-ce ?

01:48

47

Massenet: Ariane, Act IV: Duel des Furies et des Grâces. Avec leurs gestes d'or

04:06

48

Massenet: Ariane, Act IV: Scène. Mais, toi, que veux-tu ?

02:25

49

Massenet: Ariane, Act IV: Air des Roses. Ah ! Emmène ta sœur !

01:24

50

Massenet: Ariane, Act IV: Scène. Je ne veux pas revivre !

04:09

Ariane, Act V:

51

Massenet: Ariane, Act V: Prélude et Scène. Pirithoüs !

03:41

52

Massenet: Ariane, Act V: Duo. Phèdre ! Ariane !

04:22

53

Massenet: Ariane, Act V: Ensemble et Scène. Ariane ! oui, mais non point seule !

04:24

54

Massenet: Ariane, Act V: Scène. Venez, enfants ! Je n'ai plus de pleurs

06:11

55

Massenet: Ariane, Act V: Scène et Air avec chœur. Ils mentaient !

06:05

Total Runtime

02:42:47
Info for Jules Massenet: Ariane

"It would be difficult to find a simpler and more poignant subject", Massenet remarked during the composition of Ariane, a vast score in five acts premiered at the Paris Opéra in October 1906. The libretto by Catulle Mendès is part ancient drama, part symbolist poem, and sets Phaedra and Ariadne, two sisters in love with Theseus, in violent conflict with each other. This epic work does not shrink from relating the combat against the Minotaur, from showing a ship tossed by the raging billows, nor even from transporting the audience to the Underworld where Persephone reigns. Despite its flamboyant orchestration, its grandiose scenography and its triumphant premiere, Ariane remains one of the few Massenet operas never recorded until now. The young Egyptian soprano Amina Edris takes the title role with ardour and passion, surrounded by a cast well versed in the specificities of the French style. The Bavarian Radio Chorus provides dedicated support in the epic scenes, under the baton of Laurent Campellone, a great champion of Massenet.
Amina Edris, soprano (Ariane)
Marianne Croux, soprano (Eunoé / First Siren)
Judith van Wanroij, soprano (Chromis / Cypris / Second Siren)
Kate Aldrich, mezzo-soprano (Phèdre)
Julie Robard-Gendre, mezzo-soprano (Perséphone)
Jean-François Borras, tenor (Thésée)
Yoann Dubruque, baritone (Captain / First Mate)
Jean-Sébastien Bou, baritone (Pirithoüs)
Philippe Estèphe, baritone (Phéréklos/ Second Sailor)
Bavarian Radio Choir
Munich Radio Orchestra
Laurent Campellone, conductor
Please Note: We offer this album in its native sampling rate of 48 kHz, 24-bit. The provided 96 kHz version was up-sampled and offers no audible value!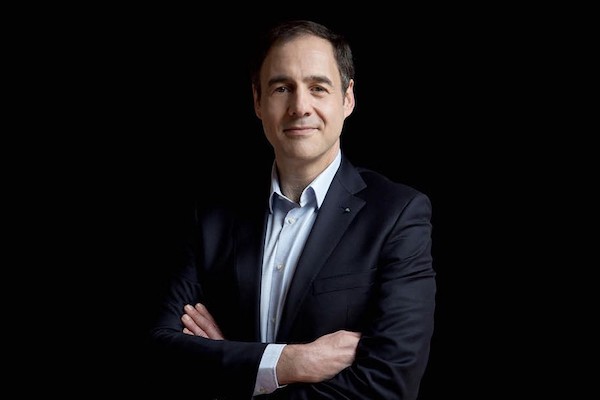 Laurent Campellonne
After studying violin, tuba, percussion and singing, Laurent Campellone trained as a conductor at the Conservatoire Frédéric Chopin in Paris, whilst graduating in Philosophy.
Aged 23, he was appointed assistant to the Toulon Opera House Musical Director. In 2000, he completed his training with Christoph Eschenbach.
In 2001, a unanimous vote awarded him the First Prize at the 8th edition of the UE Young Conductors International Competition, at Spoleto (Italy), in association with the National Academy of St Cecilia and the Rome Opera House.
Since then, Laurent Campellone has been invited to conduct nearly 200 symphonic works and over 60 operas.
He was for many years Musical Director of the Saint-Etienne Opera House and Symphonic Orchestra, where he gave a new breath to a policy of re-discovering 19th Century French lyric works, thus conducting many rare pieces by Massenet (Sapho, Le Jongleur de Notre Dame, Ariane, Le Mage…), Gounod (La Reine de Saba, Polyeucte) and Lalo (Le Roi d'Ys). This passion for the lesser known part of the French romantic repertoire does not outshine his readings of more notorious works, as repeatedly noted as saluted by international media.
Laurent Campellone has also been invited by numerous operas and orchestras, amongst which the Bolchoï of Moscow, the Deutsche Oper of Berlin, the Bavarian Radio Symphony Orchestra, the Radio-France Philharmonic Orchestra, the Brazil National Orchestra, the New Russia State Orchestra, the Dublin Philharmonic Orchestra, the Toulouse Capitole National Orchestra, the Sofia Philharmonic Orchestra, the Pays de la Loire National Orchestra, the Malaysian Philharmonic Orchestra, the Nancy National Opera Orchestra, the Nice Philharmonic Orchestra… He's also a regular guest conductor at French festivals, amongst which the Chaise-Dieu Festival and the Berlioz Festival.
His latest recording, Offenbach colorature, released in January 2019, was awarded a "Gold Diapason", a "Diamond" by Opéra Magazine and a "Choc Classica", features in Gramophone as part of their March 2019 selection and features in the BBC Music Magazine as part of their May 2019 selection.

Booklet for Jules Massenet: Ariane