---
Album info
Album including Album cover
1

Landed

00:42

2

Pawnshop

04:44

3

The Master Wore a White Robe

03:06

4

Palms

02:31

5

Dybbuk Tse!

05:30

6

1999

02:33

7

As We Entered Jericho

04:43

8

International Plots

03:11

9

Painkillers

03:37

10

South Star

04:40

11

The Biggest Fear

01:39

Total Runtime

36:56
Info for Dybbuk Tse!

Fast-rising pianist and producer Yoni Mayraz presents his debut LP 'Dybbuk Tse!' revealing the story of a malicious possession that is taking over one's body and soul.
Dybbuk, known from Jewish folklore, is a malevolent wandering spirit that enters and possesses the body of a living person. It's a cursed soul of a dead one that wanders tirelessly for sins committed during their life. The most vulnerable victims are the young and the sinful. Possession can be taken literally or as an analogy to the burden that young people carry generations back, which they have no influence on, and which they have to accept. Dybbuk can only be removed by exorcism. The titular 'Dybbuk Tse!' is a command to remove the spirit from the possessed body. The album is a story about possession but also about exorcism through music.
Recorded live with his band in a dusty wooden studio, 'Dybbuk Tse!' is indeed experimenting with the 'darker side of things', but yet with a somewhat lighthearted approach which is so typical of Yoni's work. He easily combines jazz with the sound of 90's New York hip hop and raw old school breakbeat. The album interweaves unique Middle Eastern melodies, sophisticated structures and sounds, and beautifully crafted solos played by some of the promising talents on the scene.
London based Israeli born pianist and producer Yoni Mayraz has set foot in the instrumental music scene with his EP 'Rough Cuts' released in 2020. Since then, Yoni and his band have been playing major venues and festivals around the world including the legendary Ronnie Scott's and The Jazz Cafe, to name a few, bringing raw energy to stage with live versions of the studio materials, and stretching the melodies and structures into a Dancefloor-focused take on jazz.
Yoni Mayraz, keyboards
Eli Orr, bass
Roy Reemy, drums
Matan Vardi, saxophone
Joe Melnicove, flute
Roy Zuzovsky, trumpet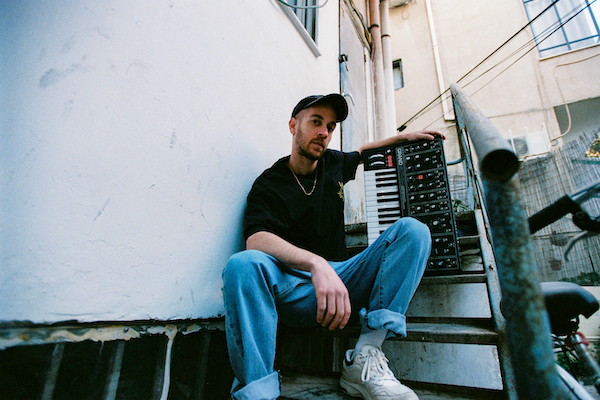 Yoni Mayraz
Pianist and producer Yoni Mayraz continues affirming his trademark hybrid sound, blurring the lines between jazz tradition, hip hop and Middle Eastern sounds - "Brilliant, i love it" - Gilles Peterson
Fast-rising jazz musician Yoni Mayraz exorcises dark spirits from within on his fiery debut album 'Dybbuk Tse!' on the ever–consistent Astigmatic Records. Yoni combines jazz with elements of 90's New York hip hop, old-school breakbeats and Middle Eastern music to create shimmering new hybrid forms.
A highly-skilled keyboardist and producer, Yoni burst onto the new jazz scene in 2020 with Rough Cuts, an EP which introduced the world to his unique musical style. Since thenthe London-based, Tel Aviv-raised player has released a pair of singles, 'The Rat' and 'Snow' via the Brighton label Village Live Records, been championed by radio stations including BBC 6, WorldWide FM, and Jazz FM and collaborated with the likes of Yussef Dayes bassist Tom Driessler, percussionist Zoe Pascal, and UK dance legend El-B. He's gained plaudits for the raw energy of his dancefloor-focussed live shows at gigs headlining the legendary Ronnie Scott's, The Jazz Cafe and at international festivals.
Recorded live with his band in a dusty wooden studio over the course of a spring week last year, 'Dybbuk Tse!' sees Yoni channel his native folklore - the title alludes to acommand to remove a malevolent wandering spirit (the Dybbuk) that enters and possesses the body of a living person until driven out - to posit ideas of emotional exorcism through music.

This album contains no booklet.