---
Album info
Album including Album cover
I`m sorry!
Dear HIGHRESAUDIO Visitor,
due to territorial constraints and also different releases dates in each country you currently can`t purchase this album. We are updating our release dates twice a week. So, please feel free to check from time-to-time, if the album is available for your country.
We suggest, that you bookmark the album and use our Short List function.
Thank you for your understanding and patience.
Yours sincerely, HIGHRESAUDIO
1

Reflektor

07:34

2

We Exist

05:44

3

Flashbulb Eyes

02:42

4

Here Comes the Night Time

06:31

5

Normal Person

04:22

6

You Already Know

03:59

7

Joan of Arc

05:27

8

Here Comes the Night Time II

02:52

9

Awful Sound (Oh Eurydice)

06:14

10

It's Never Over (Hey Orpheus)

06:43

11

Porno

06:03

12

Afterlife

05:53

13

Supersymmetry

11:17

Total Runtime

01:15:21
Info for Reflektor (Remastered)

Arcade Fire changes direction with a danceable album that matches rock and funk influences from the 1970s with a new interest in global music.
When the Canadian indie-rock band Arcade Fire won the Grammy Award for album of the year in 2011 it came as a shock for band members and for mainstream America. "Who?" was the prevailing response from the public. "Us?" was the response from the band. The Suburbs deserved the accolades. It is an incisive examination of social class and mores set to a rock anthem soundtrack. It would have been an easy choice for the band to rest on its laurels and repeat the pattern, but easy isn't a word associated with these musicians.
For its follow-up Arcade Fire took influences as diverse as the film, Black Orpheus, the myth of Orpheus and Eurydice, rara rhythms, and 1970s rock and funk. Lead vocalist Win Butler and fellow band member and wife Regine Chassagne traveled to Haiti, the country of her family's origin. Picking up on the sounds of their new surroundings, the pair began exploring Haiti's musical culture. In a recent interview Butler reported, "Going to Haiti for the first time with Regine was the beginning of a major change in the way that I thought about the world."
Reflektor "reflects" that thought process as Butler switches gear from heavy rock anthem to danceable tracks that often find synthesizer trumping guitar Haitian percussionists don't override the band's more traditional rock drumming style, but they do off-set it. "Flashbulb Lights" shimmers with island rhythms and marimba. "Here Comes the Nighttime" takes off at breakneck speed, then settles into a rara beat. Here the band lyrically picks up the flavor of the Haitian streets. "You Already Know" showcases the band's signature sound while adding guitar riffs that could have been lifted from a Smiths' recording. "It's Never Over" brings to mind mid-80s Cure. There are so many new elements woven into the mix that you might want to keep a score card near. Shreds of Stones-like funk, Talking Heads-esque production, and a good dose of glam rock, including the very Bowie-esque title track – which features the backing vocals of the White Duke, himself.
The band began recording the album in Louisiana, then later traveled to Jamaica and New York to complete the project. James Murphy, the force behind LCD Sound System, acts as producer. His hand in production can best be picked up on the dance-oriented tracks. Win Butler's vocals still hold center stage but Chassagne is featured prominently throughout. Lyrically Butler continues to express tensions between competing aspects of life's challenges and expectations.
Reflektor has already won comparisons to great albums including Radio Heads' Ok Computer, Bowie's Low, The Talking Heads' Remain In Light, and the Rolling Stones' Exile On Main Street. Perhaps this album will become a reference point for future albums – ones that reflect a new musical categorization that I'll call "Global Glam."
"After stunning the mainstream pop machine into a state of huffy, new school e-disbelief by beating out Eminem, Lady Antebellum, Lady Gaga, and Katy Perry for the 2011 Album of the year Grammy, Arcade Fire seemed poised for a U2-style international coup, but the Suburbs, despite its stadium-ready sonic grandiosity, was far too homespun and idiosyncratic to infect the masses in the same way as the Joshua Tree or Achtung Baby. Reflektor, the Montreal collective's much anticipated fourth long-player and first double-album, moves the group even further from pop culture sanctification with a seismic yet impenetrable 13-track set (at 75 minutes it's one minute over standard single disc capacity) that guts the building but leaves the roof intact. Going big was never going to be a problem, especially for a band so well-versed in the art of anthem husbandry, and they're still capable of shaking the rafters, as evidenced by the cool and circuitous, Roxy Music-forged, David Bowie-assisted title cut, the lush, Regine Chassagne-led "It's Never Over (Oh Orpheus)," and the impossibly dense and meaty "We Exist," but what ultimately keeps Reflektor from sticking the landing is bloat. The stylistic shifts, courtesy of LCD Soundsystem's James Murphy, aren't nearly as jarring as the turgid and Tiki-colored, almost seven-minute "Here Comes the Night Time," the six minutes of rewinding tape that serve as the coda for the otherwise lovely "Supersymmetry," or the unnecessarily drawn-out fountain of white noise that should seamlessly connect the Gary Glittery "Joan of Arc" with the Flaming Lips-ian "Here Comes the Night Time, Pt. 2," but doesn't because the songs are on separate discs. Flush with artistic capital, they went on a bender, and in the process lost some of the warmth, jubilation, and capacity for empathy that made their first three efforts so inclusive. Nevertheless, Reflektor is as fascinating as it is frustrating, an oddly compelling miasma of big pop moments and empty sonic vistas that offers up a (full-size) snapshot of a band at its commerical peak, trying to establish eye contact from atop a mountain." (James Christopher Monger, AMG)
Arcade Fire
Digitally remastered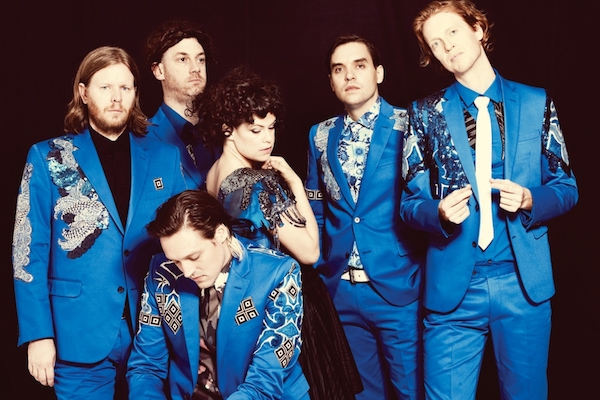 Arcade Fire
has grown from being a widely praised indie band to a worldwide success. Their intense, anthemic and multi-layered vision of indie rock has made them cherished by both the aficionados and a general music-loving audience. They are constantly pushing the envelope and developing towards new sounds, and this has led to them being labelled as "the most important band of the last decade" in the media.
It all started with the seminal debut album Funeral (2004), which was released to great critical acclaim and featured in numerous 'album of the year' lists. Every release since then – and we're currently counting four albums in total – has managed to do just the same thing. Some might remember the year of 2011 when Arcade Fire took home a Grammy for best album and all the social networks asked who these Canadians were. Now everybody knows!
It's been three years since the sprawling success of the Reflektor album. The Montreal six-piece is currently working on a follow-up, and word has it that the band is looking towards a disco sound.
Renowned as being one of the best live acts around, Arcade Fire manages to make everything sound like a mirror-ball party while having lyrics freighted with anxiety. The band delivers stirring, mob-handed climaxes in song after song, they have colourful stage wear, and previously they have even had specific dress codes for their shows (that would work at Roskilde, we're sure!).
10 years after their first visit here, Arcade Fire is ready to take on Roskilde Festival's Orange Stage in 2017. Don't miss the cathedrals of sound from this Canadian collective.

This album contains no booklet.