---
Album info
Album including Album cover Booklet (PDF)
Henry Purcell (1659 - 1695):

1

9 Fantasias, Z. 735-43: No. 8. Fantasia a 4 in G Major, Z. 742

03:20

The History of Timon of Athens, Z. 632:

2

The History of Timon of Athens, Z. 632: Curtain Tune on a ground

01:58

Matthew Locke (1621 - 1977): The Tempest, Z. 631:

3

The Tempest, Z. 631: IV. Curtain Tune

03:56

4

Consort of Four Parts, Suite No. 2 in D Major: I. Fantazie

03:27

5

Consort of Four Parts, Suite No. 2 in D Major: II. Courante

00:55

6

Consort of Four Parts, Suite No. 2 in D Major: III. Ayre

01:38

7

Consort of Four Parts, Suite No. 2 in D Major: IV. Saraband

01:22

Joseph Haydn (1732 - 1809): String Quartet in D Major, Op. 71 No. 2, Hob. III:70:

8

String Quartet in D Major, Op. 71 No. 2, Hob. III:70: I. Adagio

06:08

9

String Quartet in D Major, Op. 71 No. 2, Hob. III:70: II. Adagio cantabile

05:01

10

String Quartet in D Major, Op. 71 No. 2, Hob. III:70: III. Menuetto. Allegro - Trio

01:54

11

String Quartet in D Major, Op. 71 No. 2, Hob. III:70: IV. Finale. Allegretto

03:24

Henry Purcell: 9 Fantasias, Z. 735-43:

12

9 Fantasias, Z. 735-43: No. 2. Fantasia a 4 in B-Flat Major, Z. 736

02:56

13

King Arthur, Z. 628: Fairest Isle

02:19

Matthew Locke:

14

Consort of Four Parts, Suite No. 1 in D Minor: II. Courante

01:03

15

Consort of Four Parts, Suite No. 1 in D Minor: III. Ayre

01:42

Henry Purcell:

16

King Arthur, Z. 628: Hornpipe

01:21

17

Pavan in G Minor, Z. 752

04:40

18

Chacony in G Minor, Z. 730

03:57

John Blow (1649 - 1708): Venus and Adonis, Act II:

19

Venus and Adonis, Act II: Act Tune

02:03

Total Runtime

53:04
Info for Tis too late to be wise

Liberty, enthusiasm, and sharing: that might well be the motto of the Kitgut Quartet (named for the 'kitgut' or catgut strings it uses), which brings together four outstanding soloists, all of them members of the leading period-instrument European ensembles. This first recording, devoted to Haydn and England (Purcell, Locke, Blow), explores the origins of the string quartet via a number of carefully chosen gems. A journey through time with plenty of surprises in store!
"The Kitgut Quartet's album seeks out antecedents among instrumental music from 17th-century England...It all makes for an ear-tickling album, superbly recorded and played." (The Times)
Kitgut Quartet:
Amandine Beyer, violin
Naaman Sluchin, violin
Josèphe Cottet, viola
Frédéric Baldassare, cello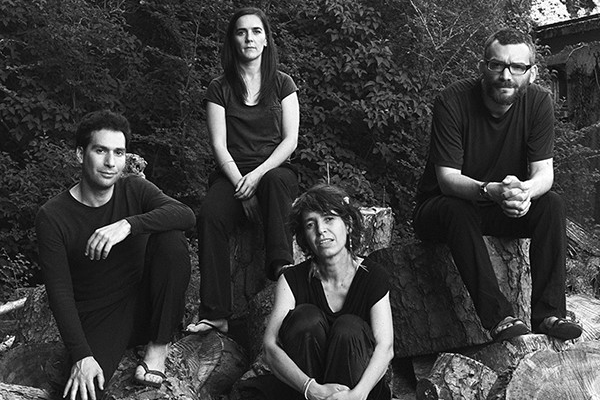 Kitgut Quartet
No "oracle" could have foreseen the meeting between these four musicians, with such varied, contrasting backgrounds. And yet, after an initial encounter, in 2015, Amandine Beyer, Naaman Sluchin, Josèphe Cottet and Frédéric Baldassare founded the Kitgut Quartet, with period instruments and gut strings.
All experienced chamber musicians and soloists with major European ensembles, they have pooled their desire to bring to life with their bows the major works of the repertoire, as well as curiosities and forgotten pieces, in a tradition tinged with liberty, enthusiasm and sharing.
Their first project examines the origins of the string quartet and explores the various attempts in Europe, prior to the classical period, to produce purely instrumental, four-part compositions. In four chapters, ranging from Schubert and Germany, Mozart and Italy, Beethoven and France, then Haydn and England, the Kitgut quartet opens up a vision of the birth of the string quartet, with the desire to reveal on stage the mood of their rehearsals: dialogue, amusement and spontaneity!

Booklet for Tis too late to be wise