---
Album info
Album including Album cover Booklet (PDF)
Martin Hennecke:

1

Hennecke: Präludium I

03:21

Nebojša Jovan Živković (b. 1962):

2

Živković: Trio per Uno: I. Meccanico

05:19

3

Živković: Trio per Uno: II. Contemplativo

05:56

4

Živković: Trio per Uno: III. Molto Energico

03:14

Frank Zappa (1940 - 1993):

5

Zappa: The Black Page #1 · stay-at-home version

03:28

Tan Dun (b. 1957):

6

Dun: Prayer and Blessing

08:30

Frank Zappa:

7

Zappa: The Black Page No. 1 & 2 (Concert Version)

13:18

Herman Rarebell (b. 1949), Klaus Meine (b. 1948), Rudolf Schenker (b. 1948):

8

Rarebell, Meine, Schenker: Rock You Like a Hurricane

06:59

Martin Hennecke:

9

Hennecke: L.A.

12:29

Total Runtime

01:02:34
Info for Locked Down?

A well thought-out concept album was to be their first recorded release, the musicians of Percussion Under Construction had already decided before Corona. The forced break in the first lockdown in March 2020 strengthened them in this decision: Newly created works in this exceptional situation were to enter into correspondence with previously known ones. Thus, Prelude I, composed by ensemble member Martin Hennicke during this time, reflects the situation of the soloist left entirely to his own devices, while he revised his work L.A., begun earlier, to represent the particular consternation of the mega-metropolis: The composition, consisting partly of field recordings of industrial plants, takes on a life of it's own and continues to exist even without the temporarily invisible people. Works of the last decades partly sound in new versions, new ones were created especially for the situation of the only virtually connected actors - an impressive demonstration of different worlds of experience.
Percussion Under Construction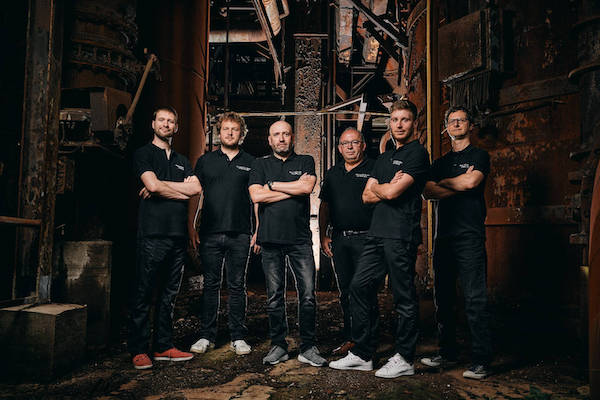 Percussion Under Construction
Seit nunmehr 15 Jahren reißen die acht Schlagzeuger von »Percussion Under Construction« ihr Publikum mit heißen Rhythmen von den Stühlen.
Das aus Mitgliedern der Schlagzeuggruppe des Saarländischen Staatsorchesters gegründete Percussionensemble spielt seit 2009 jährlich mehrere zweistündige Shows auf der Hauptbühne des Saarländischen Staatstheaters,
wie das Programm "Tales from the Center of the Earth", das sich mit der Grubenschließung im Saarland auseinandersetzte, "Visual Grooves", ein inszenierter Live-Act mit Sound & Video und Publikumsinteraktion, "Welcome on Board", einem Programm auf dem Gelände des Saarbrücker Flughafens unter Einbeziehung der Geräte und Maschinen, oder "Recycled", wo sich die Schlagzeuger künstlerisch mit den Themen Müll/Umweltschutz/Environment auseinander setzen und sich musikalisch durch das Thema der Wieder- bzw. Andersverwertbarkeit von Objekten aller Art arbeiten.
Percussion Under Construction folgten u.a. Einladungen zur Verleihung des Deutschen Theaterpreises "Faust", zum Festival Euroclassic oder in die Philharmonie Luxemburg. Sie waren u.a. auf der Zappanale in Bad Doberan bei Rostock zu Gast, einem Openair-Festival, das dem Musiker Frank Zappa gewidmet ist, und spielten neben zwei eigenen Konzerten zusammen mit Weggefährten von Zappa mit den Grandmothers of Invention. Konzerte oder deren Highlights wurden u.a. auf 3sat, im SR, SWR, WDR und Rockradio.de übertragen.
Die Verschmelzung von klassischer und moderner Schlagzeugliteratur sowie experimenteller Stücke und vielen Eigenkompositionen ist längst zum Markenzeichen der Gruppe geworden, ebenso die durchinszenierte Bühnenshow.
Das Kollektiv setzt sich je nach Show und Programm in flexiblen Besetzungen von Solo über Duo bis hin zu acht Schlagzeugern zusammen. Außergewöhnliche Ideen der Umsetzung – wie die Erfindung spezieller selbstgebauter Instrumente (wie z.B. ein Marimbaphon aus Abflussrohren oder ein Monochord aus Holz und Stahl), sowie das Miteinbeziehen von Video und Soundeffekten – machen jedes Konzert zu einem aufregenden und überraschenden Erlebnis.

Booklet for Locked Down?