---
Album info
Album including Album cover Booklet (PDF)
Witold Lutoslawski (1913 - 1994): Concerto for Orchestra:

1

I. Intrada. Allegro maestoso

07:02

2

II. Capriccio notturno ed Arioso. Vivace

05:41

3

III. Passacaglia, Toccata e Corale. Andante con moto

15:31

Johannes Brahms (1833 - 1897): Piano Quartet No. 1 in G Minor, Op. 25:

4

I. Allegro

14:08

5

II. Intermezzo. Allegro ma non troppo

08:33

6

III. Andante con moto

11:34

7

IV. Rondo alla zingarese. Presto

09:08

Total Runtime

01:11:37
Info for Lutoslawski: Concerto for orchestra - Brahms: Piano Quartet in G Minor

On his fourth recording for harmonia mundi, GRAMMY-nominated conductor Miguel Harth-Bedoya leads the Fort Worth Symphony Orchestra in an all-orchestral program featuring Witold Lutoslawski's Concerto for Orchestra and Arnold Schoenberg's orchestration of Brahms's Piano Quartet No.1. With its use of folk melodies to generate tremendous momentum and dramatic impact, the Concerto for Orchestra established Lutoslawski as Poland's leading contemporary composer. Harth-Bedoya couples this powerful and complex score with Schoenberg's rich and colorful arrangement of one of Brahms's most popular chamber works.
"Lutoslawski's Concerto for Orchestra was composed using a Bartokian model and incorporating folk music…when a doctrine of socialist realism was still in place. But Lutoslawski preserves his integrity in a piece that also points to his later stylistic traits, and in this newest version of an often-recorded work Miguel Harth-Bedoya steers a skilful line in reconciling these various elements." (BBC Music Magazine)
"Miguel Harth-Bedoya has moulded the Forth Worth SO into an impressively proficient band…the Peruvian puts his eager Texan charges through their paces in what is an eminently enjoyable, unexaggerated account with no want of commitment." (Gramophone Magazine)
"This new entry to the catalogue shines out with its precision, vigour and clarity of sound...Schoenberg's orchestrations of Brahms always merit revisiting, not least because the odd alliance of these two contrasting composers is always so unexpected...A seriously interesting and worthwhile disc." (The Guardian)
Fort Worth Symphony Orchestra
Miguel Harth-Bedoya, conductor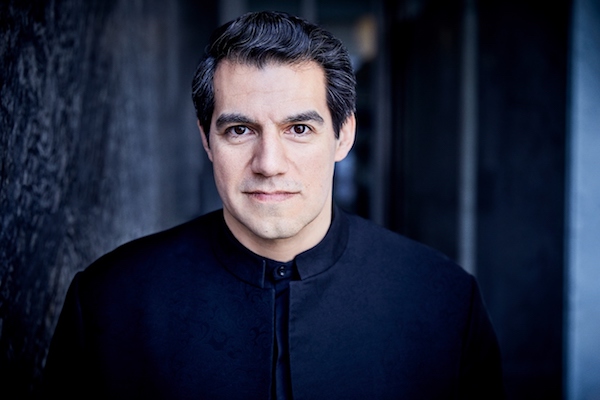 Miguel Harth-Bedoya
Grammy®-nominated and Emmy Award-winning conductor Miguel Harth-Bedoya is currently Chief Conductor of the Norwegian Radio Orchestra in Oslo and is in his seventeenth season as Music Director of the Fort Worth Symphony Orchestra.
He has conducted the upper level of American orchestras including Chicago, Boston, Cleveland, Philadelphia, Minnesota, Atlanta, Baltimore, Dallas, Seattle, New York, Indianapolis, and the National Symphony. Following his exceptional tenure as Associate Conductor of the Los Angeles Philharmonic (1998-2004), Harth-Bedoya's connection with the orchestra remains strong and he frequently returns as a guest conductor. He is also a regular guest at major North American festivals, including Aspen, Tanglewood, Vail, Ravinia, Grant Park, Oregon Bach, and Grand Teton.
Harth-Bedoya has nurtured a number of close relationships with orchestras worldwide and is a frequent guest of the Helsinki Philharmonic, MDR Sinfonieorchester Leipzig, National Orchestra of Spain, New Zealand Symphony and Sydney Symphony Orchestras. Other appearances include concerts with the BBC Scottish Symphony, London Philharmonic, Munich Philharmonic, Dresden Philharmonic, NDR Sinfonieorchester Hamburg, Zurich Tonhalle, Danish National Symphony and Royal Stockholm Philharmonic Orchestras. Summer 2016 saw his Japanese debut conducting both the NHK Symphony and Tokyo Metropolitan Symphony Orchestras. Other noteworthy European performances have included collaborations with soprano Renée Fleming on tour to five Scandinavian orchestras, including the Norwegian Radio Orchestra, Royal Stockholm Philharmonic and the Danish National Symphony; and with tenor Juan Diego Flórez on tour with National Orchestra of Spain.
In August 2015, Mr. Harth-Bedoya led the world premiere of Jennifer Higdon's first opera, Cold Mountain, with the Santa Fe Opera. Mr. Harth-Bedoya has conducted La Bohème at English National Opera directed by Jonathan Miller (which was released on DVD by the Kultur label), Barber of Seville with the Canadian Opera Company, Tosca and Un Ballo in Maschera for Minnesota Opera, and productions of Golijov's Ainadamar with the Santa Fe Opera (world premiere), Cincinnati Opera, and at the New Zealand Festival.
Mr. Harth-Bedoya is the Founder and Artistic Director of Caminos del Inka, a non-profit organization dedicated to discovering, preserving and disseminating the rich musical legacy of the Americas through cultural and musical research, composition, publication, performance, education and outreach. The organization's multimedia orchestral program, Caminos del Inka: A Musical Journey, was premiered by the Chicago Symphony Orchestra and performed by the Boston Symphony at Tanglewood, The Philadelphia Orchestra, Baltimore Symphony, Seattle Symphony, Fort Worth Symphony, Grant Park Festival, Oregon Bach Festival, and worldwide by the Leipzig Radio Orchestra, the Aarhus Symphony Orchestra, and the Residentie Orkest in The Hague.
An active recording artist, Mr. Harth-Bedoya received a 2017 Grammy® nomination as conductor of Jennifer Higdon's Cold Mountain with Santa Fe Opera on the Pentatone label. Harth-Bedoya's 2016 release on Harmonia Mundi, Lutoslawski Concerto for Orchestra and Brahms (arr. Schoenberg) Piano Quartet with the Fort Worth Symphony Orchestra was highly praised by The Guardian "[it] shines out with its precision, vigour and clarity of sound." Other recordings on Harmonia Mundi include the recently-released New South American Discoveries, orchestral works by Jimmy López, the complete Prokofiev Piano Concertos with Cliburn winner Vadym Kholodenko, and piano concertos by Grieg and Saint-Saëns which was awarded "Editor's Choice" in Gramophone. Previous recordings include Traditions and Transformations: Sounds of Silk Road Chicago with the Chicago Symphony and Yo-Yo Ma, which received two Grammy nominations, music by Osvaldo Golijov with the Orquesta Sinfonica de Castilla y Leon and pianists Katia and Marielle Labeque on Deutsche Grammophon and Sentimiento Latino with Peruvian tenor Juan Diego Flores on Decca.
Born and raised in Peru, Mr. Harth-Bedoya received his Bachelor of Music degree from the Curtis Institute of Music and his Master of Music degree from The Juilliard School, where he studied under Otto-Werner Mueller as well as with Seiji Ozawa and Gustav Meier at Tanglewood. Winner of the 2002 Seaver/NEA Conductors Award, Mr. Harth-Bedoya was previously Assistant Conductor of the New York Philharmonic under Kurt Masur, and Associate Conductor of the Los Angeles Philharmonic under Esa-Pekka Salonen. He also served as Music Director of the Auckland Philharmonia (New Zealand), Eugene Symphony (Oregon), Lima Philharmonic (Peru), and the New York Youth Symphony at Carnegie Hall.
Mr. Harth-Bedoya has been a Distinguished Guest Professor of Conducting at TCU since 2008, established a Conducting Fellowship Program at the Fort Worth Symphony Orchestra, which draws Fellows from TCU's School of Music.
An environmental advocate who is committed to a zero waste lifestyle, Harth-Bedoya works actively in his hometown of Fort Worth to address excessive waste. In 2016 he co-founded Cowboy Compost, a business geared to achieve food waste reduction. He currently makes his primary home in Fort Worth with his wife Maritza and their three children, Elena, Emilio, and Elisa, with a secondary home in Oslo.

Booklet for Lutoslawski: Concerto for orchestra - Brahms: Piano Quartet in G Minor