---
Album info
Album including Album cover
1

All You Know vs All You Don't

10:53

2

Beautiful Souls 20.06

07:29

3

Sentient Beings

09:30

4

Tread Lightly

08:54

5

A Lifetime

06:58

6

Stuck in Limbo

10:33

7

The Self You Seek

05:53

Total Runtime

01:00:10
Info for Live at Island City

Kush Upadhyay announced his new release and 5th album, "Live At Island City". The album features close friends and amazing musicians Gino Banks, Sheldon D'Silva, Andrew Kanga and Avishek Dey.
This is a live instrumental album heavily based on improv that features two different trios. We've shot this album with the help of the folks at Glowworm and will be putting out videos regularly.
The album was recorded live and mixed at Island City Studios in Mumbai by Jehangir Jehangir and mastered by Steve Fallone at Sterling Sound in New York.
Kush Upadhyay, guitar
Avishek Dey, bass
Sheldon D'Silva, bass
Gino Banks, drums
Andrew Kanga, drums
Recorded live and mixed at Island City Studios, Mumbai, by Jehangir Jehangir
Mastered by Steve Fallone at Sterling Sound, New York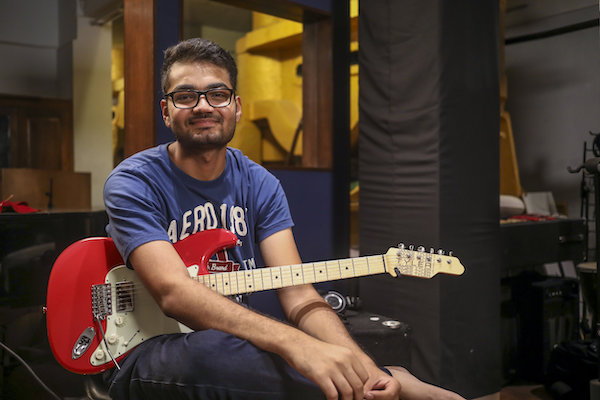 Kush Upadhyay
Twenty one year old, Kush Upadhyay is a guitarist/composer who started playing at the age of eleven. Born and raised in Mumbai, Kush started playing in the Indian local gig circuit by the age of 14 and has been an active part of it ever since. He was intrigued by the sounds of Blues/Rock and Jazz/Rock music in his early teens and bands/musicians like Michael Landau, Tribal Tech and Scott Henderson were some of his early influences.
Over the years, Kush has been a part of various projects covering a vast range of genres. Kush started playing live with a band called the Overdrive Collective led by Sunny Dsouza which helped Kush shape his sound and music. Since then Kush has been a part of various bands and associated with many musicians like Louiz Banks Guitar Synergy, Warren Mendonsa, Kanchan Daniel, and many more. He has been a part of various Bollywood artists as a session musician for Vishal and Shekhar, Amit Trivedi, Shirley Setia and Salim Sulaiman to name a few.
Kush is one of the youngest musicians to have played some of the iconic blues festivals such as Mahindra Blues Festival in 2015 with Warren Mendonsa; An Ode To The Blues with Overdrive Collective in 2013 and The Rhythm and Blues Festival with Kanchan Daniel and The Beards in 2016.
As an independent artist, Kush has four records under his name. His group heavily focuses on live improvisation and sound. He released his first live EP in 2015 called "Songs In The Key Of EP". His second live EP, "Perspective" released in 2016 was featured in Rolling Stones India's list of "10 Best Albums Of 2016". His third record, a full length album called "Impulsive Decisions" released in 2017 was a part of iTunes India Chart in the Top 20 across all genres on the first day of its releases itself and was also a part of aHumming Heart's list of " Top 20 Indie Albums of 2017". In 2018, Kush released his fourth record and his first vocal project called "Soon You'll See The Old". This EP was also a part of iTunes India Charts in the Top 20 on the first day of its release and was listed in aHumming Heart's and Rolling Stone India's list of "Top 20 Indie Albums Of 2018" and "10 Best Indian EPs Of 2018" respectively.
In 2019 Kush has plans of releasing another full length live album. The album is currently being mixed and is due to release in February.

This album contains no booklet.