---
Album info
Album including Album cover Booklet (PDF)
Rutland Boughton (1878 - 1960): Trio for Violin, Violoncello and Pianoforte:

1

Boughton: Trio for Violin, Violoncello and Pianoforte: Allegretto sostenuto

08:18

2

Boughton: Trio for Violin, Violoncello and Pianoforte: Allegro spiritoso – Più allegro

06:41

Sonata in D major for Violin and Pianoforte:

3

Boughton: Sonata in D major for Violin and Pianoforte: Quick and Passionate (From Zarathustra: Of Back-Worlds Men)

07:13

4

Boughton: Sonata in D major for Violin and Pianoforte: Slow and Severe – at first a steady time-quiet and simple (From Zarathustra: Of Delights and Passions)

08:55

5

Boughton: Sonata in D major for Violin and Pianoforte: Fairly Quick (From Zarathustra: The Dance-Song)

06:54

Sonata for Violoncello and Pianoforte:

6

Boughton: Sonata for Violoncello and Pianoforte: Allegro marcato – Largamente

05:21

7

Boughton: Sonata for Violoncello and Pianoforte: Poco adagio

07:25

8

Boughton: Sonata for Violoncello and Pianoforte: Allegro molto – Andante teneramente – Allegro molto – Sempre più vivace

05:17

Celtic Prelude (The Land of Heart's Desire) for Violin, Violoncello and Pianoforte:

9

Boughton: Celtic Prelude (The Land of Heart's Desire) for Violin, Violoncello and Pianoforte: Slow and strong – double speed – original time – tender and dreamy – Light and rather quick

06:54

Winter Sun for Violin and Pianoforte:

10

Boughton: Winter Sun for Violin and Pianoforte: Andante – Allegro – Tempo primo

04:16

Total Runtime

01:07:14
Info for Of Delights and Passions

First release of chamber works by the British composer, Rutland Boughton (1878-1960), performed by the renowned English Piano Trio.
The album includes the world premiere recordings of the Trio for Violin, Cello and Piano (1948), the Sonata in D major for Violin and Piano (1921), the Sonata for Cello and Piano (1948), and Winter Sun (1932).
Often regarded as the composer who tried to create Britain's first "English Bayreuth", Boughton is best remembered today for his highly successful Festivals at Glastonbury (1914-1926) and for his record-breaking Celtic opera The Immortal Hour.
At the height of his career, Boughton became hugely popular surpassing even his rivals and friends Holst and Vaughan Williams.
Apart from his two successful early string quartets and his oboe works, composed for his talented daughter Joyance, Rutland Boughton is not generally recognised for his chamber music of which there are over 20 individual pieces.
Of these, it is perhaps the Sonata in D major for Violin and Piano of 1921 - now recorded here for the first time by English Piano Trio members, Jane Faukner and Timothy Ravenscroft - that has been heard in public in recent times.
"After a recent hiatus it is good to see a new disc of Boughton's mellifluous music, all but one track being (surprisingly) world première recordings.
For all his radical politics Boughton was a musical conservative, and two of these works (from 1948) might be from 50 years earlier. However what matters now is the intrinsic quality of the music.
The Piano Trio is in two conjoined parts and plumbs no great depths but is throughout blithely songful. (Just as all Handel is danceable, all Boughton is basically singable). This may be its first ever performance. If the lyrical first movement sometimes borders on the genteel, its folk-like atmosphere is genially agreeable, with something sterner at its core. The briefer second part is joyfully energetic and works through four themes to build a satisfying climax.
Its contemporary Cello Sonata strides out with a sturdy and forthright main theme that gradually becomes more fervent. The slow movement is more song like, as the cello rhapsodises on familiar lines over an atypically ungainly piano part, until the mostly dance-like third movement, bubbly and cheerful, dispels any lingering melancholy.
The Violin Sonata of 1921 immediately strikes a deeper note. It was the only one of these three works to receive acclaim on appearance, so its disappearance is surprising. The vigorous first movement has a whiff of the neoclassical – more Holst than Stravinsky, mind, – but overall retains a romantic and ardent feel. This is even more true of the second, which might be a lament from The Immortal Hour; a ravishing long-limbed melody that evokes a timeless depth of feeling. By contrast the naggingly memorable third almost has something of a Nordic Halling dance about it, although I missed the demonic aspect hinted at by the programme notes.
The Celtic Prelude is just how it sounds – a chip off the block of Boughton's Celtic Twilight, surging, passionate and joyous: the more astringent Winter Sun for violin and piano is lyrical but rather inconsequential out of context. (His opera The Lily Maid.)
Little here approaches the emotional depth or psychological insight of Boughton's operas (will some kindly millionaire ever let us hear Alkestis?) but it is all immediately enjoyable on its own rather small-scale terms. Good performances and recording, plus copious and informative notes make this an eminently recommendable album." (Kevin Mandry)
English Piano Trio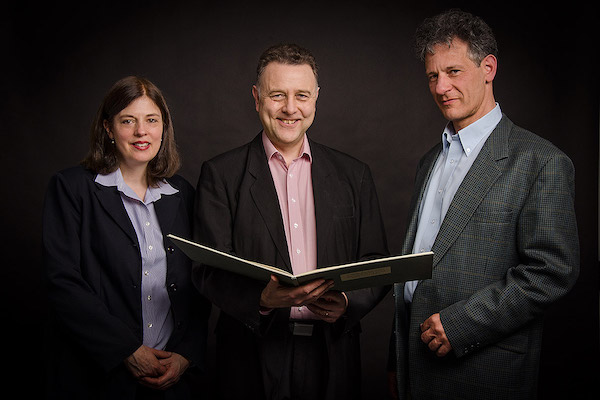 English Piano Trio
he English Piano Trio now celebrates over 30 years together. Formed by three distinguished artists, the Trio has performed regularly at major London venues, and toured extensively abroad. The Trio has presented complete Haydn, Mozart and Beethoven programmes at London's South Bank, at both the Queen Elizabeth and Purcell Room. At the Usher Hall, Edinburgh they performed an all Shostakovich programme with readings from the Russian poet Anna Akhmatova. From 2013 until 2020 the Trio gave regular performances in the recital room of Colston Hall, Bristol. These were presented with the BBC musicologist Stephen Johnson. Many of these programmes were also presented at Warwick Arts Centre.
In 2014, as part of Britten's centenary celebrations, the Trio gave rare performances of his piano trio, in both the UK and in Germany. In 2014 they were invited by the Ivor Gurney Society to premiere his works for piano trio in Bristol.
As well as playing for promoters, music societies and festivals throughout the UK, the English Piano Trio tours abroad, often with repeated visits. These countries include Turkey (Istanbul and Ankara), Cyprus, Austria (Loosdorf), Spain (Barcelona), Germany (Mainz and Wiesbaden) France (Paris) and Italy (Bologna).
The Trio has promoted contemporary music by commissioning, performing and recording new works by Berthold Goldschmidt, Malcolm Lipkin, and David Matthews. (Kingdom label). The players held a residency at King's College, University of London, working with young composers. For their 20th anniversary, the Trio commissioned and performed works by David Matthews, Cecilia McDowall and Joseph Phibbs. These works are now firmly in their repertoire and are performed at home and abroad.
The Trio's recording of works by Sir Malcolm Arnold for the Naxos label, was part of a Gramophone Award winning series.
The English Piano Trio also researches works by lesser known composers. Their research and subsequent recording (Dutton Epoch label) and performance at the South Bank of music by the English composer Francis Edward Bache (1833 – 1858) gained critical acclaim. In their exploration of all styles of composition, the Trio gave the UK premiere at the South Bank of Oscar winning composer Anne Dudley's arrangement of the Bach Chaconne for piano trio. At the invitation of the Rinck Society in Germany, the Trio performed piano trios by Rinck (1770 – 1846) in Germany. These delightful works, previously unknown in the UK, are now in the group's repertoire, and are a welcome addition to the repertoire of the piano trio ensemble.
The English Piano Trio is constantly producing ideas about programming, either as a trio, or with actors and narrators in their 'Words and Music' evenings, in which composers, writers or historic events are portrayed with music and readings. These have proved to be extremely popular with promoters. One of their more recent scripts 'On the Danube', is a collaboration with celebrated actor Timothy West CBE in an entertaining musical diary along Europe's second longest river.
The Trio also works with other performers to augment the ensemble – 'English Piano Trio and Friends'. These programmes include Schubert's 'Trout' Quintet, Mozart and Schumann Piano Quartets, Elgar and Shostakovich Piano Quintets.

Booklet for Of Delights and Passions