---
Album info
Album including Album cover Booklet (PDF)
Wolfgang Amadeus Mozart (1756-1791): Piano Quartet No. 1 in G Minor, K. 478:

1

Piano Quartet No. 1 in G Minor, K. 478: I. Allegro

15:00

2

Piano Quartet No. 1 in G Minor, K. 478: II. Andante

07:55

3

Piano Quartet No. 1 in G Minor, K. 478: III. Rondo. Allegro

08:06

Piano Quartet No. 2 in E-Flat Major, K. 493:

4

Piano Quartet No. 2 in E-Flat Major, K. 493: I. Allegro

10:18

5

Piano Quartet No. 2 in E-Flat Major, K. 493: II. Larghetto

13:46

6

Piano Quartet No. 2 in E-Flat Major, K. 493: III. Allegretto

09:04

Total Runtime

01:04:09
Info for Mozart: The Piano Quartets

Maintaining focus on Mozart's last years, members of the Alexander String Quartet join with electrifying and much-lauded pianist Joyce Yang on this recording of the two piano quartets. This is the second of a three-volume set which will include many of Mozart's great chamber works from that period. Eric Bromberger's liner notes contextualize these works within the canon: "Some have claimed that Mozart invented the piano quartet, but he did not. Other composers- including the fourteen year old Beethoven- had written quartets for piano and strings earlier, but Mozart was the first to face squarely the challenges of this difficult form, and he wrote the first two great piano quartets." Now in its 37th season, the Alexander String Quartet's discography includes major cycles by Bartok, Kodaly, Mozart, Shostakovich, and Beethoven. ASQ is also an important advocate of new music, with over 35 commissions and premieres. In addition to extensive concertizing on five continents, the quartet is on the faculty of San Francisco State University where they direct the Instructional Program of the Morrison Chamber Music Center. They have been feted as Ensemble in Residence with San Francisco Performances for more than a quartet century and at the Mondavi Center at UC Davis for 15 years.
Zakarias Grafilo, violin
Frederick Lifsitz, violin
Paul Yarbrough, viola
Sandy Wilson, cello
Joyce Yang, piano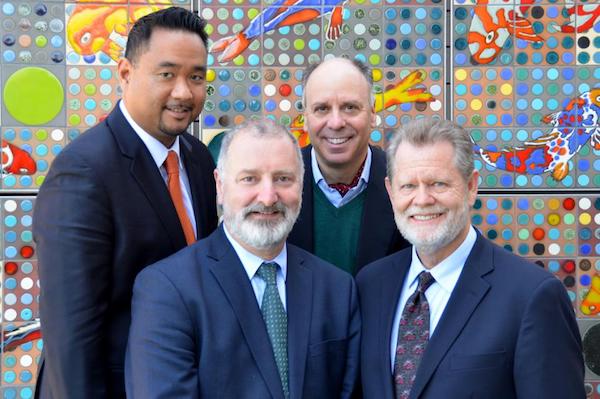 Alexander String Quartet
Having celebrated its 35th Anniversary in 2016, the Alexander String Quartet has performed in the major music capitals of five continents, securing its standing among the world's premier ensembles. Widely admired for its interpretations of Beethoven, Mozart, and Shostakovich, the quartet's recordings of the Beethoven cycle (twice), Bartók, and Shostakovich cycle have won international critical acclaim. The quartet has also established itself as an important advocate of new music through over 30 commissions from such composers as Jake Heggie, Cindy Cox, Augusta Read Thomas, Robert Greenberg, Martin Bresnick, Cesar Cano, and Pulitzer Prize-winner Wayne Peterson. A new work by Tarik O'Regan, commissioned for the Alexander by the Boise Chamber Music Series, had its premiere in October 2016, and a work for quintet from Samuel Carl Adams is planned for premiere in early 2019 with pianist Joyce Yang.
The Alexander String Quartet is a major artistic presence in its home base of San Francisco, serving since 1989 as Ensemble in Residence of San Francisco Performances and Directors of The Morrison Chamber Music Center at San Francisco State University.
The Alexander String Quartet's annual calendar of concerts includes engagements at major halls throughout North America and Europe. The quartet has appeared at Lincoln Center, the 92nd Street Y, and the Metropolitan Museum in New York City; Jordan Hall in Boston; the Library of Congress and Dumbarton Oaks in Washington; and chamber music societies and universities across the North American continent. The quartet recently returned as faculty to the Yale School of Music's Norfolk Chamber Music Festival, a nexus of their early career. Recent overseas tours have brought them to the U.K., the Czech Republic, the Netherlands, Italy, Germany, Spain, Portugal, Switzerland, France, Greece, the Republic of Georgia, Argentina, Panamá, and the Philippines. Their recent return and tour of Poland for the Beethoven Easter Festival has been beautifully captured in the new (2017) award-winning documentary film, Con Moto: The Alexander String Quartet.
Among the eminent musicians with whom the Alexander String Quartet has collaborated are pianists Joyce Yang, Roger Woodward, Anne-Marie McDermott, Menachem Pressler, Marc-André Hamelin, and Jeremy Menuhin; clarinetists Joan Enric Lluna, David Shifrin, Richard Stoltzman, and Eli Eban; soprano Elly Ameling; mezzo-soprano Joyce DiDonato; violinist Midori; cellists Lynn Harrell, Sadao Harada, and David Requiro; and jazz greats Branford Marsalis, David Sanchez, and Andrew Speight. The quartet has worked with many composers including Aaron Copland, George Crumb, and Elliott Carter, and has long enjoyed a close relationship with composer-lecturer Robert Greenberg, performing numerous lecture-concerts with him annually.
The Alexander String Quartet added considerably to its distinguished and wide-ranging discography over the past decade, now recording exclusively for the FoghornClassics label. There were three major releases in the 2013-2014 season: The combined string quartet cycles of Bartók and Kodály ("If ever an album had "Grammy nominee" written on its front cover, this is it." –Audiophile Audition); the string quintets and sextets of Brahms with Toby Appel and David Requiro ("a uniquely detailed, transparent warmth" –Strings Magazine); and the Schumann and Brahms piano quintets with Joyce Yang ("passionate, soulful readings of two pinnacles of the chamber repertory" –The New York Times). Their recording of music of Gershwin and Kern was released in the summer of 2012, following the spring 2012 recording of the clarinet quintet of Brahms and a new quintet from César Cano, in collaboration with Joan Enric Lluna, as well as a disc in collaboration with the San Francisco Choral Artists. An album of works by Cindy Cox was released in 2015. Their recordings of Mozart's "Prussian" Quartets and Piano Quartets with Joyce Yang will be released in 2018.
The Alexander's 2009 ForghornClassics release of the complete Beethoven cycle was described by Music Web International as performances "uncompromising in power, intensity and spiritual depth," while Strings Magazine described the set as "a landmark journey through the greatest of all quartet cycles." In fall 2017, Foghorn released a high resolution remastered version of their acclaimed recording of the complete Shostakovich quartets. The label released a three-CD set (Homage) of the Mozart quartets dedicated to Haydn in 2004. A recording of the complete quartets of Pulitzer prize-winning San Francisco composer, Wayne Peterson, was released in the spring of 2008. BMG Classics released the quartet's first recording of Beethoven cycle on its Arte Nova label to tremendous critical acclaim in 1999.
The Alexander String Quartet was formed in New York City in 1981 and captured international attention as the first American quartet to win the London International String Quartet Competition in 1985. The quartet has received honorary degrees from Allegheny College and Saint Lawrence University, and Presidential medals from Baruch College (CUNY). The Alexander plays on a matched set of instruments made in San Francisco by Francis Kuttner (born in Washington, D.C., 1951). This year marks the 30th anniversary of these instruments, known as the Ellen M. Egger quartet. (May 2018)
Joyce Yang
Blessed with "poetic and sensitive pianism" (Washington Post) and a "wondrous sense of color" (San Francisco Classical Voice), pianist Joyce Yang captivates audiences with her virtuosity, lyricism, and interpretive sensitivity. As a Van Cliburn International Piano Competition silver medalist and Avery Fisher Career Grant recipient, Yang showcases her colorful musical personality in solo recitals and collaborations with the world's top orchestras and chamber musicians.
In 2017, Yang received her first Grammy nomination (Best Chamber Music/Small Ensemble Performance) for her recording of Franck, Kurtág, Previn & Schumann with violinist Augustin Hadelich. She first came to international attention in 2005 when she won the silver medal at the 12th Van Cliburn International Piano Competition. The youngest contestant at 19 years old, she took home two additional awards: the Steven De Groote Memorial Award for Best Performance of Chamber Music (with the Takàcs Quartet) and the Beverley Taylor Smith Award for Best Performance of a New Work.
Since her spectacular debut, she has blossomed into an "astonishing artist" (Neue Zürcher Zeitung). She has performed as soloist with the New York Philharmonic, Chicago Symphony, Los Angeles Philharmonic, Philadelphia Orchestra, the Baltimore, Detroit, Houston, Milwaukee, Pittsburgh, San Francisco, Sydney, New Jersey, and Toronto symphony orchestras, Royal Flemish Philharmonic, Deutsches Symphonie-Orchester Berlin, and the BBC Philharmonic (among many others), working with such distinguished conductors as Edo de Waart, Lorin Maazel, James Conlon, Manfred Honeck, Jacques Lacombe, Leonard Slatkin, David Robertson, Bramwell Tovey, Peter Oundjian, and Jaap van Zweden. In recital, Yang has taken the stage at New York's Lincoln Center and Metropolitan Museum, the Kennedy Center in Washington, D.C., Chicago's Symphony Hall and Zurich's Tonhalle.
In the 2017/2018 season, Yang embarks on a journey of debuts, collaborations, and premieres. Highlights include her 12th consecutive appearance as a guest artist at the Aspen Music Festival, her debut with the New Zealand Symphony Orchestra under Edo De Waart performing Rachmaninov's Piano Concerto No. 3 in five New Zealand cities, a reunion with the Baltimore Symphony Orchestra for three performances of Prokofiev's Piano Concerto No. 3, and her first collaboration with the Aspen Santa Fe Ballet on a new work for dancers and solo piano choreographed by Jorma Elo. The work will receive its world premiere in Aspen (March 24) with repeat engagements in Santa Fe (March 31), Costa Mesa (April 4-5) and Los Angeles (April 7).
This season Yang will also perform alongside the Nashville Symphony Orchestra, Lexington Philharmonic, Eugene Symphony, Santa Rosa Symphony, Rochester Philharmonic, Milwaukee Symphony, Reno Philharmonic, Allentown Symphony, Oklahoma City Philharmonic, Vancouver Symphony, and Asheville Symphony. She continues her enduring partnership with longtime collaborators Alexander String Quartet with performances of works by Schumann and Brahms in California and New York
Recent recordings include Yang and Hadelich's collaborative Works for Violin and Piano for Avie Records ("One can only sit in misty-eyed amazement at their insightful flair and spontaneity," – The Strad) and the world premiere recording of Michael Torke's Piano Concerto, created expressly for Yang and commissioned by the Albany Symphony. Yang has also "demonstrated impressive gifts" (New York Times) with the release of Wild Dreams (Avie Records), on which she plays Schumann, Bartók, Hindemith, Rachmaninoff, and arrangements by Earl Wild; a pairing of the Brahms and Schumann Piano Quintets with the Alexander Quartet; and a recording of Tchaikovsky's Piano Concerto No. 1 with Denmark's Odense Symphony Orchestra that International Record Review called "hugely enjoyable, beautifully shaped … a performance that marks her out as an enormous talent." Of her 2011 debut album for Avie Records, Collage, featuring works by Scarlatti, Liebermann, Debussy, Currier, and Schumann, Gramophone praised her "imaginative programming" and "beautifully atmospheric playing."
Other recent season highlights include debuts with the Minnesota Orchestra, San Diego Symphony, and Charleston Symphony. She was featured in a five-year Rachmaninoff cycle with Edo de Waart and the Milwaukee Symphony, to which she brought "an enormous palette of colors, and tremendous emotional depth" (Milwaukee Sentinel Journal). Yang has joined the Takács Quartet for Dvorak in Lincoln Center's Great Performers series and impressed the New York Times with her "vivid and beautiful playing" of Schubert's "Trout" Quintet with members of the Emerson String Quartet at the Mostly Mozart Festival at Lincoln Center. She has performed solo recitals across the United States and Canada, including a recent performance at the Wallis Annenberg Center for the Performing Arts in Beverly Hills that was hailed by the Los Angeles Times as "extraordinary" and "kaleidoscopic."
Yang has fostered enduring partnerships with the Alexander String Quartet, with whom she has recorded the Brahms and Schumann Piano Quintets (recent appearances in New York and Charlottesville) and violinist Augustin Hadelich (recent appearances in Palm Desert, La Jolla, Costa Mesa, Santa Barbara, Saint Paul, Dallas, New York, San Francisco, Cincinnati and Hong Kong). "It was hard to imagine finer performances by any violin-and-piano pairing," wrote The Dallas Morning News of one of Yang and Hadelich's recent recitals.
Born in 1986 in Seoul, South Korea, Yang received her first piano lesson from her aunt at the age of four. She quickly took to the instrument, which she received as a birthday present, and over the next few years won several national piano competitions in her native country. By the age of ten, she had entered the School of Music at the Korea National University of Arts, and went on to make a number of concerto and recital appearances in Seoul and Daejeon. In 1997, Yang moved to the United States to begin studies at the pre-college division of the Juilliard School with Dr. Yoheved Kaplinsky. During her first year at Juilliard, Yang won the pre-college division Concerto Competition, resulting in a performance of Haydn's Keyboard Concerto in D with the Juilliard Pre-College Chamber Orchestra. After winning the Philadelphia Orchestra's Greenfield Student Competition, she performed Prokofiev's Third Piano Concerto with that orchestra at just twelve years old. She graduated from Juilliard with special honor as the recipient of the school's 2010 Arthur Rubinstein Prize, and in 2011 she won its 30th Annual William A. Petschek Piano Recital Award.
Yang made her celebrated New York Philharmonic debut with Maazel at Avery Fisher Hall in November 2006 and performed on the orchestra's tour of Asia, making a triumphant return to her hometown of Seoul, South Korea. Subsequent appearances with the Philharmonic included the opening night of the Leonard Bernstein Festival in September 2008, at the special request of Maazel in his final season as music director. The New York Times pronounced her performance in Bernstein's The Age of Anxiety a "knockout."
Yang appears in the film In the Heart of Music, a documentary about the 2005 Van Cliburn International Piano Competition. She is a Steinway artist.

Booklet for Mozart: The Piano Quartets