---
Album info
Album including Album cover Booklet (PDF)
Andrew Norman (b. 1979):

1

Frank's House

09:25

Harold Meltzer (b. 1966):

2

In Full Sail

07:49

Jack Van Zandt (b. 1954):

3

Sí an Bhrú

11:52

Hannah Lash (b. 1981):

4

Give Me Your Songs

07:09

Amy Beth Kirsten (b. 1972):

5

h.o.p.e

06:12

James Matheson (b. 1970): Alone, in Waters Shimmering and Dark:

6

Alone, in Waters Shimmering and Dark: No. 1, Island

03:52

7

Alone, in Waters Shimmering and Dark: No. 2, Capillary Waves

02:14

8

Alone, in Waters Shimmering and Dark: No. 3, To Sky

02:52

Lewis Spratlan (b. 1940):

9

Bangladesh

15:01

Nina C. Young (b. 1984):

10

Kolokol

11:06

Total Runtime

01:17:32
Info for The Poetry of Places

Nadia Shpachenko's latest Reference Recordings release The Poetry of Places features World Premiere recordings of works for solo piano, for two pianos, percussion, electronics, voice, and toy piano in a fascinating mélange inspired by great architecture and places. The eight compositions monumentalize places as wildly diverse as the Copland House in Cortlandt, NY, The American Visionary Art Museum in Baltimore, Louis Kahn's National Assembly Buildings in Bangladesh, Newgrange Ancient Temple in Ireland, and Frank Gehry's House in Santa Monica, CA. Included is a significant new work from Andrew Norman, Frank's House, for two pianos and percussion, and another large work from Nina C. Young, Kolokol, for two pianos and electronics (a 'fantasy' inspired by Russian Orthodox Church Bells). Additionally, six solo works were written specifically for this project by Amy Beth Kirsten, Hannah Lash, James Matheson, Harold Meltzer, Lewis Spratlan, and Jack Van Zandt. The composers use very different musical approaches and sonic techniques in response to their chosen spaces.
Pianist Nadia Shpachenko­-Gottesman has performed extensively in solo recitals and with orchestras in major venues across North America, Europe and Asia. Described by critics as a "truly inspiring and brilliant pianist…spellbinding in sensitivity and mastery of technique," Nadia enjoys bringing into the world things that are outside the box – powerful pieces that often possess unusual sonic qualities or instrumentation. Nadia's concert highlights include recitals at Concertgebouw, Carnegie Hall, Disney Hall, on the Piano Spheres and Los Angeles Philharmonic's Green Umbrella and Chamber Music Series, and with numerous orchestras in Europe and the Americas. An enthusiastic promoter of contemporary music, she has been chosen to premiere more than 60 piano, string piano, and toy piano works. Her debut album on Reference Recordings, Woman at the New Piano (FR­-711, 2014), was nominated for GRAMMY® Awards in three categories: Best Classical Compendium; Best Chamber Music/Small Ensemble Performance, and as part of the body of work in the Producer of the Year, Classical nomination for Marina A. Ledin and Victor Ledin.
Nadia Shpachenko, piano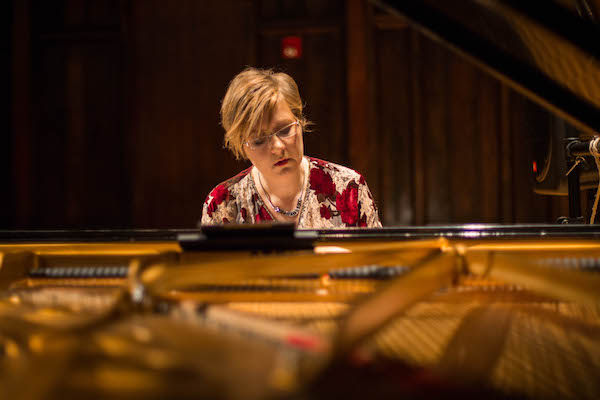 Nadia Shpachenko
Multiple GRAMMY® nominated pianist Nadia Shpachenko has performed extensively in solo recitals and with orchestras in major venues across North America, Europe and Asia. Described by critics as a "truly inspiring and brilliant pianist… spellbinding in sensitivity and mastery of technique," Nadia enjoys bringing into the world things that are outside the box – powerful pieces that often possess unusual sonic qualities or instrumentation. Nadia's concert highlights include recitals at Concertgebouw, Carnegie Hall, Bargemusic, the Phillips Collection, Disney Hall, and the Los Angeles County Museum of Art, as well as numerous appearances as a soloist with orchestras in Europe and the Americas.
An enthusiastic promoter of contemporary music, Nadia has given world and national premieres of more than 60 piano, string piano, and toy piano works by composers including Elliott Carter, George Crumb, Daniel Felsenfeld, Tom Flaherty, Annie Gosfield, Yuri Ishchenko, Vera Ivanova, Leon Kirchner, Amy Beth Kirsten, Hannah Lash, James Matheson, Missy Mazzoli, Harold Meltzer, Adam Schoenberg, Lewis Spratlan, Gernot Wolfgang, Iannis Xenakis, Peter Yates, Jack Van Zandt, and many others. She performs on piano, toy piano, harpsichord, and percussion in concerts that often also feature recitation, electronics and multimedia. Nadia's process of extensive research in preparing pieces for performance has led to a series of lecture-recitals that relate artistic and philosophical developments with musical ones, and explore the new ways in which composers and performers interact in today's networked world. She has recently performed contemporary solo works on the Piano Spheres Series and Los Angeles Philharmonic's Green Umbrella Series.
Described as "heroic" (MusicWeb International), "exceptional" (Textura Magazine), "memorable" (New Classic LA), and "a new favorite" (Pictures on Silence), Nadia's world premieres CD "Woman at the New Piano: American Music of 2013" was released worldwide on the Reference Recordings label, featuring four solo and two duet compositions (performed with pianist Genevieve Feiwen Lee) written for the album by Tom Flaherty, James Matheson, Adam Schoenberg, and Peter Yates. Woman at the New Piano was nominated for 58th GRAMMY® Awards in 3 categories: Best Classical Compendium, Best Chamber Music/Small Ensemble Performance by Nadia Shpachenko and Genevieve Feiwen Lee for Tom Flaherty's "Airdancing" for Toy Piano, Piano and Electronics, and Producer of the Year, Classical for Marina A. Ledin and Victor Ledin. Nadia's upcoming 2018 Reference Recordings release "Quotations and Homages" will feature solo and collaborative works for 6 pianists (performed with Ray-Kallay Duo, HOCKET and Genevieve Feiwen Lee) inspired by a variety of earlier composers and pieces. Nadia's upcoming 2019 Reference Recordings album "The Poetry of Places" will feature new solo and collaborative works (performed with LA Phil pianist Joanne Pearce Martin and LAPQ percussionists Nick Terry and Cory Hills) inspired by diverse buildings.
As a distinguished chamber musician, Nadia frequently collaborates with prominent artists, most recently including Boris Allakhverdyan, Emanuel Borok, Martin Chalifour, Jin-Shan Dai, Kevin Fitz-Gerald, Vijay Gupta, Maja Jasper, Dahae Kim, Jerome Lowenthal, Kathleen Supové, Marek Szpakiewicz, Ben Ullery, and the Lyris and Argus Quartets. Her recent collaborative performances were featured on Los Angeles Philharmonic's Chamber Music Series, the Hear Now Music Festival and the Salastina Music Society.
A dedicated educator, Nadia is currently Professor of Music at Cal Poly Pomona University, where she leads the Piano Performance program and was awarded the 2017 Provost's Award for Excellence in Scholarly and Creative Activities. She is also on the faculty of Claremont Graduate University, where she teaches Doctoral piano students. In addition, Nadia has recently served as visiting faculty at Pomona College, guest lecturer at the California Institute of the Arts, Artist in Residence at the University of Nevada, Las Vegas and University of South Carolina, and piano faculty at the Sarasota, Montecito, and Beverly Hills International Music Festivals. Winner of more than a dozen piano competitions, she frequently gives master classes and presents contemporary music workshops in conservatories and universities worldwide.
Nadia Shpachenko completed her DMA and MM degrees at the University of Southern California, where she was awarded the title of Outstanding Graduate. Her principal teachers included John Perry, Victor Rosenbaum, and Victor Derevianko. Nadia Shpachenko is a Steinway Artist and a Schoenhut Toy Piano Artist.

Booklet for The Poetry of Places