---
Album info
Album including Album cover Booklet (PDF)
I`m sorry!
Dear HIGHRESAUDIO Visitor,
due to territorial constraints and also different releases dates in each country you currently can`t purchase this album. We are updating our release dates twice a week. So, please feel free to check from time-to-time, if the album is available for your country.
We suggest, that you bookmark the album and use our Short List function.
Thank you for your understanding and patience.
Yours sincerely, HIGHRESAUDIO
Edvard Grieg (1843 - 1907):

1

4 Norwegian Dances, Op. 35: I. Allegro marcato (Arr. for Organ & Nyckelharpa)

08:46

2

Lyric Pieces, Op. 12, No. 5: Folkevise (Arr. for Organ & Nyckelharpa)

01:43

3

Lyric Pieces, Op. 38, No. 6: Elegi (Arr. for Organ)

02:40

4

Lyric Pieces, Op. 47, No. 4: Halling (Arr. for Organ & Nyckelharpa)

00:50

5

Lyric Pieces, Op. 12, No. 4: Alfedans (Arr. for Organ)

01:14

6

2 Melodies, Op. 53, No. 2: Det første Møde (Arr. for Organ & Nyckelharpa)

03:07

7

Lyric Pieces, Op. 38, No. 4: Halling (Arr. for Organ)

01:01

8

9 Songs, Op. 18, No. 8: Rosenknoppen (Arr. for Organ & Nyckelharpa)

02:01

9

Lyric Pieces, Op. 43, No. 1: Sommerfugl (Arr. for Organ)

02:04

10

Melodies of the Heart, Op. 5, No. 3: Jeg elsker Dig! (Arr. for Organ & Nyckelharpa)

02:48

11

Lyric Pieces, Op. 54, No. 4: Notturno (Arr. for Organ)

03:44

12

4 Norwegian Dances, Op. 35: II. Allegretto tranquillo e grazioso (Arr. for Organ & Nyckelharpa)

02:02

13

Ballade in G Minor, Op. 24 (Arr. for Organ)

19:12

14

4 Norwegian Dances, Op. 35: III. Allegro moderato alla Marcia (Arr. for Organ & Nyckelharpa)

04:08

Total Runtime

55:20
Info for Edvard Grieg: Alfedans

The album arises from an unusual, but extremely convincing symbiosis of two instruments: the nyckelharpa (also called key fiddle), which has survived in Sweden from the Renaissance to this day and has now become an essential part of Scandinavian musical life beyond this country, unfolds through the numerous resonant strings create their fascinating sound with a dazzling overtone spectrum and at the same time a wonderfully warm smoky depth. In connection with the rich color palette of a symphonic organ, Marco Ambrosini, co-founder of the ensemble Oni Wytars and the organist Eva -Maria Rusche take the listener on a Nordic-inspired sound journey in the footsteps of the composer Edvard Grieg.
Marco Ambrosini, nyckelharpa
Eva-Maria Rusche, organ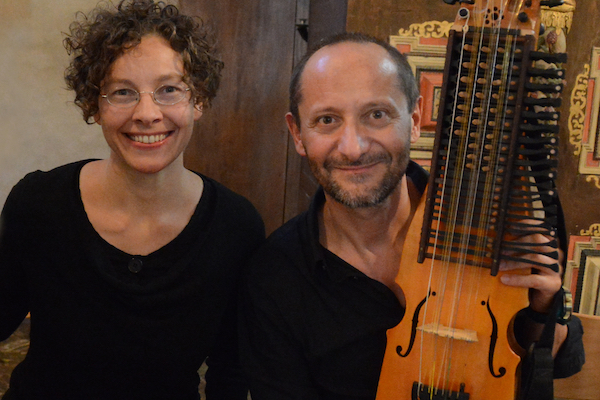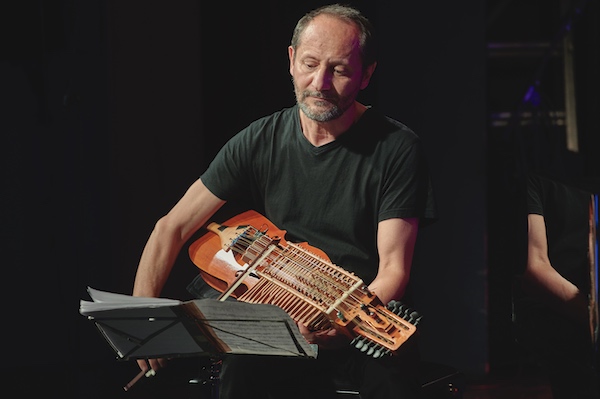 Marco Ambrosini
Born 1964 in Forlì, Italy. I have studied violin (with A. Casagrande) and composition (with M. Perrucci) in the Musical Institute "G.B.Pergolesi" in Ancona and in the Conservatory "G. Rossini" in Pesaro. I've played with the "Orchestra Filarmonica Marchigiana" and various chamber orchestras, ensembles of early, baroque and contemporary music.
In 1982 I've founded, together with Peter Rabanser, the international ensemble Oni Wytars, and I'm still performing with this group. I perform as soloist since 1990 for the Clemencic Consort in Vienna, since 1991 I'm artistic director (with Katharina Dustmann) of the Studio Katharco - Sound:Creations.
I debuted as a soloist and nyckelharpa player in the theatre "Alla Scala" in Milan, in concerts for the Royal Swedish Concert Agency, in the Alte Oper Frankfurt, in the Philharmony in Cologne, Berlin, Moscow and in the Carnegie Hall of New York. Together with Carlo Rizzo, Jean-Louis Matinier, Valentin Clastrier and Michael Riessler I've participated in numerous concerts and radio recordings of jazz music. I was chosen by the German radio SWF as newcomer and composer for the New Jazz Meeting 1993.
In recent years I've participated in numerous radio, television and CD productions (more than 150), as a solo artist, composer or member of ensemble Oni Wytars (Germany), Els Trobadors (Spain), Unicorn, Accentus, Clemencic Consort, Armonico Tributo (Austria), Ensemble Kapsberger (Rolf Lislevand-Norway), Camerata Nordica (Sweden), Holland Baroque (Netherlands), Lucilla Galeazzi, Ensemble La Chimera (IT), Vox Clamantis (EE), Jean-Louis Matinier, Michael Riessler and others.
Eva-Maria Rusche
Born in Tübingen, Germany. For as long as she can remember, she has been fascinated by the sound of the piano. She has had lessons in piano since the age of 5, i.a. with Tomoko Ogasawara and Andreas Weimer and organ lessons with Prof. Wolfgang Spindler in Bamberg, Germany.
After two years of reading Physics and Musicology at the University of Heidelberg, she studied Church Music and Organ in Lübeck and Stuttgart with Prof. Jürgen Essl, Prof. Arvid Gast, Prof. Franz Danksagmüller and Harpsichord and Historical Keyboard Instruments with Prof. Hans-Jürgen Schnoor and Prof. Jon Laukvik. Her studies in Vienna with Prof. Michael Radulescu and Prof. Gordon Murray as well as many masterclasses for organ, choir and improvisation provided her fundamental impulses for her further artistic development.
She finished her musicology studies with a thesis about the examination of a new built organ around 1700 ("Werner von Leibzig: 'Von Probirung einer neüerbauten Orgel' (1711/1717). Studien zu einer unbekannten Quelle"). She also studied History at the University of Konstanz; her BA thesis was about the classification of emotions in the Early Modern Period ("Die Konstruktion des Subjekts – Descartes und Hobbes im Vergleich: Die Leidenschaften und ihre Funktion in den Werken Les passions de l'Âme (1649) und Leviathan (1651)").
She has taught piano, organ and harpsichord since the beginning of her music studies and has worked as a tutor for harpsichord at Musikhochschule Stuttgart. Since 2009, she has enjoyed inspiring and being inspired while teaching the students of her class in Konstanz in piano, theory, improvisation, ensemble/band playing and accompanying, i.a. at Musikschule Konstanz.
As a soloist she plays harpsichord and organ recitals. She plays in various ensembles and has given concerts with musicians of many different musical backgrounds such as Ensemble Supersonus, Ensemble Oni Wytars, Quatuor Ardeo, The Tabla-Takla Connection (with Florian Schiertz), Nacht.Perlen, Facilité (in cooperation with Modern Dance School Konstanz) and Schubertiade (with members of the South-West German Philharmonic Orchestra).
She is co-author of "Vivaldi: La Primavera" and "Vivaldi: L'Autunno" (Editions for 3 Dudays, viola and B.c.) and "J.S. Bach: Two Part Inventions arranged for Nyckelharpa and Accompaniment" (in cooperation with Marco Ambrosini).
In 2019, her new CD "Resonances" with Ensemble Supersonus was released at ECM.

Booklet for Edvard Grieg: Alfedans