---
Album info
Album including Album cover
Keith Jarrett (b. 1945): Creation:

1

Jarrett: Creation: Part V

07:23

Astor Piazzolla (1921 - 1992): Adios Nonino (Arr. for Orchestra by David Gordon):

2

Piazzolla: Adios Nonino (Arr. for Orchestra by David Gordon)

06:21

Traditional: Una Matika da Ruda (Arr. for Orchestra by David Gordon):

3

Traditional: Una Matika da Ruda (Arr. for Orchestra by David Gordon)

06:06

Dimitri Shostakovich (1906 - 1975):

4

Shostakovich: Piano Concerto No. 2 in F Major: II. Andante

06:29

Anonymous: Lamento di Tristano (Arr. for Orchestra by David Gordon):

5

Anonymous: Lamento di Tristano (Arr. for Orchestra by David Gordon)

02:50

Antonio Vivaldi (1678 - 1741): The Four Seasons: Violin Concerto in F Major, RV 293, Op. 8 No. 3 "Autumn":

6

Vivaldi: The Four Seasons: Violin Concerto in F Major, RV 293, Op. 8 No. 3 "Autumn": II. Adagio molto (Reimagined by David Gordon)

03:32

David Gordon (b. 1948): Brandy for 4:

7

Gordon: Brandy for 4

05:48

Air:

8

Gordon: Air

04:30

Thelonius Monk (1917 - 1982): 'Round Midnight:

9

Monk: 'Round Midnight

06:50

Total Runtime

49:49
Info for Reimagined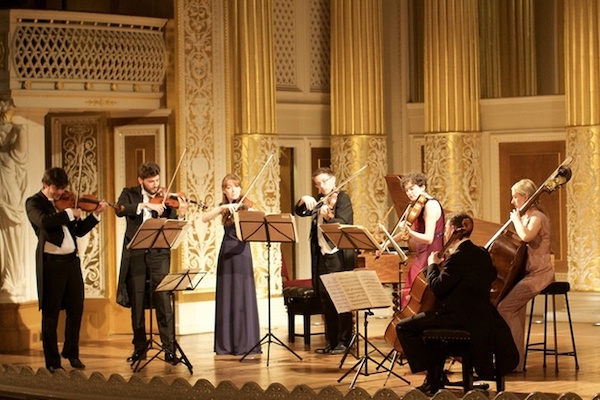 London Concertante
Founded in 1991 by a group of graduates from London's acclaimed music colleges, London Concertante has developed a reputation as one of the finest chamber ensembles in the UK. Its inspired programming, with repertoire from the Baroque to contemporary music, film scores to Viennese waltzes and Americana jazz to Argentine tango has led to both public and critical acclaim throughout its 30-year history, with past collaborators including celebrated jazz musicians such as Tim Garland, Byron Wallen and The David Gordon Trio, composers including John Tavener and John Woolrich and soloists including Giovanni Guzzo, Alexander Sitkovetsky, Mark Padmore, Michael Collins and many, many more.
The ensemble released their first recording in 1995 on its own label with a recording of Vivaldi's Four Seasons, but has then gone on to record for Chandos, Toccata Classics, Harmonia Mundi and ARC Music, with notable projects including an inventive reimagining of the music of Astor Piazzola and, most recently, a Christmas Baroque disc. They have another release planned for 2022 with a catalogue totalling more than 20 disks. London Concertante's popularity has taken them all over the UK and beyond, with regular appearances at venues such as the Southbank Centre, Barbican, Alexandra Palace, Cadogan Hall and Cathedrals throughout the country as well as past tours to the USA, Finland, Italy, Germany, Spain, France and the Netherlands.
What London Concertante prides itself most on, however, it its ethos and unique rapport it builds with its audience. Its desire is to bring classical music to a new and ever more diverse and inclusive audience; they do not aim their performances at any one particular audience bracket. On average, one in two of their audience members have not been to a concert of classical music before. The group's commitment to enriching the lives of multiple communities is reflected in their musical output: they perform around 100 concerts a year in cathedrals, churches, concert halls, clubs and festivals, making them the busiest ensemble of its kind in the country.

This album contains no booklet.