---
Album info
Album including Album cover
I`m sorry!
Dear HIGHRESAUDIO Visitor,
due to territorial constraints and also different releases dates in each country you currently can`t purchase this album. We are updating our release dates twice a week. So, please feel free to check from time-to-time, if the album is available for your country.
We suggest, that you bookmark the album and use our Short List function.
Thank you for your understanding and patience.
Yours sincerely, HIGHRESAUDIO
1

Songbird (Orchestral) (Orchestral)

03:50

2

Autumn Leaves (Orchestral) (Orchestral)

04:34

3

People Get Ready (Orchestral) (Orchestral)

03:22

4

Waly Waly (Orchestral) (Orchestral)

05:10

5

Time After Time (Orchestral) (Orchestral)

05:00

6

Tall Trees In Georgia (Orchestral) (Orchestral)

05:01

7

Ain't No Sunshine (Orchestral) (Orchestral)

03:58

8

You've Changed (Orchestral) (Orchestral)

05:07

9

I Can Only Be Me (Orchestral) (Orchestral)

04:21

Total Runtime

40:23
Info for I Can Only Be Me (Orchestral)

The latest chapter in an unparalleled posthumous career, I Can Only Be Me is a landmark new collaborative album with the London Symphony Orchestra.
Eva Cassidy's original vocal parts have been isolated and accompanied by new arrangements written by Oscar-shortlisted Christopher Willis and Grammy-winning William Ross. Utilising recent advances in machine learning technologies, the existing vocal part has been painstakingly restored and enhanced to reveal previously unheard levels of clarity and depth. The result is an emotive, atmospheric album, familiar yet different, lush soundscapes accompanying pristine vocals.
"I cannot possibly find the words to express my thoughts and feelings about Eva. She is one of the most unique and powerful singers of all time. Her voice permeates my entire being. I don't understand what she does to me, but I am overwhelmed by the experience," says William Ross, who rearranged "Autumn Leaves." Christopher Willis handled the other eight tracks, "The first song on the album is Eva's iconic rendition of 'Songbird`. The wonderful, resonating truth about this song is that Eva is the Songbird, singing naturally from her heart. The goal with the orchestral version was to complement her pure vocal essence with an instrumental arrangement - a lush musical landscape with Eva's voice at the center."
"Songbird" was impressively used in the movie "Love Actually..." in 2003. In the meantime, the film has become a cult Christmas movie in many countries and is shown annually on TV. It is set in London two months before Christmas and tells ten different stories about love in parallel, all of which connect on December 24. "Songbird" - in the new orchestral version - has already been released as a single, as has "Tall Trees In Georgia."
In recent years, Eva Cassidy has become a role model for a younger generation of female singers. Every year there are countless new uses of Eva's music in film, television and beyond: figure skating champion Michelle Kwan skated to "Fields Of Gold" during the closing ceremony of the 2002 Winter Olympics. Eva's music has been used in "Maid in Manhattan," "Alpha Dog," "Party of Five," "So You Think You Can Dance," "CSI: Crime Scene Investigation," "Smallville" and even on the German "Tatort." In 2007, Eva Cassidy ranked 21st in a BBC poll of the 100 Voices of the 20th Century, and in 2015, her version of "Over The Rainbow" was played at the 67th Emmy Awards as background music for the "In Memoriam" ceremony, which the television industry uses to honor the passing of important personalities. More recently, shows such as "Firefly Lane," "This Is Us," "CSI: Vegas" and even a COVID-19 vaccination campaign have used Eva's music. On talent shows such as "The X Factor," "The Voice," "American Idol," "America's Got Talent," "Dancing With The Stars" and "The Masked Singer," Eva's arrangements and recordings continue to hang the bar high.
Worldwide, Eva Cassidy has now sold more than 12 million albums and many top stars such as Paul McCartney, Eric Clapton and Adele ("I dressed up as a Slipknot fan and after school I ran home and listened to Eva Cassidy") are fans of hers.
Eva Cassidy did not live to see her later immense success; she died at the age of only 33. Her interpretations of classic titles from the genres of jazz, blues, gospel and soul were to conquer the charts years later. She was interested in music from an early age, learning the guitar as a child, but at first only playing in the family circle. She was inspired by her parents' large record collection - listening alone was not enough for her, she wanted to sing and play herself. Cassidy's first public appearances were at weddings and street festivals, later she became the singer of a high school band and got more and more jobs as a studio and background singer until she founded her own formation, the Eva Cassidy Band. Almost all of the recordings that exist today were recorded with her band or resulted from studio sessions from Black Pond Studio.
While she did receive Washington Area Music Association (WAMA) awards (1993, 1994 and 1995 in the category of "Best Female Vocalist for Jazz/Traditional," 1994 in the category of "Best Female Vocalist for Roots Rock/Traditional R&B," 1995 as "Best Female Vocalist Jazz/Contemporary"), her career otherwise refused to take off.
Eva Cassidy
London Symphony Orchestra
William Ross, conductor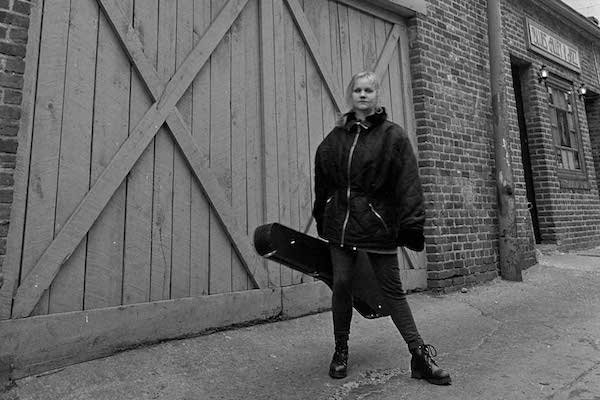 Eva Cassidy
Eva Marie Cassidy (February 2, 1963 in Washington, DC – November 2, 1996 in Bowie, Maryland) was an American vocalist described by the British newspaper The Guardian as "one of the greatest voices of her generation." She had a diverse repertoire of jazz, blues, folk, gospel and pop. Cassidy remained virtually unknown outside of her native Washington, DC, when she died of melanoma (which had spread to her bones) in 1996. Her posthumously released recordings have since sold in excess of 12 million copies, and in early 2001 the compilation album Songbird reached #1 on the UK album charts.
Eva Cassidy was the third of four children born to Hugh and Barbara Cassidy. From an early age, she displayed artistic and musical talent. When she was nine years old, her father taught her to play the guitar, and she began to play and sing at family gatherings.
While a student at Bowie High School, she did sing with a local band, called Stonehenge, and received considerable praise.
At the age of eighteen, Cassidy began her professional career, singing and playing guitar in a Washington, D.C., area band, called Easy Street. This band performed in a variety of styles, at weddings, corporate parties, and pubs.
During the summer of 1983, Cassidy sang and played guitar, six days per week, at Wild World, in Maryland. Her brother Dan was also a member of this working band.
Throughout the 1980s, Cassidy worked with a number of other bands, including the soul and Motown-oriented band The Honeybees, and the techno-pop band Characters Without Names, later called Method Actor.
During this period, Cassidy also worked as a propagator at a plant nursery and as a furniture painter in Annapolis, Maryland. In 1986, she met (bassist and recording engineer) Chris Biondo, who encouraged her and helped her find work as a backup singer for various acts. In 1990, Biondo and Cassidy hired the so-called "Eva Cassidy Band", composed of Chris Biondo, Lenny Williams, Keith Grimes and Raice McLeod, and she began to perform frequently in the Washington area.
In 1992, Biondo played a tape of Cassidy's voice for Chuck Brown. Best known as the "Godfather of Go-go", Brown is also a jazz and blues vocalist. This led to the first commercial recording of Cassidy, the duet album with Chuck Brown, The Other Side; which featured performances of classic songs such as "Fever", Billie Holiday's "God Bless the Child" and Cassidy's signature tune "Over the Rainbow". The album was released and distributed by Liaison Records, the label that also released Brown's Go-go albums. The duet CD attracted the attention of various record companies, but the offers all required Cassidy to pigeonhole herself within a single style (e.g., pop or jazz), something she adamantly refused to do.
In 1993 Eva Cassidy was first honored by the Washington area music community when she was awarded two Wammie awards for "Female Vocalist Roots /Traditional R&B" and "Vocalist Jazz/Traditional." The next year she was chosen to perform for the awards ceremony.
In January 1996, Cassidy recorded the album Live at Blues Alley, about which The Washington Post later commented that "she could sing anything and make it sound like the only music that mattered". Cassidy was unhappy with her singing on the album, because she had a bad cold on the night of the recording; she began recording a studio album which was eventually released as Eva by Heart posthumously in 1997.
During a promotional event for the Live at Blues Alley CD in July 1996, Cassidy noticed an ache in her hips, which she attributed to stiffness from painting murals. The pain persisted, and, a few weeks later, Cassidy was diagnosed with melanoma. By the time of her diagnosis, the cancer had spread throughout her body. Cassidy's health rapidly deteriorated, and her final performance was in September 1996. At the performance, she had used a walker to reach the stage, sang "What a Wonderful World" in front of an audience of friends, and was subsequently admitted to Johns Hopkins Hospital.
Eva Cassidy died on November 2, 1996, at the age of 33. She was posthumously inducted into the Hall of Fame of the Washington Area Music Association.

This album contains no booklet.