---
Vagabonds Of The Western World (Remastered) Thin Lizzy
Album info
Album including Album cover
I`m sorry!
Dear HIGHRESAUDIO Visitor,
due to territorial constraints and also different releases dates in each country you currently can`t purchase this album. We are updating our release dates twice a week. So, please feel free to check from time-to-time, if the album is available for your country.
We suggest, that you bookmark the album and use our Short List function.
Thank you for your understanding and patience.
Yours sincerely, HIGHRESAUDIO
1

Mama Nature Said

04:44

2

The Hero And The Madman

06:08

3

Slow Blues

05:10

4

The Rocker

05:07

5

Vagabond Of The Western World

04:43

6

Little Girl In Bloom

05:12

7

Gonna Creep Up On You

03:27

8

A Song For While I'm Away

05:05

Total Runtime

39:36
Info for Vagabonds Of The Western World (Remastered)

Celebrating the 50th Anniversary of Thin Lizzy's third studio album Vagabonds of the Western World. Featuring rarities and unreleased music never previously heard.
Vagabonds of the Western World is the third studio album by Irish hard rock band Thin Lizzy, released in 1973. It was the band's last album with original guitarist Eric Bell and the first to feature the artwork of Jim Fitzpatrick, whose work would appear on many subsequent albums by the band.
At the time of its release, the album was seen as the band's last roll of the dice, as they had been working for two years with limited success. After the band moved to London from Dublin, they played every gig they could to keep themselves afloat. While messing around in their rehearsal studio, Phil Lynott started busking the old Irish folk song "Whiskey In The Jar," which dates back to the 1700s. Their then manager remarked upon it and insisted that the band recorded, against their gut instincts. The single was released in November 1972 and rose to number 6 on the UK singles chart. However, the song didn't sit well with the band, and despite its success, they left it off their forthcoming album.
Since then, the song, in arrangements influenced by The Lizzy version, has gone on to be covered by artists such as U2, Metallica, Belle & Sebastian, The Pogues, Pulp, Bryan Adams, Gary Moore and Simple Minds.
After a two-year struggle for recognition, Thin Lizzy had finally scored a breakthrough hit. It paved the way for the Vagabonds Of The Western World album, which also included fan favorites such as "Little Girl In Bloom," "Gonne Creep Up On You" and "Mama Mature Said." However, it would be their last with original guitarist Eric Bell. After an unsuccessful New Year's Eve show in Belfast, Bell was no longer in the band, which paved the way for Lynott's idea about having twin lead guitarists. After a short spell with very young Gary Moore filling in, Phil & Brian recruited American Scott Gorham and 18-year-old Glaswegian Brian Robertson, and a new adventure started.
The 50th anniversary of Vagabonds Of The Western World is the sound of nascent Lizzy finally finding their feet and starting on their journey to be one of the greatest rock bands of the 70s and for Philip Lynott to be recognized as one of the best songwriters of his generation.
Philip Lynott, vocals, bass guitar, rhythm guitar, associate producer
Eric Bell, lead guitar
Brian Downey, drums, percussion
Additional musicians:
Kid Jensen, voice on "The Hero and the Madman"
Jan Schelhaas, organ on "Mama Nature Said" and "The Hero and the Madman"
Fiachra Trench, string arrangement on "A Song for While I'm Away" and "Little Darling"
Gary Moore, lead guitar and acoustic guitar on "Sitamoia", "Little Darling" and "Slow Blues (1977 Version)"
Digitally remastered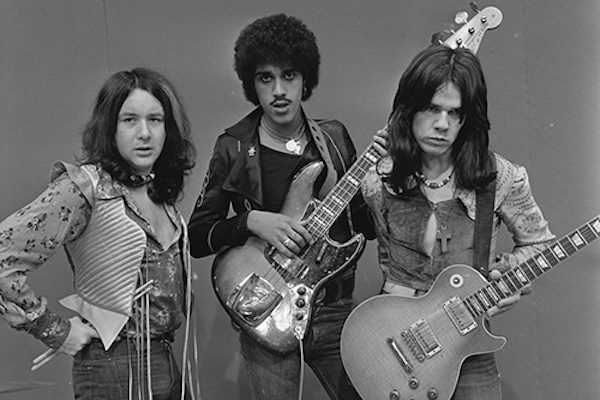 Thin Lizzy
One of the defining rock groups of the 20th Century, Thin Lizzy began life in Dublin in 1969 when childhood friends Phil Lynott and Brian Downey were approached by two former members of Van Morrison's band 'Them', Eric Wrixon (keyboards) and Eric Bell (guitar).
Prior to this Lynott and Downey had been playing together as 'Orphanage', along with Pat Quigley on bass and Joe Staunton on guitar. The newly formed Thin Lizzy saw Brian Downey on drums and Lynott playing bass and vocals.
Their first release, on Parlophone, came in July 1970. It was an original composition of Lynott's called 'The Farmer'. Out of 500 copies pressed, 283 sold. An inauspicious start maybe, but the band were destined for great things.
Soon after, Wrixon left the band and the remaining three members continued to play live most nights of the week. Peter Eustace, the group's roadie recalled: 'Thin Lizzy was very much Eric's band at the beginning, and Phil barely got a look-in. My earliest memory of Thin Lizzy live was that it was just Eric going through his Jeff Beck and Jimi Hendrix routines.'
Signing to Decca Records, their first album 'Thin Lizzy' was released in 1971. Speaking of the group's recording sessions, Bell said: 'We were totally bombed for the duration of that record.' In spite of this, 'Thin Lizzy' and their next album 'Shades Of A Blue Orphanage' were described as intriguing, quirky LPs that tended to defy easy categorisation. Although neither album charted, their early fan based was helped along by DJ Kid Jensen who would feature them on his radio Luxembourg show, and they began to build a strong underground following.
During 1972 they toured Europe, but it was only really back in Ireland that their tours provided the funds to keep the band going. Despite this, they knew that if they wanted to break into the wider market they had to persevere with playing in England.
Later that year, Slade went on tour and Thin Lizzy were booked as their support. Decca released a record to coincide with this tour, and chose Lizzy's unique rock version of a traditional Irish folk song: 'Whiskey In The Jar'. Although the song stayed in the top of the Irish charts for 17 weeks and reached number 6 in England, the band were annoyed at being lumbered with a 'folksy' label that they were determined to shake off.
Work began on their third album 'Vagabonds Of The Western World' and was released in the autumn of 1973. Combining the traditions of Pop Art on the cover and a yarn about the 'Legend of the Vagabond' along with a shamrock design on the back, this album demonstrated the growing progression of Phil's vision for the group: mystical Celtic meets hard hitting rock.
Downey said: 'The quality of Phil's song writing and the aggression in our playing made it a good album. I think 'The Rocker' just about sums up what Thin Lizzy was all about at that time.'
During this period Phil began to take up the creative reins of the band and Eric Bell left the group in 1974. He was replaced by Gary Moore for a few months as they continued with an Irish and then an English tour. A series of dates in Germany followed this, with guitarists Andy Gee and John Cann.
Despite the live work, chart success continued to elude the band and Lynott and Downey were on the verge of calling it a day. Instead they signed up two new guitarists – Brian 'Robbo' Robertson from Glasgow and Californian Scott Gorham, and a new era dawned for Thin Lizzy.
The deal with Decca had run its course and the newly formed line-up then signed with Phonogram. Their fourth album 'Night Life' was released in November 1974 and they continued to grind away on the road, honing their act and becoming a tighter and more accomplished group.
The next album 'Fighting' in 1975 saw Lizzy's style develop further with the harmonised guitar-lines of Gorham and Robertson backed up with power-chord rhythm work. As Scott recalls: 'Wishbone Ash had done the twin guitar thing before us, but we took the idea and put it into a hard rock context, with more aggression.'
Their hard work was rewarded with the breakthrough album 'Jailbreak' in 1976 and the single 'The Boys Are Back In Town'. Both were massive international hits with the single hitting number 8 in the UK charts. Reaching the top 20 in the US, the album sales exceeded 100,000 copies – far and away their best success to date. Riding this wave, their next album 'Johnny The Fox' released in October 1976 went gold confirming their status, and the single 'Don't Believe A Word' reached number 12 in the UK charts.
Following a sell-out British tour at the end of 1976, the band were all set for an American tour when Brian Robertson was injured and they were forced to cancel.
Instead they went to America as the supporting band for Queen, and drafted in Gary Moore as a replacement for Robertson. Once the tour had ended, Robertson confirmed he would not be returning to the group and the three-piece of Phil, Brian Downey and Scott went on to record the 1977 album 'Bad Reputation'. In the end Robertson did return to re-join Lizzy during the album recording and stayed with the group doing session work and guest appearances until August 1978 when he finally left to form 'Wild Horses'.
'Bad Reputation' was released in September of 1977 and stormed to number 4 in the UK charts. Coming as it did on the back of 'Jailbreak' and 'Johnny The Fox', this cemented the band's position as one of the most successful rock bands of the time.
Thin Lizzy embarked on a US tour in the autumn of 1977 and the following year they began mixing work on a double album 'Live and Dangerous'. They strived to recreate the energy and excitement of their stage performances in the studio and the album was a hit on both sides of the Atlantic. The track 'Still In Love With You' is considered by many to be a highlight of Phil's career.
Later in 1978 they took off for another US tour, this time with Gary Moore replacing Robbo once again. Also absent was Brian Downey. 'I was totally exhausted', he said. 'I just couldn't take it anymore. I didn't want to see another stage again, and I certainly didn't want to go on to Australia, as had been proposed.' The band booked drummer Mark Nauseef, who had been playing with the Ian Gillan Band, as Brian's replacement for the tour.
At the end of the 1978 tour, Phil, Scott, Gary and a now rested Brian Downey came together in London and Paris to work on the next LP, 'Black Rose – A Rock Legend'. Released in 1979, the central piece of the work was the title track, in Gaelic 'Roisin Dubh'.
Back on the road in the US, frictions within the band grew and resulted in Gary Moore being replaced by Midge Ure half way through the tour. Guitarist Dave Flett, ex-Manfred Mann's 'Earth Band', was also bought on board for the dates in Japan, which enabled Midge to switch to keyboards for some songs and saw the phenomenon of three lead guitars at the front of the stage.
Following the tours, Darren Wharton was recruited as a full-time keyboard player enabling Midge to honour his previous commitment to join a new group, Ultravox.
Dave Flett was replaced by Terence Charles 'Snowy' White in 1980 who also debuted on that years 'Chinatown' album, but ultimately gave way to John Sykes who brought with him the younger energy needed for a Thin Lizzy guitarist.
1980 also saw the release of Phil's first solo album 'Solo In Soho'. The track 'Yellow Pearl' was subsequently chosen as the theme tune for BBC's Top Of The Pops. Although billed as a solo album, it included Brian, Scott and Snowy White as well as Midge Ure, Mark Knopfler and Huey Lewis among others.
'The Adventures Of Thin Lizzy' was released in 1981 and went gold in the UK. This was followed by the new album 'Renegade', together with a tour. Thin Lizzy also headlined the very first Slane festival in Ireland supported by U2, Hazel O'Connor and Rose Tattoo.
Disappointing sales of both 'Renegade' and Phil's second solo album precipitated a farewell tour to coincide with the release of 'Thunder And Lighting'. Both the new album and the live dates in fact proved extremely popular and caused a resurgence of interest in the group. With John Sykes now on board the tour lasted nearly a year and culminated in a gala performance at the Hammersmith Odeon featuring special guests Brian Robertson, Eric Bell and Gary Moore joining Phil and the band. The 1983 double live album 'Life' included this gem from the tour but suffered from a delayed release.
Thin Lizzy's final UK show was on 28th August 1983 at the Reading Festival. Their farewell concert came on 4th September that year at the Monsters Of Rock Festival in Nuremburg, Germany.

This album contains no booklet.