---
Album info
Album including Album cover Booklet (PDF)
David Felder (b. 1953): Les quatre temps cardinaux:

1

Les quatre temps cardinaux: I, Preface - Stanza 1a (Daumal)

04:00

2

Les quatre temps cardinaux: II, Stanza 1b (Daumal)

03:40

3

Les quatre temps cardinaux: III, Spring Light (Creeley)

05:13

4

Les quatre temps cardinaux: IV, Stanza 2a (Daumal)

01:31

5

Les quatre temps cardinaux: V, Fragments (from Neruda)

01:41

6

Les quatre temps cardinaux: VI, Stanza 2b (Daumal)

02:15

7

Les quatre temps cardinaux: VII, Stanza 3a (Daumal)

04:52

8

Les quatre temps cardinaux: VIII, Stanza 3b (Daumal)

02:33

9

Les quatre temps cardinaux: IX, Buffalo Evening (Creeley)

09:13

10

Les quatre temps cardinaux: X, Stanza 4a (Daumal)

03:26

11

Les quatre temps cardinaux: XI, Insomnia (Gioia)

06:06

12

Les quatre temps cardinaux: XII, Stanza 4b (Daumal)

04:27

Total Runtime

48:57
Info for David Felder: Les quatre temps cardinaux

David Felder's expressive song cycle Les Quatre Temps Cardinaux, for soprano, bass, orchestra and electronics, is structured around the four stanzas of the eponymous poem by René Daumal (1908–1944). The piece begins with a recitation as Daumal's poem is electronically diffused around the space, each stanza heard at one of its four cardinal points to form a circle. This, like all the electronics throughout the piece, is based on a spoken recitation of the poem, its phonemes and formants broken up and digitally remoulded into drums, gongs, bells and more. The music, too, mirrors the poetry and stretches from lush and fervent to more fractured and anxious as the piece develops. The piece is herein performed by a joint collection of Ensemble Signal and the Slee Sinfonia, with the extraordinary soloists Heather Buck and Ethan Herschenfeld, and the ultimate contemporary conductor, Brad Lubman.
Heather Buck, soprano
Ethan Herschenfeld, bass
Ensemble Signal
Slee Sinfonietta
Brad Lubman, conductor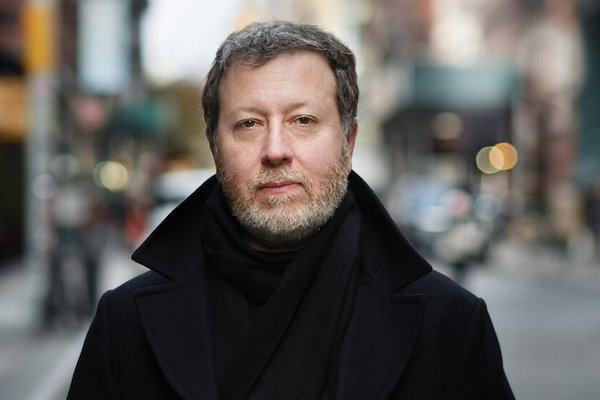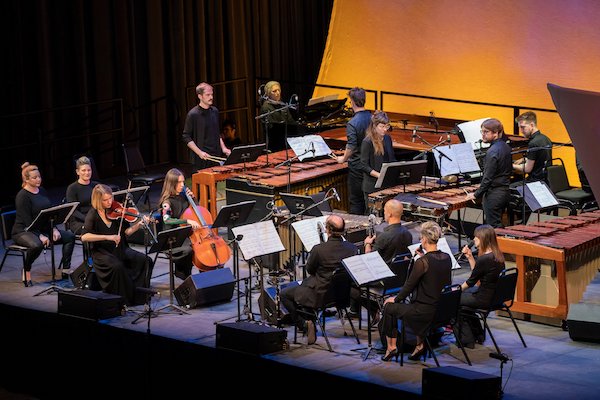 Brad Lubman
conductor/composer, is one of the foremost conductors of modern music and a leading figure in the field for over two decades. A frequent guest conductor of the world's most distinguished orchestras and new music ensembles, he has gained widespread recognition for his versatility, commanding technique, and insightful interpretations. His flexibility in a variety of settings has led him to conduct a broad range of repertoire from classical to contemporary works, and to direct projects including orchestra, opera, multimedia, and mixed ensemble. Lubman has led major orchestras including the Bavarian Radio Symphony Orchestra, Royal Concertgebouw Orchestra, Los Angeles Philharmonic, San Francisco Symphony, Danish National Symphony, NDR Symphony Orchestra Hamburg, DSO Berlin, SWR Sinfonieorchester, WDR Symphony Cologne, Orchestre Philharmonique de Radio France, Finnish Radio Symphony, and the Netherlands Radio Philharmonic Orchestra.
In addition, he has worked with some of the most important European and American ensembles for contemporary music, including Ensemble Modern, London Sinfonietta, Klangforum Wien, Musik Fabrik, Ensemble Resonanz, and Steve Reich and Musicians. Lubman has conducted at new-music festivals across Europe, including those in Lucerne, Salzburg, Berlin, Huddersfield, Paris, Cologne, Frankfurt, and Oslo.
Lubman is founding Co-Artistic and Music Director of the NY-based Ensemble Signal. Since its debut in 2008, the Ensemble has performed over 300 concerts and co-produced ten recordings. Their recording of Reich's Music for 18 Musicians on harmonia mundi was awarded a Diapason d'or in June 2015 and appeared on the Billboard Classical crossover charts.
Lubman has been particularly noted for his ability to quickly master challenging scores in a variety of settings, a skill honed between 1989-94, when he was assistant to Oliver Knussen at Tanglewood. Lubman has conducted numerous world premieres. Among these are Steve Reich's Three Tales, Reich/Richter, Runner, Daniel Variations, Radio Rewrite, and Variations for Vibes, Pianos and Strings. Additional world premieres given by Lubman include Helmut Lachenmann's Concertini and Michael Gordon/David Lang/Julia Wolfe's Shelter, as well as works by Philip Glass, Brian Ferneyhough, Charles Wuorinen, John Zorn, and Hilda Paredes.
Lubman was the 2017 Composer in Residence at the Grafenegg Festival in Austria in his dual role as conductor and composer in residence; a highlight of his residency was a performance with the Tonkünstler Orchestra Austria, where he led works by Brahms and Mahler as well as the world premiere of his own Reflections for orchestra. His recent work Tangents was commissioned by the LA Philharmonic and premiered at Walt Disney Concert Hall. In Spring 2020, Rudolf Buchbinder will premiere a new work for solo piano by Lubman at the Vienna Musikverein as part of a project including 11 contemporary composers each writing their own variations on Diabelli's theme – which Buchbinder will also record for Deutsche Gramaphon and perform live on tour in 2020.
Brad Lubman is on faculty at the Eastman School of Music and the Bang on a Can Summer Institute.
The Slee Sinfonietta
is the professional chamber orchestra in residence at the University at Buffalo and the flagship ensemble of the Robert and Carol Morris Center for 21st-Century Music. The Sinfonietta presents a series of concerts each year that feature performances of challenging new works by contemporary composers and lesser-known works from the chamber orchestra repertoire.
Founded in 1997 by composer David Felder, and comprised of a core group including UB faculty performance artists, visiting artists, national and regional professionals and advanced performance students, the Slee Sinfonietta is conducted by leading conductors and composers. This ensemble has produced world-class performances of important repertoire for fourteen years, and its activities include touring, professionally produced recordings, and unique concert experiences for listeners of all levels of experience.
Ensemble Signal
described by the New York Times as "one of the most vital groups of its kind", is a NY-based ensemble dedicated to offering the broadest possible audience access to a diverse range of contemporary works through performance, commissioning, recording, and education. Since its debut in 2008, the Ensemble has performed over 90 concerts, has given the NY, world, or US premieres of over 20 works, and co-produced five recordings.
Signal was founded by Co-Artistic/Executive Director Lauren Radnofsky and Co-Artistic Director/Conductor Brad Lubman. Called a "new music dream team," (TimeOutNY), Signal regularly performs with Lubman and features a supergroup of independent artists from the modern music scene. Lubman, one of the foremost conductors of modern music and a leading figure in the field for over two decades, is a frequent guest with the world's most distinguished orchestras and new music ensembles.
Signal's passion for the diverse range of music being written today is a driving force behind its fearlessly adventurous programming, which includes repertoire ranging from minimalism or pop-influenced to the iconoclastic European avant-garde. Signal's projects, often boutique in nature, are frequently conceived through close collaboration with cooperating presenting organizations and artists. The Ensemble is flexible in size and instrumentation - everything from solo to large contemporary ensemble in any possible combination - enabling it to meet the ever-changing demands on the 21st century performing ensemble.
At home in concert halls, clubs, and international festivals alike, Signal has performed at Lincoln Center Festival, Ojai Music Festival, Carnegie Hall's Zankel Hall, The Guggenheim Museum (NY), Miller Theatre, (le)Poisson Rouge, The Tanglewood Music Festival of Contemporary Music, Cleveland Museum of Art, The Wordless Music Series, and the Bang on a Can Marathon.
At the core of Signal's values is a belief that music must be approached with an idiomatic understanding of the performance practices of each composer. To that end, they aim to work directly with the composers they perform, a list that has included Steve Reich, Helmut Lachenmann, Michael Gordon, David Lang, Julia Wolfe, Oliver Knussen, Hilda Paredes, and Charles Wuorinen. Other notable collaborations include those with violinist Irvine Arditti - with whom they have performed, among other things, Brian Ferneyhough's Terrain and Hilda Paredes's Senales (a 2012 Miller Theatre commission, dedicated to Signal and Arditti) - and with longtime Philip Glass Ensemble Music Director and producer Michael Riesman, who has joined Signal as piano soloist, and produced three of their recordings.
Signal's educational activities include workshops with the next generation of composers and performers at institutions including the Eastman School of Music, and the June in Buffalo Festival at University of Buffalo's Center for 21st Century Music, where they are a resident ensemble. Additionally, their performances frequently feature informative discussions with composers.
Recent highlights have included performing in the 2013 Lincoln Center Festival's production of Monkey: Journey to The West, with music by Damon Albarn, directed by Chen Shi-Zheng. Upcoming highlights include the co-commission of a new work for large ensemble by Steve Reich, to be premiered in 2016-17.
Signal's recordings include Philip Glass's Glassworks and Music in Similar Motion (Glass's Orange Mountain label); and Sarah Kirkland Snider's Penelope (New Amsterdam Records); a CD & DVD of music by Lachenmann, with the composer as soloist in Zwei Gefühle (Mode); Michael Gordon, David Lang, and Julia Wolfe's Shelter (Cantaloupe); and Reich's iconic Music for 18 Musicians and Double Sextet (release date TBD).

Booklet for David Felder: Les quatre temps cardinaux