---
Beethoven: Piano Trios Op. 70 No. 1 "Ghost" & No. 2; Op. 11 Gryphon Trio
Album info
Album including Album cover
Ludwig van Beethoven (1770 - 1827): Piano Trio in D major "Ghost", Op. 70, No. 1:

1

Piano Trio in D major "Ghost", Op. 70, No. 1 / I. Allegro vivace e con brio

07:07

2

Piano Trio in D major "Ghost", Op. 70, No. 1 / II. Largo assai ed espressivo

10:59

3

Piano Trio in D major "Ghost", Op. 70, No. 1 / III. Presto

08:28

Piano Trio in E-flat major, Op. 70, No. 2:

4

Piano Trio in E-flat major, Op. 70, No. 2 / I. Poco sostenuto - Allegro ma non troppo

10:36

5

Piano Trio in E-flat major, Op. 70, No. 2 / II. Allegretto

05:32

6

Piano Trio in E-flat major, Op. 70, No. 2 / III. Allegretto ma non troppo

05:45

7

Piano Trio in E-flat major, Op. 70, No. 2 / IV. Finale: Allegro

08:04

Piano Trio in B-flat major, Op. 11:

8

Piano Trio in B-flat major, Op. 11 / I.Allegro con brio

09:33

9

Piano Trio in B-flat major, Op. 11 / II.Adagio

05:26

10

Piano Trio in B-flat major, Op. 11 / III.Thema: "Pria ch'io l'impegno"- Allegretto

07:11

Total Runtime

01:18:41
Info for Beethoven: Piano Trios Op. 70 No. 1 "Ghost" & No. 2; Op. 11

This album is the last in the series of the Gryphon Trio's recordings of the Beethoven Piano Trios. The ensemble has been hailed by audience and critics alike, both in Canada and on the international scene. The Gryphon Trio is just as much at ease performing the contemporary repertoire, notably through commissions and premieres of new works, as it is playing classical masterworks.
"These finely judged and warmly recorded performances gave me a great deal of pleasure. I particularly liked the players' leisurely tempos in the opening movement of the Trio Op. 70 No. 2, and the way they brought out the gruff humour of the concluding variations in Beethoven's own adaptation of his Op. 11 Trio" (BBC Music Magazine)
Gryphon Trio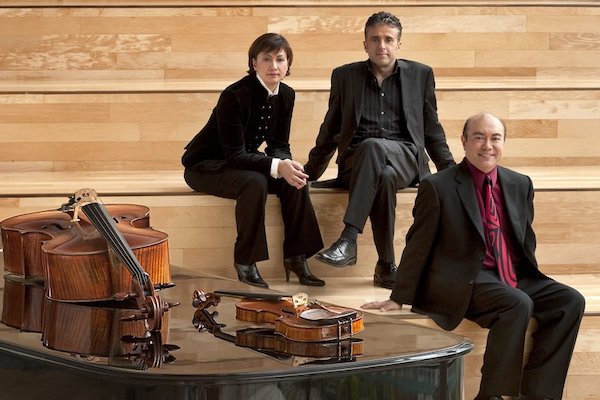 The Gryphon Trio
has firmly established itself as one of the world's preeminent piano trios, garnering acclaim and impressing international audiences with its highly refined, dynamic and memorable performances. With a repertoire that ranges from traditional to contemporary and from European classicism to modern-day multimedia, the Gryphons are committed to redefining chamber music for the 21st century. The 2017 – 18 season marks the Gryphon Trio's 25th anniversary.
Creative innovators with an appetite for discovery and new directions, the Gryphon Trio has commissioned over 75 new works, and frequently collaborates on projects that push the boundaries of chamber music. The trio tours regularly throughout North America and Europe, and their 19 recordings are an encyclopedia of works for the genre. Honours include two Juno Awards for Classical Album of the Year and the prestigious 2013 Walter Carsen Prize for Excellence in the Performing Arts from the Canada Council. Deeply committed to music education and audience development, the Gryphons conduct master classes and workshops at universities and conservatories, and are artists-in-residence at the University of Toronto's Faculty of Music and Trinity College. Dr. Jamie Parker is the Rupert E. Edwards Chair in Piano Performance and Annalee Patipatanakoon is Associate Professor of Violin and Head of Strings at the University of Toronto's Faculty of Music.
Since 2010, the Trio's multi-faceted arts creation program Listen Up! Has engaged elementary school students, teachers and parents in 13 Canadian communities and provided them with the experience and knowledge required to participate actively in the arts. The Gryphon Trio has had a long association with Ottawa Chamberfest, one of the world's largest chamber music festivals. Cellist Roman Borys is Artistic and Executive Director while Ms. Patipatanakoon and Dr. Parker serve as Artistic Advisors.

This album contains no booklet.