---
Album info
Album including Album cover
Fanny Mendelssohn (1805 - 1847): Fantasia in G minor:

1

Mendelssohn: Fantasia in G minor

00:00

Sonata in D major, op. 58:

2

Mendelssohn: Sonata in D major, op. 58: I. Allegro assai vivace

07:32

3

Mendelssohn: Sonata in D major, op. 58: II. Allegretto scherzando

05:03

4

Mendelssohn: Sonata in D major, op. 58: III. Adagio

05:17

5

Mendelssohn: Sonata in D major, op. 58: IV. Molto Allegro e vivace

06:57

Clara Schumann (1819 - 1896): Drei Romanzen, op. 22:

6

Schumann: Drei Romanzen, op. 22: I. Andante molto

03:14

7

Schumann: Drei Romanzen, op. 22: II. Allegretto

00:00

8

Schumann: Drei Romanzen, op. 22: III. Leidenschaftlich schnell

04:14

Gustav Jenner (1865 - 1920): Sonata in D major:

9

Jenner: Sonata in D major: I. Allegro moderato

06:17

10

Jenner: Sonata in D major: II. Andante con variazioni

08:58

11

Jenner: Sonata in D major: III. Allegro

06:24

Total Runtime

53:56
Info for Shadows

In this wonderful recording, cellist Lorenzo Meseguer and pianist Mario Mora bring together four composers who have historically been undervalued: From Fanny Mendelssohn's Fantasia to Gustav Jenner's Sonata in D major, the album also includes Felix Mendelssohn's Sonata op. 58, a masterpiece for this combination, and an arrangement for cello and piano of Clara Schumann's Three Romances op. 22.
Lorenzo Meseguer, cello
Mario Mora, piano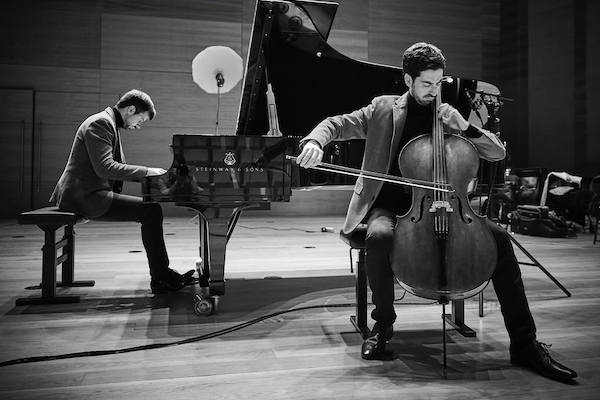 Lorenzo Meseguer
Professor of cello at the Conservatorio Superior de Música de Castilla y León in Salamanca, Lorenzo Meseguer combines his teaching activity with his performing career. He is currently a member of the prestigious City of Birmingham Symphony Orchestra as well as the Balthasar Neumann Ensemble in Freiburg. Born in Murcia, he earned a place at the city's conservatory before continuing his studies at the Real Conservatorio Superior de Música in Madrid, Mozarteum University Salzburg and Royal Academy of Music in London, achieving the highest honours on each occasion. He has won prizes in more than a dozen national and international competitions, including the Liezen International Cello Competition (Austria) and first prize and Don Juan de Borbón Foundation special prize at the V Florián de Ocampo National Cello Competition (Spain). Having made his debut as a soloist at the age of 12, he has been expanding his career ever since. He opened the Orquesta Sinfónica de la Región de Murcia, with whom he more recently performed the Dvořák Cello Concerto, again to great acclaim from audience and critics alike. He has recorded works by Haydn, C.P.E. Bach and Saint-Saëns, as well as the concertos of Elgar and Lalo, for Radio Nacional de España. Meseguer is a founding member of the Cuarteto Seikilos, which was awarded the 2021 Festclásica Emerging Ensemble prize. This gives the quartet the opportunity to perform at Spain's leading music festivals. The cellist's interest in chamber music has led him to train with Wolfgang Redik (Vienna Piano Trio), Rainer Schmidt (Hagen Quartett), the Brentano Quartet, Emerson Quartet, Minetti Quartett and Trio di Parma, and at Montreal's McGill University. He has also performed with artists including Nicolas Altstaedt, Kolja Blacher, Guy Braunstein, Gordan Nikolitch, Sir Simon Rattle, Wolfgang Redik, Elisabeth Scholl, Arabella Steinbacher, and the Scharoun Ensemble Berlin. Lorenzo Meseguer plays a Richard Duke cello (London, 1770).
Mario Mora
pianist, teacher and communicator, has been hailed as "an excellent pianist" (Roberto San Juan, Mundo Clásico) and "a rising star of the piano who is already a brilliant soloist" (G. García-Alcalde, La Provincia).
He has also been praised for the "sensitivity and mastery of his playing and phrasing" (Cristina Rodríguez, Docenotas), with one critic summing up a performance as follows: "he plays each note with an exquisite taste that makes listening to him a privilege" (Ana R. Colmenarejo, Scherzo). He was awarded an MA with Distinction from London's Royal Academy of Music, and also won the prize for best Master's recital.
He studied at the RAM with Professor Pascal Nemirovski, having been awarded a Krein Scholarship, as well as receiving sponsorship from Santander Universities UK. Mora has won more than 30 national and international piano prizes including, notably, first prizes at the Making Music Awards for Young Concert Artists (UK), Lagny-sur-Marne International Piano Competition (France), Infanta Cristina Piano Competition/Loewe-Hazen 09 Awards and Juventudes Musicales de España Competition (Spain), among others. He now performs regularly as a concert pianist in Europe, America and Asia, including appearances in the Jóvenes Intérpretes de la Fundación Scherzo series and at the Fundación Juan March, Teatros del Canal and Teatro Monumental, all in Madrid, as well as at the Granada International Festival of Music and Dance and Toronto Summer Music Festival; the Palau de la Música in Valencia; London's Wigmore Hall, St Martin-in-the-Fields and Steinway Hall; and Hongtai Concert Hall in Xiamen. As a soloist, he has performed with the Orquesta de Radio Televi- sión Española, Hanoi Philharmonic Orchestra, Orquesta Sinfónica de Valencia, Orquesta Sinfónica Verum, Kingston Philharmonia, Lichfield Sinfonia, Dulwich Symphony Orchestra and Camerata Alma Viva, among many others. As a chamber musician, he has been invited to play with such ensembles as the Navarra Quartet, Dudok Quartet Amsterdam, Cuarteto Matrice and Carducci String Quartet.

This album contains no booklet.