---
Album info
Album including Album cover Booklet (PDF)
1

Miss Julie (Live)

07:14

2

Homecomings (Live)

06:58

3

Manha De Carnaval (Live)

07:07

4

Jemin-Eye'n (Live)

05:28

5

Embraceable You (Live)

04:54

6

Bags' Groove (Live)

06:43

7

Green Dolphin Street (Live)

09:31

Total Runtime

47:55
Info for Jazz at Berlin Philharmonic XI: The Last Call (Live)

The two guitar icons Larry Coryell and Philip Catherine have a long history and a close musical affinity, despite their different influences on this and the other side of the Atlantic. Recorded on January 27, 2017 as part of the "Jazz at Berlin Philharmonic" series, "The Last Call" is the last recording of Larry Coryell, who passed away four weeks later on February 19, 2017. And an echo of a very special relationship between two very great guitarists, full of creative compatibility, enthusiasm and deep mutual understanding.
The wheel has come full circle with the album "Last Call", featuring the duo of Larry Coryell and Philip Catherine. This live recording from the Philharmonie in Berlin captures the culmination of an evening under the banner "Art of Duo" in Siggi Loch's "Jazz at Berlin Philharmonic" series.
After four decades, it marks the two guitarists' return to the scene of one of their very first major triumphs. In 1976 they appeared as part of the band 11th House at the Berliner Jazztage at the same venue, but it was the moment when just the two of them stepped forward and performed as a duo which the "Die Zeit"'s critic hailed as possibly the high point of the whole festival. It was a decisive step in what would become a highly successful collaboration.
Coryell and Catherine subsequently made two superb studio albums: "Twin House" (Atlantic, 1977), recorded in London, and the very fittingly named "Splendid" (Elektra, 78), recorded in Hamburg. Both of these LPs have definitely stood the test of time. Both also had the same producer, who credited on the sleeve as "Siegfried E. Loch". As he wrote to both the musicians in November 2016 on the 40th anniversary of the recording of "Twin House": "I am pleased that we are going to be celebrating this music in the concert on 24 January 2017 in Berlin." On "Last Call" Coryell and Catherine play four numbers, followed by first-time appearances of duos consisting of Philip Catherine and pianist Jan Lundgren and then of Larry Coryell with bassist Lars Danielsson, plus a valedictory jam on "Green Dolphin Street" with all four of these musicians plus trumpeter Paolo Fresu.
Coryell and Catherine, two "brilliant, mutually attuned musicians" as the liner note for "Twin House" describes them, were born less than six months apart during the Second World War. Texas-born Coryell and London-born Catherine have different musical heritages, but their affinity and above all their complementarity shone through every time they played together. When playing as part of larger units, there would always be at least 20 minutes when the pair would perform as a duo. They toured extensively in both Europe and the Americas in the late 1970s. For example their work together brought them into a project with Charles Mingus near the end of the bassist's life, and they also made a quartet album with Stéphane Grappelli and Niels-Henning Orsted-Pedersen. One particular highlight was their appearance at the inaugural Sao Paulo Jazz Festival in September 1978, when their performance was seen by a TV audience of 17 million. Catherine still laughs when he remembers the reason why he and Coryell became instant celebrities and could – briefly but literally! – stop traffic in Brazil: the duo had their TV slot immediately before the screening of the Muhammad Ali-Larry Spinks fight in Las Vegas.
The evening of 24 January 2017 found both guitarists on ebullient form, as can be heard right from the opening track. With Larry Coryell on acoustic guitar and Philip Catherine on electric, they launch themselves once more in to the arpeggiated work-outs of "Miss Julie" – the opening track of "Twin House" – with a verve and energy which belies their years. There is a divine moment at the end of "Manha de Carnaval" when Coryell is picking out a series of perfectly placed hushed harmonics over the most delicate accompaniment from Catherine. And later, in "Bag's Groove", Coryell's duo with Lars Danielsson, the quotes from other tunes fly joyously from his fingers: everything from Denzil Best's "Move" from the "Birth of the Cool" to the opening bassoon solo from Stravinsky's "Rite of Spring".
And yet the palpable exuberance of this concert is now tinged with sadness: this was to be Larry Coryell's very last appearance in a concert hall. Four weeks later, Coryell died at the age of 73 after a two-night trio residency at the Iridium in New York. So what remains is the memory, and above all this last example of something very special indeed: what Siggi Loch once described as the "creative compatibility, the enthusiasm and mutual understanding" of two very great guitarists, Larry Coryell and Philip Catherine.
Larry Coryell, guitar
Philip Catherine, guitar
Jan Lundgren, piano
Lars Danielsson, bass
Paolo Fresu, trumpet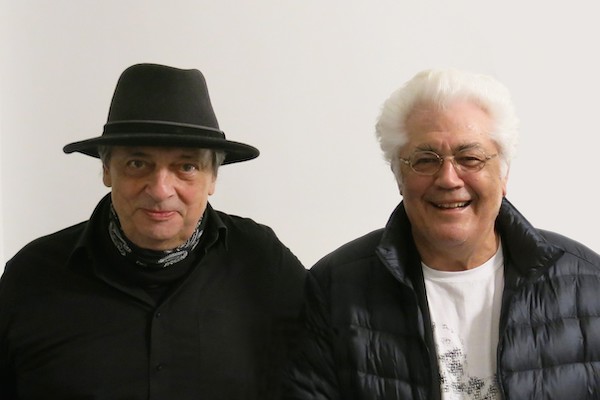 Larry Coryell
has been described by Whitney Balliett as "the most innovative and original guitarist since Charlie Christian." Beginning with his first recordings with Chico Hamilton and his tenure with the Gary Burton Quartet, Larry has remained in the pantheon of great jazz guitarists for more than thirty years. His personal philosophy of music has kept his playing fresh and exciting and makes each of his personal appearances or recordings a special event.
The late 60's and early 70's saw Larry as one of the most in-demand guitarists, not only in jazz but in all musical genres. It was during this time that Larry released a series of critically acclaimed albums for Vanguard, did some rock experimentation with Steve Marcus, toured with British musicians Jack Bruce and Mitch Mitchell and appeared on the first album by the Jazz Composer's Orchestra Association.
There were sessions with Jimmy Webb, The Fifth Dimension, Charles Mingus, Billy Cobham, Chick Corea, John McLaughlin and Miroslav Vitous. The albums produced at this time show Larry Coryell to be a profound musical prophet, merging jazz, rock, free-form improvisations and Eastern modes and scales in a way that was new at the time and still communicates power and emotion years later.
In 1974, Larry formed The 11th House, one of the most popular and successful fusion bands of its time. The band, comprising Coryell, Randy Brecker, Alphonse Mouzon, Mike Mandel and Danny Trifan, demolished the barriers between jazz and rock and came up with a sound that merged the best elements of both – the raw emotional power of rock with the more structured ideas of jazz. After The 11th House disbanded, Larry made a series of solo albums, two albums of duets with respectively Steve Kahn and Philip Catherine, and the Brubeck Brothers. Throughout this diverse career, Larry has put himself totally at the service of his music. "I am destined to be the eternal student, to continue developing my flow of ideas with my ability to flow with them…to listen to everything…"
All of Larry's work, both singly and collectively, highlights Larry's uncanny ability to revisit jazz standards and imbue them with the new life and ideas. He brings to them his years of experience in playing, listening and learning and synthesizes them into something greater than the sum of their parts.
Philip Catherine
has been on the forefront of the European jazz scene since the sixties. His work great artists like Chet Baker, NHOP, Stéphane Grappelli, Charles Mingus, Dexter Gordon, Larry Coryell, Tom Harrell, his unique approach and sound, his dedication to music have been important and influential. He recorded over 20 albums under his name and numerous collaborations with renowned artists worldwide.
Philip Catherine was born in London in 1942. Being from a musical family (his grandfather was first violin with the London Symphony Orchestra), he developed a musical ear from an early age. He took up the guitar after having discovered Brassens and Django Reinhardt, and started listening to all the great jazzmen of the period. Very soon he had the opportunity to meet some of them, and often accompanied them when they played in Belgium where his family had moved to by then. At the age of 18 he toured with Lou Bennett, and in 1971 Jean-Luc Ponty asked him to join his quintet.
In 1971 he made his first record under his name, "Stream", followed in 1974-75 by "September Man" and "Guitars". Jazz amateurs all over the world discovered not only a brilliant guitarist, but also a talented composer : themes like "Homecomings" and "Nairam" have become famous.
Philip Catherine has played in the most prestigious concert halls, from the Berlin Philharmonic to the Carnegie Hall, from the Concertgebouw in Amsterdam to the Olympia and Salle Pleyel in Paris and the Palais des Beaux-Arts of Brussels, but he still loves to play in jazz clubs occasionally because of the proximity with the audience.
Philip Catherine has received many awards, among others the "BIRD" Prize (1990), together with Stan Getz, at the North Sea Festival, the "Django D'Or" (1998) in Paris for "Best European Jazz Artist", the ZAMU "Lifetime Achievement Award" (2001) and "Best Musician" (2002). In 2002 he received the title "Maestro Honoris Causa" from the Antwerp Conservatory (title which has been given previous years to reputed artists like Jos van Immerseel, Sigiswald Kuijken and Toots Thielemans). In May 2016 he received the award "Best International Guitarist" at the 'ECHO JAZZ AWARDS 2016' in Hamburg/Germany.
In 1997 Philip Catherine signed with Dreyfus Records. His first album on this label - simply called "Live" (being the very first live recording of his career) has been highly acclaimed by the international press (4½-star in DownBeat, "best album of the year" in Jazz Nu).
It was followed in '98 by "Guitar Groove" (with Jim Beard on piano and keyboards, Alphonso Johnson on bass and Rodney Holmes on drums), which features twelve superb compositions by Philip and a beautiful rendering of "Stardust". The album got impressive radio airplay in the US and - very exceptional for a European jazz cd - it broke the top 20 of the Gavin Jazz Chart where it stayed for several months.
The Cd "Blue Prince"(nov 2000) received very enthusiastic acclaim from the press: "Record of the Year", in "JazzMan" and was selected among best album of the year in many magazines and newspapers.
"Summer Night" (Dreyfus, 2002) - with Philippe Aerts on bass, Joost van Schaik on drums, and Bert Joris on trumpet - contains six new compositions, a beautiful re-take of "Janet" and six standards. Le Monde writes "It's jazz, real, solid, an exceptional taste, velvet touch, a great personality which we sense through each chord, each note..."
The success of his appearances with some leading European big bands, and more frequently with chamber orchestra's, have revealed that his lyrical compositions are particularly appropriate for arrangements for larger ensembles. This lead to the collaboration with the Brussels Jazz Orchestra (BJO, , who were the first european big band to be elected in the 2004 Downbeat Critics Poll), and in april 2005 the album "Meeting Colours" (Dreyfus) was released, with superb arrangements of his music for guitar and big band by trumpetplayer/arranger Bert Joris.
"Guitars Two" (2008, Dreyfus Jazz), the first solo album of his career, was hailed in the international press as one of his best albums. The beauty of his compositions really stands out in these arrangements. Philip, surrounded by his guitars and his pedal-rack, fascinates his audience.
The album "Live at Cap Breton" (Dreyfus, 4/2010) with an all-star line-up: Enrico Pieranunzi (p), Hein Van de Geyn (b), Joe LaBarbera (dr) received great reviews and the quartet played some amazing concerts at summer festivals in 2010.
In 2011 The album "Philip Catherine plays Cole Porter" was released on Challenge Records, in quartet with pianist Karel Boehlee, Martijn Vink on drums and Philippe Aerts on double bass. In the words of Hein Van de Geyn :"Philip's unique sound is always recognizable, deeply expressive and so very personal. By surrendering to the tune, by simply trying to give the honest rendition of these timeless songs, Philip proved himself to be a great singer." It received among others the CHOC of the magazine JazzMan.
For his 70th birthday Philip Catherine gave a memorable concert at the Brussels Palais des Beaux-Arts, and presented his album "Coté Jardin" (11/2012) with his new quartet : great italian pianist Nicola Andrioli, young drum phenomenon Antoine Pierre and longstanding companion Philippe Aerts on bass, plus additional keyboards by Philippe Decock, and daughter Isabelle Catherine on vocals in a version of Philip's composition "Coté Jardin" with lyrics by Jacques Duvall.
Newspaper 'De Standaard' : "On "Misty Cliffs" his guitar sings, murmurs, but also bites and searches extasy " Catherine is lyrical, virutoso and by whiles exuberant on this sublime album."
In January 2014 the album "New Folks – Duo Art" was released on ACT Music, a duo recording with US based German bassplayer Martin Wind. Complicity, mutual respect and great playing have seduced the audiences during the succesful tours throughout Europe and the US.
Being asked by the legendary Brussels Flagey concert hall to set up a special project for their festival, Philip Catherine decided it was the right time to present a selection of his compositions in arrangements with string orchestra. The première was performed on in January 2015 at Flagey in Brussels. Philip's quintet together with the Orchestre Royal de Chambre de Wallonie conducted by Frank Braley, gave a sublime concert, which was filmed by national TV 'VRT-Canvas'.
The album "The String Project – live in Brussels" was released on ACT Music in September 2015, and has been highly acclaimed in the international press.
Rafa? Garszczynski wrote in JazzPress: "This is one of the best jazz recordings with strings of all times." In May 2016 in Hamburg (Germany), Philip received the prestigious ''ECHO JAZZ AWARD 2016' in the category "best international guitarist" with this album.
Autumn 2017 Philip Catherine celebrated his 75th Anniversary with a sold out concert at Flagey Brussels, in a special line-up with two pianos and two drums which resulted to be magic.
Warner Music released for the occasion a 5-CD Box: "Seleced Works 1974-1982" the long awaited re-release of his early vinyl records 'September Man' and 'Guitars', the albums 'Babel' and 'End of August', completed with an unedited solo recording by Radio Bremen of 1979 & 1982. Also Philip's first album 'Stream' was re-released on CD by the japanese label Union Disk.
During 2018 Philip Catherine performed at festivals like North Sea Jazz (sextet with 2 pianos), Middelheim Jazz (with his 'Reunion Band'), Dinant Jazz (his Quartet & Joshua Redman), as well as concerts in Argentina (with the great Dino Saluzzi), Austria, Belgium, France, Holland, Italy, Germany, Portugal, Senegal, Switzerland...
2019 will see the release of an album with the legendary trio Bex-Catherine-Romano :"La Belle Vie" in February, as well as an album with Paulo Morello & Sven Faller, "Manoir de mes Rêves" around the music of Django Reinhardt.
Philip Catherine continues relentlessly and open-minded his search for renewal and perfection. The formulas with which he performs give him the rhythmic support and freedom to unfold his wide palette of musical styles, from that irresistible groovy rock sound to the broad lyrical phrases of which he is a master.

Booklet for Jazz at Berlin Philharmonic XI: The Last Call (Live)