---
Album info
Album including Album cover
I`m sorry!
Dear HIGHRESAUDIO Visitor,
due to territorial constraints and also different releases dates in each country you currently can`t purchase this album. We are updating our release dates twice a week. So, please feel free to check from time-to-time, if the album is available for your country.
We suggest, that you bookmark the album and use our Short List function.
Thank you for your understanding and patience.
Yours sincerely, HIGHRESAUDIO
1

Rebel Heart

05:23

2

It's a Shame

04:00

3

Fireworks

04:15

4

Postcard

03:47

5

To Live a Life

03:13

6

My Wild Sweet Love

03:55

7

Distant Star

03:10

8

Ruins

03:31

9

Hem of Her Dress

03:23

10

Nothing Has to Be True

04:59

Total Runtime

39:36
Info for Ruins

Ruins is the new and eagerly awaited album from Swedish sister duo First Aid Kit. This new album finds First Aid Kit as you've never heard them before: wounded and biting back hard. While Ruins follows the traditions of the classic folk rock sound that First Aid Kit revived via their breakthrough album Stay Gold (2014) and previous releases The Big Black And The Blue (2010) and The Lion's Roar (2012), the difference is that this time they've lived, and the results are intense.
Tracks such as "Rebel Heart" the album's opener documents a love doomed from the start. "It's A Shame" the lead single is a plea to live in the moment because everyone disposes of each other eventually. On "Postcard" and To Live A Life," you feel the breath-stealing weight of despair when a shattered love leaves you bereft of hope. "Fireworks" introverts the blame with self-loathing.
In many ways, First Aid Kit's largest asset is their biggest problem. Their voices are so damn pretty. The [previous] records were always so perfect," says Johanna Söderberg. On Ruins, the duo didn't want it to feel perfect. They wanted it to feel rough and wrenching. Johanna comments further, "Given the material, the lyrics had to be the focus. These sentiments didn't need to be dressed up. They needed to be naked."
Ruins was made with one target in mind: make it sound more real a result the Söderberg sisters clearly achieved.
First Aid Kit: Johanna and Klara Soderberg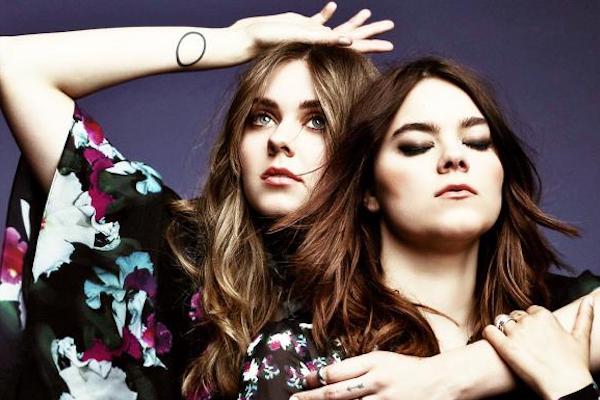 First Aid Kit
"Nothing gold can stay" -so formulierte der US-amerikanische Dichter und vierfache Pulitzer-Preisträger Robert Frost im Jahr 1923 jenen Sachverhalt, der sich wohl ungefähr mit den Worten "Nichts ist für immer" übersetzen lässt und den Verlust der Unschuld, die Flüchtigkeit der Schönheit, verlorene Liebe und schließlich auch den Tod mit einschließt. Und genau diese Zeile war es auch, die Klara Söderberg (die zusammen mit ihrer Schwester Johanna das schwedische Duo First Aid Kit bildet) aufmerksam werden und innehalten ließ.
"Ich hatte die erste Strophe von ?Stay Gold' geschrieben und kam irgendwie nicht weiter", erinnert sich Klara. "Ich nahm mir einen Gedicht-Sammelband und dachte: ?Ich schlage ihn auf und schaue, ob ich darin irgendetwas finde, das mich inspiriert'. Ich stieß sofort auf ?Nothing Gold Can Stay'. Es war buchstäblich das Erste, was ich sah und es war einfach nur perfekt". So perfekt, dass sich Klara die Zeile für den Refrain entlieh, der letzten Endes zum Herzstück und Titel des neuen First Aid Kits-Albums "Stay Gold" wurde, mit dem die Band nun ihr Debüt beim Sony Music-Label Columbia Records feiert. "Es ist ein Song über Veränderung, und möglicherweise den Wunsch, sich gar nicht verändern zu wollen", ergänzt Johanna.
Verändert hat sich für die Söderberg-Schwestern in den vergangenen sechs Jahren eine ganze Menge. Ihre Coverversion des Fleet Foxes-Songs "Tiger Mountain Peasant Song" hatte den Teenagern 2008 im Nu den Ruf eingebracht, großartige Musikerinnen und Performerinnen zu sein. Ihr YouTube-Video bescherte ihnen neben weltweiter Aufmerksamkeit und Millionen Views auch jede Menge prominente Fans. Zwei Jahre später veröffentlichten sie ihr Debütalbum "The Big Black & The Blue", das ihnen nicht nur euphorische Presse-Stimmen, sondern auch zu gemeinsamen Auftritten und Konzerteisen mit Patti Smith, Jack White, Lykke Li und Bright Eyes führte.
"Wir waren seit schon langer Zeit große Fans von Conor Oberst [Bright Eyes]", erklärt Johanna. "'Lua' war einer der ersten Songs, den Klara auf der Gitarre lernte. Als er dann mit Monsters Of Folk in Schweden auftrat, gelang es uns, hinter die Bühne zu kommen und Conor unsere erste Platte zu geben. Ein Jahr später traten wir in Austin auf und er kam zu unserer Show und sagte, dass er sie toll fand. Wir lernten [Bright Eyes/Monsters Of Folk-Mitglied/Produzent] Mike Mogis kennen, und wir fragten ihn, ob er unsere nächste Platte produzieren wollte."
Mogis willigte sofort ein und 2011 machten sich die beiden Schwestern auf nach Omaha, um in seinem Studio ihr Album "The Lion's Roar" aufzunehmen, mit dem ihnen der international Durchbruch gelingen sollte. Der Longplayer enterte die schwedischen Charts auf Platz eins und wurde weltweit von den Kritikern gefeiert. Das Magazin Mojo bezeichnete das Album als "erstaunlich", die BBC als "großartig". Der Rolling Stone wählte "Emmylou", ein Liebeslied mit klassischen Country-Bezügen, zu einer der besten Singles des Jahres 2012 und schwärmte: "Man wird in diesem Jahr keinen Song hören, der schöner gesungen ist". Sie traten beim legendären Newport Folk Festival, bei Lollapalooza und in Glastonbury auf, und spielten im Vorprogramm von Rodriguez in der Radio City Music Hall. "Emmylou" bescherte ihnen außerdem eine Einladung in die TV-Shows von Conan O'Brien und David Letterman.
Doch nicht jede Veränderung ist gleichzeitig auch gut. Glück und Erfolg können auch Liebeskummer, Einsamkeit und Heimweh mit sich bringen. Manchmal sehnen wir uns nach Veränderung, nach einem Ausweg, der dann aber doch nicht kommt. Und mit dieser fast schon schmerzlichen Weisheit, die man Johanna (23) und Klara (21) angesichts ihres jungen Alters kaum zutrauen würde, bringen sie das emotionale Spektrum auf "Stay Gold" perfekt auf den Punkt. Das Album beginnt mit einer staubigen, Spaghetti-Western-artigen Streicher-Melodie, die von einem aus Omaha stammenden Streichorchester eingespielt wurde. Das Ensemble taucht auf dem Album immer wieder mit Filmscore-haften Passagen auf, die von Nate Walcott (Broken Bells, Rilo Kiley) arrangiert wurden. Der erste Song "My Silver Lining" galoppiert flott durch eine Existenz-Krise und legt den thematischen Grundstein für ein Album, dem es gelingt, auch in Phasen der Dunkelheit und Angst Momente der Hoffnung und des Lichts zu finden. "Master Pretender" ist eine umfassende Reflektion über das Erwachsenwerden und wie man aus Fehlern lernt, "Stay Gold" betrauert Verlust und die Unsicherheit der Zukunft. "What if our hard work ends in despair, what if the road won't take me there?" singen sie in wundervoll ineinander verwobener Harmonien. "What if to love and be loved's not enough, what if I fall and can't bear to get up? / Oh I wish for once we could stay gold."
Die Texte sind wesentlich intimer als bei den vorangegangenen First Kit Aid-Veröffentlichungen. "Auf unseren anderen Platten haben wir viel über Natur und märchenhafte Dinge geschrieben", sagt Johanna über ihre frühen Aufnahmen, die Elemente aus der amerikanischen Folkmusik mit schwedischer Folklore und Storytelling vereinte. "Aber wenn du dir die Texte auf diesem Album anhörst, dann wirst du merken, dass sie viel mehr von uns handeln, sie sind viel persönlicher."
"Cedar Lane" ist ein Walzer, der sich um Liebeskummer dreht und in dem Mantra-artig immer wieder die Zeile "something good will come out of this" zu hören ist, in "Shattered & Hollow" manifestiert sich unmissverständlich der Wunsch nach Entkommen. In "Waitress Song" phantasiert Klara darüber, wie es wäre, alles hinzuschmeißen und ein komplett neues Leben zu beginnen. "I could move to a small town and become a waitress", singt sie, "say my name was Stacy / and I was figuring things out."
"Es handelt davon, von den verschiedenen anderen Leben zu träumen, die man leben könnte", sagt sie über den Song, der bei Soundchecks während einer Tour mit Jack White entstanden war und der vom vielen Neko Case-Hören inspiriert wurde. "Ich glaube, jeder hat derartige heimliche Wünsche, dass man einfach davon laufen könnte und irgendwo ein neues Leben beginnen. Nicht, dass ich so etwas tatsächlich tun wollen würde, ich wollte nur ein wenig meiner Phantasie freien Lauf lassen."
Für die beiden Schwestern aus dem suburbanen Stockholm, die nun Label-Kollegen von Idolen wie Bob Dylan und Leonard Cohen sind und mit einigen der größten Namen des Indie- und Modern-Folk-Szene touren, trägt die Realität derzeit ohnehin eher phantastische Züge. Die Beiden haben aber einen langen, steten Aufstieg hinter sich, der sie erst dorthin gebracht hat. Die Zukunft mag immer Unsicherheiten parat halten, doch im Jetzt sind die Dinge für First Aid Kit mehr als golden: die Veröffentlichung des besten Albums ihrer Karriere steht kurz bevor - und das Morgen könnte kaum prachtvoller aussehen.

This album contains no booklet.