---
Album info
Album including Album cover Booklet (PDF)
I`m sorry!
Dear HIGHRESAUDIO Visitor,
due to territorial constraints and also different releases dates in each country you currently can`t purchase this album. We are updating our release dates twice a week. So, please feel free to check from time-to-time, if the album is available for your country.
We suggest, that you bookmark the album and use our Short List function.
Thank you for your understanding and patience.
Yours sincerely, HIGHRESAUDIO
Guillaume de Machaut (1300 - 1377):

1

Doulz amis

02:21

Gilles Binchois (1400 - 1460):

2

Binchois: Triste plaisir

01:58

Johannes Ockeghem (1425 - 1497):

3

Missa prolationum: Kyrie

03:01

Guillaume Dufay (1397 - 1474):

4

Franc cuer Gentil

02:03

Josquin des Prez (1450 - 1521):

5

Missa Pange lingua: Kyrie

03:07

Clément Janequin (1485 - 1558):

6

Au joly jeu du pousse avant

01:17

William Byrd (1538 - 1623):

7

My Ladye Nevells Booke: No. 26, A voluntarie, for my ladye nevell

03:38

Carlo Gesualdo (1566 - 1613):

8

Madrigali, Book VI: VIII. O Dolce mio tesoro

02:56

Claudio Monteverdi (1567 - 1643):

9

Scherzi musicali, SV 246-251: VI. Zefiro torna e di soavi accenti, SV 251

04:38

Henry Purcell (1659 - 1695):

10

Ye Tuneful Muses, Z. T681: Ground in C Minor

03:27

Domenico Scarlatti (1685 - 1757):

11

Sonata in B-Flat Major, K. 551

03:38

Johann Sebastian Bach (1685 - 1750):

12

Chromatic Fantasy and Fugue in D Minor, BWV 903

11:55

Wolfgang Amadeus Mozart (1756 - 1791):

13

Piano Sonata No. 16 in C Major, K. 545: II. Andante

04:34

Ludwig van Beethoven (1770 - 1827):

14

Beethoven: Piano Sonata No. 32 in C Minor, Op. 111: I. Maestoso - Allegro con brio ed appassionato

08:28

Robert Schumann (1810 - 1856):

15

Fantasiestücke, Op. 12: No. 5, In der Nacht

04:13

Frédéric Chopin (1810 - 1849):

16

24 Preludes, Op. 28: No. 1 in C Major & No. 2 in A Minor

03:00

Franz Liszt (1811 - 1886) & Richard Wagner (1813 - 1883):

17

Tristan und Isolde, S. 447: Isoldens Liebestod

07:24

Johannes Brahms (1833 - 1897):

18

4 Klavierstücke, Op. 119: No. 1, Intermezzo in B Minor

03:55

Arnold Schoenberg (1874 - 1951):

19

Drei Klavierstücke, Op. 11: No. 1, "Mässige Viertel"

03:19

Claude Debussy (1862 - 1918):

20

Images, Book 1, L. 110: No. 1, Reflets dans l'eau

05:09

Igor Stravinsky (1882 - 1971):

21

Piano-Rag-Music

03:06

Karlheinz Stockhausen (1928 - 2007):

22

Klavierstück I

02:33

Philip Glass (b. 1937):

23

Etude No. 2

04:23

György Ligeti (1923 - 2006):

24

Etudes, Book 1: No. 6, Automne a Varsovie

04:22

Gilles Binchois (1400 - 1460):

25

Binchois: Triste plaisir (II)

02:12

Total Runtime

01:40:37
Info for c.1300-c.2000

The double-album captures a program of works spanning seven centuries that Denk created and performed at venues including Lincoln Center, Wigmore Hall, and Piano aux Jacobins. "The history of so-called classical music felt closer to me now than it did when I first learned about it in college, not just more relevant, but more alive. Wouldn't it be amazing, I wondered, to experience this sweep and arc in one sitting?" For that program, Denk performed twenty-four pieces by composers ranging from Machaut to Ligeti—with Binchois, Gesualdo, Stockhausen, Philip Glass, and many others in the middle.
Denk says in the liner note, "You might call this album a version of time-lapse photography, which brings us from the 1300s to the present day in a series of sonic snapshots. I was aiming for a healthy mixture of light and dark, of optimism and pessimism." He continues, "To find a foothold, I started in the medieval era with two threads: the secular, and the religious. Worldly love, and love of God. At the same time, I felt it was essential to deal with a more purely musical love: the art of counterpoint, a foundation of the long story to come. If you don't care about counterpoint, you should. It is music's superpower, something it can do that no other art form quite can."
Jeremy Denk is one of America's foremost pianists. Winner of a MacArthur "Genius" Fellowship, and the Avery Fisher Prize, Denk was recently elected to the American Academy of Arts and Sciences. In 2018–19, Denk embarks on a three-week recital tour of the US, and culminating in his return to Carnegie Hall. His orchestral highlights include playing-directing Mozart with the Toronto Symphony, and on tour throughout the US with Academy St. Martin in the Fields. This season, Denk also reunites with his longtime collaborators Joshua Bell and Steven Isserlis, on an eleven-city tour of the US and performs and curates a series of Mozart violin sonatas ("Denk & Friends") at Carnegie Hall. Further collaborations include performing the Ives violin sonatas at Tanglewood with Stefan Jackiw.
Denk is known for his original and insightful writing on music, which Alex Ross praises for its "arresting sensitivity and wit." The pianist's writing has appeared in the New Yorker, New Republic, Guardian, and on the front page of the New York Times Book Review. One of his New Yorker contributions, "Every Good Boy Does Fine," forms the basis of a book for future publication by Random House in the US, and Macmillan in the UK.
Denk's previous Nonesuch releases include an album of works by Beethoven and Ligeti and a recording of Bach's Goldberg Variations with accompanying video "liner notes."
Jeremy Denk, piano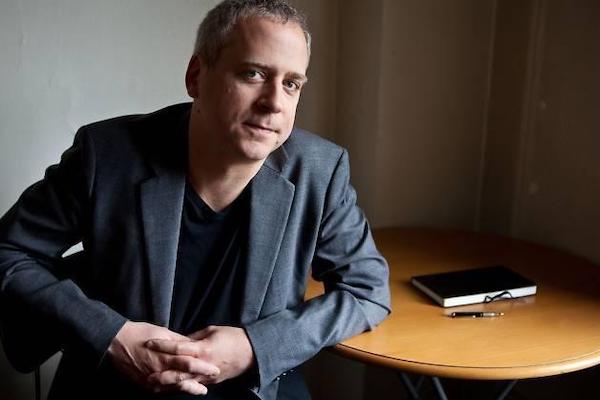 Jeremy Denk
American pianist Jeremy Denk has steadily established himself as one of the most versatile and compelling artists of his generation.
He has appeared as soloist with many major orchestras, including the Philadelphia Orchestra, San Francisco Symphony , St. Louis Symphony, Atlanta Symphony, the Orpheus Chamber Orchestra, the Saint Paul Chamber Orchestra, Orchestra of St. Luke's, London's Philharmonia, Dallas Symphony, and Houston Symphony. He appears regularly in recital in New York, Washington, Boston, and Philadelphia and was artist-in-residence at the 2008 Gilmore Keyboard Festival.
In the 2008-09 season, Mr. Denk appears both in recital and with orchestras throughout North America and Europe, giving four performances each in New York and Boston alone. His current recital tour features a fascinating programmatic pairing—Ives' "Concord" Sonata and Beethoven's "Hammerklavier"—and culminates in a solo subscription recital debut in Zankel Hall presented by Carnegie Hall. This season he also performs works by György Ligeti, Elliott Carter, Morton Feldman, and Thomas Adès.
Mr. Denk maintains working relationships with a number of living composers and has participated in many premieres, including those for Jake Heggie's concerto "Cut Time"; Libby Larsen's "Collage: Boogie;" Kevin Putz's "Alternating Current," and Ned Rorem's "The Unquestioned Answer." In 2002, he recorded Tobias Picker's Second Piano Concerto with the Moscow Philharmonic. In addition, he has worked closely with composer Leon Kirchner on many of his recent compositions, recording his Sonata No. 2 on a disc entitled "Works for Solo Piano," released in 2007.
Mr. Denk has always been an avid chamber musician. He has collaborated with many of the world's finest string quartets and appeared at the Italian and American Spoleto Festivals, the Santa Fe and Seattle Chamber Music Festivals, and the Verbier Festival. He has also spent several summers at the Marlboro Music School and Festival in Vermont and been part of various "Musicians from Marlboro" national tours.
At the Spoleto Festival 2004, Mr. Denk met for the first time and performed with violinist Joshua Bell, whose subsequent invitation to do a recital tour resulted in a continuing musical partnership. A Philadelphia reviewer noted their "equal partnership, with no upstaging." He and Mr. Bell went on to record the Corigliano Violin Sonata for Sony Classical.
Jeremy Denk maintains a widely-read blog entitled "Think Denk." [http://jeremydenk.net/blog/] Praised by colleagues and the music press alike, it chronicles his touring, practicing, and otherwise unrelated experiences and also delves into fairly detailed musical analyses and essays. Extremely popular and widely linked in the blogosphere, "Think Denk" has been recognized by award-winning author and blogger Alex Ross (also music critic for The New Yorker), who calls Denk a "superb musician who writes with arresting sensitivity and wit… This is a voice that, effectively, could never have been heard before the advent of the Internet: sophisticated on the one hand, informal on the other, immediate in impact. Blogs such as this put a human face on an alien culture."
Numerous reviewers have noted Mr. Denk's urge for freshness and rethinking in his musical interpretations as well as in the blog. "Mr. Denk is the ideal interpreter for music that defies easy classification," wrote a critic for the Richmond Times. The critic of the New York Sun called his "Waldstein" Sonata a "Radical Take on a Revolutionary Work" and The Washington Post referred to his music making as "Brilliant Playing at the Edge of Schumann's Sanity."
After graduating from Oberlin College and Conservatory with majors in piano and chemistry, Mr. Denk earned a master's degree in music fro m Indiana University as a pupil of György Sebök and a doctorate in piano performance from the Juilliard School, where he worked with Herbert Stessin. He started his solo career under the auspices of Young Concert Artists. Mr. Denk currently resides in New York City and his website and blog can be found at http://jeremydenk.net/.

Booklet for c.1300-c.2000