---
Album info
Album including Album cover
1

Awareness

11:13

2

Zug Nach Pankow

04:32

3

Road to Nowhere

05:40

4

Dribblin'

04:52

5

Steppenwolf

08:30

6

Otrais Septembris

02:15

7

Serenāde

04:53

8

Riņķa Dancis

03:26

9

Lament

06:44

10

Tutti Duty

03:08

11

Works

04:06

Total Runtime

59:19
Info for Tutti Off Duty

Tutti Off Duty, conceived and recorded during the pandemic, consists of fragments, compositions and ideas that have all been created separately.
AUZIN, CUDARS & ARUTYUNYAN TRIO - a contemporary jazz trio based in Riga, Latvia. Karlis Auzin (saxophone), Matiss Cudars (electric guitar) and Ivars Arutyunyan (percussion) are all accomplished, internationally recognised jazz musicians whose trio strives to create a genre-less world of sound founded in raw energy, emotions and evocative ideas and concepts. Although collective free improvisation is a crucial element of the trio's music, the musicians' interest in contemporary classical composition results in well-constructed frames for spontaneous creation and musical interplay.
While exploring sound using electronics and extended techniques, as Latvians, the three musicians are steeped in a rich tradition of choral music and thus their music always remains melodic and with a strong link to the human voice. In 2018, the trio released it's debut album, Baltic, which won the "Zelta Mikrofons" Annual Latvian Music Recording Industry Award for best jazz album of the year. A mini-album titled Maze was released in 2020 by Jersika Records. In February 2022, the trio recorded "Ecclesia Cordis" for Krists Auznieks' double album Coiled Horizon, released on the Skani label.
Karlis Auzins, saxophone
Matiss Cudars, electric guitar
Ivars Arutyunyan, percussion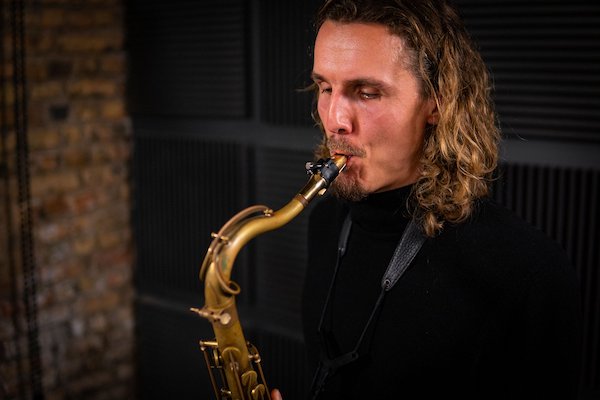 Kārlis Auziņš
is a Latvian saxophonist working mostly in the realm of contemporary jazz and improvised music. He has graduated from Conservatory of Amsterdam as well as Rhytmic Music Conservaroty in Copenhagen and currently is an active member of the European and Scandinavian jazz scene. Kārlis is mostly known from projects like Auziņš⋅Čudars⋅Arutyunyan, Karlis Auzins Quartet, Mount Meander, Keno Harriehausen Quartet, Own Your Bones as well as his Solo, all of which have been documented in albums that have had a lot of recognition from music critics around the world. Karlis's Solo album and his debut has been nominated as the best Jazz album of the year at the annual Latvian music recording award "Zelta Mikrofons" and album "Baltic" from Auziņš⋅Čudars⋅Arutyunyan has won the first price at the same nomination.
Among many others, Karlis has played with such musicians as Carsten Dahl, Jakob Høyer, Artur Tuznik, Michael Moore, Achim Kaufmann, Emanuele Manicalco (ECM), Frederik Lundin, Clemens van der Feen, performing all around Europe and Scandinavia.

This album contains no booklet.