---
Album info
Album including Album cover
Felipe Téllez: Suite Concertante for Oboe d'Amore, Op. 2 No. 1:

1

Téllez: Suite Concertante for Oboe d'Amore, Op. 2 No. 1: I. Overture

02:08

2

Téllez: Suite Concertante for Oboe d'Amore, Op. 2 No. 1: II. Allemande

03:35

3

Téllez: Suite Concertante for Oboe d'Amore, Op. 2 No. 1: III. Courante

03:24

4

Téllez: Suite Concertante for Oboe d'Amore, Op. 2 No. 1: IV. Sarabande

05:22

5

Téllez: Suite Concertante for Oboe d'Amore, Op. 2 No. 1: V. Gigue

02:36

Lovers at the Altar, Op. 2 No. 2:

6

Téllez: Lovers at the Altar, Op. 2 No. 2

01:34

Romanza for Violin & Orchestra, Op. 2 No. 3:

7

Téllez: Romanza for Violin & Orchestra, Op. 2 No. 3

06:16

Impromptu for Strings Op. 2 No. 4:

8

Téllez: Impromptu for Strings Op. 2 No. 4

02:58

Manuel Cubides Greiffenstein: Corita, Op. 2 No. 5 (Arr. F. Téllez):

9

Greiffenstein: Corita, Op. 2 No. 5 (Arr. F. Téllez)

03:18

Total Runtime

31:11
Info for Evocations

Evocations is the result of composer Felipe Téllez's intense work with the Canadian Studio Symphony. On this new album, you can hear forgotten instruments like the oboe d'amore, tackling bespoke repertoire to show off the instrument's full capacities and exotic tone, as well as works for string orchestra, a romanza for solo violin and orchestra, and more. The music is brought to life by the Canadian Studio Symphony, which was founded in 2022 with the mission of performing - and especially recording - new and engaging repertoire. The ensemble is led by conductor Lorenzo Guggenheim and is made up of the brightest players in Toronto, including Lynn Kuo as concertmaster and solo violinist, and Ron Cohen Mann on oboe d'amore.
Ron Cohen Mann, oboe d'amore
Lynn Kuo, violin
Canadian Studio Symphony

Lorenzo Guggenheim, conductor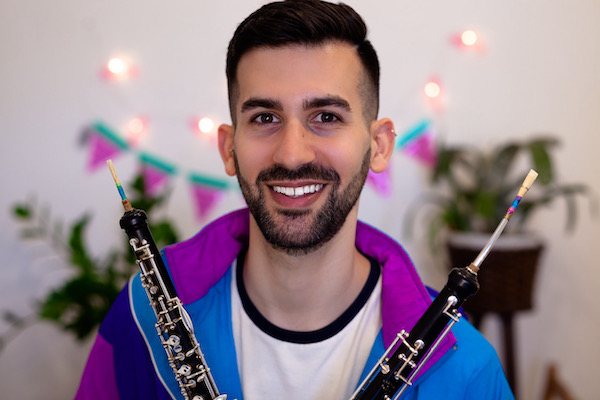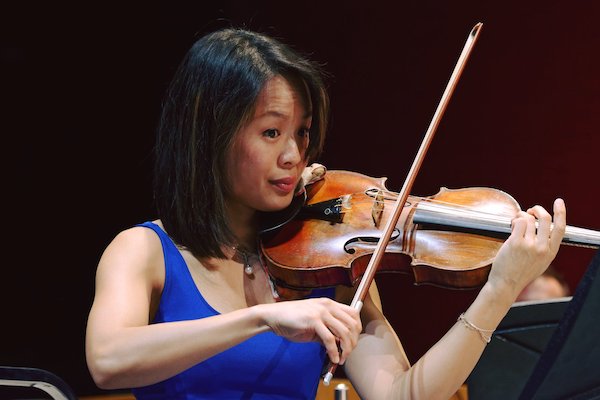 Ron Cohen Mann
brings brightness and optimism through their popular Instagram and YouTube channel. Ron has been hailed as the "Jonathan Van Ness of the oboe" (CBC Music) and proudly projects their queer identity as a role model for LGBTQ youth. Ron is a frequent recitalist, new music proponent, orchestral musician, and teacher based in Toronto. Ron was recently named on CBC's 30 Hot Canadian Classical Musicians under 30. Ron is a Howarth Artist and plays on a Howarth LXV-VT oboe. ​
Inspired by the variety of sounds and colours of the oboe, Ron is passionate about advancing the instrument as a solo voice in recitals and chamber music. Ron's solo debut at Carnegie Hall was with harpist Noël Wan, as featured artists in the Yale in New York series. As a winner of the Yale Chamber Music Competition, Ron performed the monumental Prokofiev Quintet on the subscription Oneppo Chamber Music Series. At the Orford Festival, they shared the stage with Alex Klein, James Campbell, and Stéphane Lévesque. At the Brott Music Festival, Ron was a featured soloist for J.S. Bach's Brandenburg Concerti Nos. 1 & 2.
Ron was a prizewinner at the Orchestre Symphonique de Montréal Manulife Competition, and the winner of the Yamaha Young Performing Artists Competition and Ben Steinberg Musical Legacy Award. They were a semi-finalist in the Houston Symphony Ima Hogg Competition.
A champion of new music and lesser-known solo music for the oboe and English horn, Ron has been fortunate to premiere pieces by Jocelyn Morlock, Nicky Sohn, Matthew Emery, and Liliya Ugay. Ron has fostered a partnership with the Yarilo Contemporary Music Society in Vancouver, BC as both a featured recitalist and ensemble member for Steve Reich's Tehillim. Ron has served as guest principal oboe with the Esprit Orchestra.
Feeling equally at home within the orchestra, Ron cherishes performing with ensembles in Canada and abroad. In Ontario, Ron has appeared with the National Arts Centre Orchestra, the National Ballet of Canada Orchestra, Hamilton Philharmonic Orchestra, and the Symphony Orchestras of Toronto, Kingston, Kitchener-Waterloo, Niagara, and Windsor. Their festival appearances include The National Repertory Orchestra (Breckenridge, Colorado), L'Orchestre de la Francophonie, The National Academy Orchestra of Canada, and The National Youth Orchestra of Canada where they received the Award of Excellence. Outside of North America, they have toured to India, China, Russia, Estonia, Latvia, and Portugal.
Ron is a recent addition to the Faculty of Music at Wilfrid Laurier University as Oboe Instructor. Ron has previously held positions as an Oboe Instructor at Yale College and as a Teaching Artist at the Yale Music in Schools Initiative. They proudly serve as a Mentor for the National Academy Orchestra of Canada. Ron is a frequent clinician at arts high schools in the Greater Toronto Area. For information about online oboe lessons including free trial lessons for prospective Laurier students, click here.
Ron is a graduate of the prestigious Artist Diploma program at the Yale School of Music. They completed their Master of Music at Mannes School of Music and their Bachelor of Music at the University of British Columbia where they were awarded the UBC Medal in Music. Ron's teachers and mentors include Sarah Jeffrey, Stephen Taylor, Sherry Sylar, and Beth Orson.
Lynn Kuo
Canadian violinist Lynn Kuo is Assistant Concertmaster of the National Ballet of Canada Orchestra and is Founder/CEO of Violin with Dr. Lynn, serving as an online educator for violinists motivated to become stronger, more fearless performers. Having launched her Summer Violin Bootcamp in June 2020 during pandemic, Lynn is quickly becoming a respected educator in the online space appearing on YouTube, Facebook, and Instagram.
Lynn performs as a concert violinist, and guest concertmaster of Canadian orchestras that have included the National Arts Centre Orchestra, Opera Hamilton, Ontario Philharmonic, Newfoundland Symphony Orchestra, Mandle Philharmonic, and various orchestras in the city of Toronto. In addition to performing regularly with the Canadian Opera Company and the Toronto Symphony Orchestra, Lynn also serves as an adjudicator, guest artist, and lecturer at festivals and universities, and was Visiting Assistant Professor of Violin at Memorial University of Newfoundland for the Winter semester of 2020.
As a soloist, recitalist, and chamber musician, Lynn has performed across Canada, United States, Wales, Austria, Hungary, Serbia, Croatia, Bulgaria, Romania, Poland, Ukraine, China, Taiwan, and Hong Kong. She has performed with the Tainan Symphony Orchestra, Quebec Symphony Orchestra, Newfoundland Symphony Orchestra, Thirteen Strings, Canadian Sinfonietta, Brandon Chamber Players, Nexus percussion ensemble, Orpheus Chamber Orchestra (Bulgaria), Cantus Ensemble (Croatia), Lviv Philharmonic, Lviv Virtuosi (Ukraine), and as guest soloist with Hungary's gypsy orchestra, Rajkó Band.
In demand as an interpreter of new music, Lynn has given numerous world premieres in North America, Europe, and Asia of acoustic and electroacoustic solo and chamber works written by international composers. These works have been written for her and various ensembles that have included the Les AMIS Ensemble, Duo Vita, and for the Kuo-Humetska duo with Ukrainian-Canadian pianist, Marianna Humetska.
Lynn's performances have been broadcast on Canadian, Serbian, and Hungarian radio and television and can be heard on the NAXOS label (Works of Nino Rota) and on her self-produced CD with pianist Marianna Humetska: LOVE: Innocence, Passion, Obsession, available on iTunes, Spotify, CD Baby, and Amazon.
Having completed studies with Lorand Fenyves, Mayumi Seiler, Erika Raum, and post-doctoral studies with Burton Kaplan and Nathan Cole, Lynn holds a Doctor of Musical Arts from the University of Toronto, having dedicated her research to the subject of holistic health and injury prevention in orchestral string musicians. When not playing the violin, Lynn can be spotted on social media posting violin tutorials or perfecting her karate kicks or salsa dancing turn patterns.
Lorenzo Guggenheim
Described as instinctive and talented, Lorenzo Guggenheim is a conductor with an emerging career conducting the broad orchestral repertoire, new music and opera. Hailed as "one of the promises in orchestral conducting in Argentina with international projection," Mr. Guggenheim's career was launched with his debut in the Teatro Colón of his native Buenos Aires at age 23 and his following performance with the Orquesta Sinfónica de Chile.
Since 2018 he resides in Canada, where he has been appointed as Music Director and Conductor of the Oakville Symphony to begin in the 2022-23 season. This season he will conduct the York University Symphony Orchestra as well as having re-engagements with the Greater Toronto Philharmonic Orchestra and with the University of Toronto Campus Philharmonic Orchestra at the Royal Ontario Museum. Locally he has also conducted Orchestra Toronto and Scarborough Philharmonic Orchestra. The Toronto Symphony Orchestra selected him as semi-finalist for the 2022 Resident Conductor search. An active entrepreneur, Mr. Guggenheim founded the UofT CPO in 2018 and the Canadian Studio Symphony in 2022, with which they recorded an album of new music by Felipe Téllez.
Working on international stages, he conducted the Jerusalem Symphony Orchestra and Orquesta de Mar del Plata (Argentina) where he was regarded "an expert, perfectionist and seriously formed conductor" as well as being Assistant Conduct for the Berlin Academy of American Music at their debut at the Hamburg Elbphilharmonie. Guggenheim collaborated with the Seattle Symphony's Prokofiev and Shostakovich Festivals as Assistant Conductor for Pablo Rus Broseta and was offered a Fellowship by Seattle Symphony's Music Director Ludovic Morlot in the 2016/17 and 2017/18 seasons acting twice as Cover Conductor as part of his master's studies at the University of Washington.
Lorenzo participates frequently in international masterclasses, recently at Domaine-Forget with Yannick Nézet-Séguin and Bramwell Tovey where he conducted the Orchestre Symphonique de Québec. Among other renowned teachers are Benjamin Zander, Mark Gibson, Christian Măcelaru and Luis Gorelik. Guggenheim has conducted the Jerusalem Symphony Orchestra in 2022 as part of a masterclass with Maestros Steven Sloane and Catherine Larsen-Maguire, sponsored by a grant from the Canada-Israel Cultural Foundation.
Mr. Guggenheim holds positions as Music Director of the Oakville Symphony, Music Director of the UofT Campus Philharmonic Orchestra, as well as Assistant Conductor of the University of Toronto Symphony Orchestra and Contemporary Music Ensemble. He is currently engaged in research on the music of Franz Schreker, championing the performances of his symphonic repertoire as part of his Doctoral Studies under the mentorship of Uri Mayer.

This album contains no booklet.