---
Album info
Album including Album cover Booklet (PDF)
Robert Schumann (1810 - 1856): Davidsbündlertänze, Op. 6:

1

Schumann: Davidsbündlertänze, Op. 6: No. 1, Lebhaft

01:48

2

Schumann: Davidsbündlertänze, Op. 6: No. 2, Innig

01:52

3

Schumann: Davidsbündlertänze, Op. 6: No. 3, Mit Humor

01:35

4

Schumann: Davidsbündlertänze, Op. 6: No. 4, Ungeduldig

01:00

5

Schumann: Davidsbündlertänze, Op. 6: No. 5, Einfach

02:28

6

Schumann: Davidsbündlertänze, Op. 6: No. 6, Sehr rasch

01:56

7

Schumann: Davidsbündlertänze, Op. 6: No. 7, Nicht schnell

03:37

8

Schumann: Davidsbündlertänze, Op. 6: No. 8, Frisch

01:06

9

Schumann: Davidsbündlertänze, Op. 6: No. 9, Lebhaft

01:48

10

Schumann: Davidsbündlertänze, Op. 6: No. 10, Balladenmäßig

01:46

11

Schumann: Davidsbündlertänze, Op. 6: No. 11, Einfach

02:16

12

Schumann: Davidsbündlertänze, Op. 6: No. 12, Mit Humor

00:47

13

Schumann: Davidsbündlertänze, Op. 6: No. 13, Wild und lustig

03:26

14

Schumann: Davidsbündlertänze, Op. 6: No. 14, Zart und singend

03:08

15

Schumann: Davidsbündlertänze, Op. 6: No. 15, Frisch

02:04

16

Schumann: Davidsbündlertänze, Op. 6: No. 16, Mit gutem Humor

01:53

17

Schumann: Davidsbündlertänze, Op. 6: No. 17, Wie aus der Ferne

04:32

18

Schumann: Davidsbündlertänze, Op. 6: No. 18, Nicht schnell

02:43

Humoreske, Op. 20:

19

Schumann: Humoreske, Op. 20

31:31

Grand Sonata No. 3 in F Minor, Op. 14 (Excerpts):

20

Schumann: Grand Sonata No. 3 in F Minor, Op. 14 (Excerpts): I. Allegro

08:08

21

Schumann: Grand Sonata No. 3 in F Minor, Op. 14 (Excerpts): II. Scherzo. Molto comodo

06:32

22

Schumann: Grand Sonata No. 3 in F Minor, Op. 14 (Excerpts): III. Quasi Variazioni

07:29

23

Schumann: Grand Sonata No. 3 in F Minor, Op. 14 (Excerpts): IV. Prestissimo possible

08:03

Arabeske, Op. 18:

24

Schumann: Arabeske, Op. 18

06:56

Blumenstück, Op. 19:

25

Schumann: Blumenstück, Op. 19

08:17

Faschingsschwank aus Wien, Op. 26:

26

Schumann: Faschingsschwank aus Wien, Op. 26: No. 1, Sehr lebhaft

10:37

27

Schumann: Faschingsschwank aus Wien, Op. 26: No. 2, Romanze. Ziemlich langsam

02:29

28

Schumann: Faschingsschwank aus Wien, Op. 26: No. 3, Scherzino

02:26

29

Schumann: Faschingsschwank aus Wien, Op. 26: No. 4, Intermezzo. Mit größter Energie

02:25

30

Schumann: Faschingsschwank aus Wien, Op. 26: No. 5, Finale. Höchst lebhaft

06:24

Total Runtime

02:21:02
Info for Schumann: Piano Works

Within the realm of Romantic piano music, where new discoveries are constantly just around the corner, the contribution of Robert Schumann has always played a major part. True, he cannot rival the aura of Chopin's works, of which Ignaz Friedman asserted that not only had Chopin opened the piano with them, he had closed it again. (Schumann paid his own tribute in his reverent review of Chopin's op. 2 of 1831, the Variations on Mozart's "Reich mir die Hand, mein Leben").
Nor did Schumann embed in the history of piano playing such milestones of technical mastery and manual dexterity as Liszt who – inspired by Paganini's concerts and enabled by the double-escapement action developed by Sébastien Erard in 1821 – had practically reinvented the instrument by the time he wrote his Etudes d'exécution transcendante in 1837.
And neither the sprightliness of Felix Mendelssohn's keyboard idiom nor Charles-Valentin Alkan's exaltation of virtuosity are characteristic of Schumann's piano music, even if he proves in his Abegg Variations op. 1 (1830) and his Toccata op. 7 (1832) that he brilliantly commanded both approaches to the instrument.
Gerhard Oppitz, piano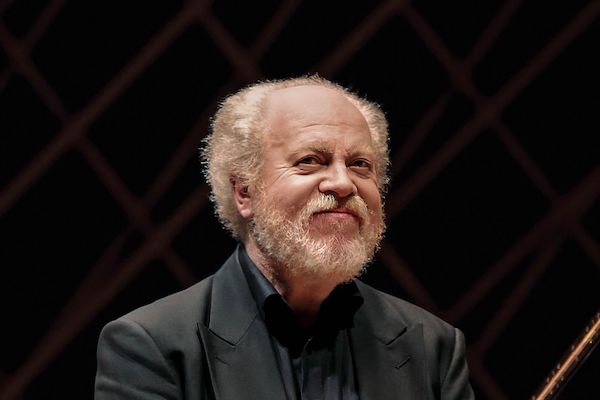 Gerhard Oppitz
born in Frauenau in 1953, began playing the piano at the age of 5. At the young age of 11, it was Mozart's Piano Concerto in D minor with which he gave his first public concert - an incisive experience for the young Oppitz when the Stuttgart music academy professor Paul Buck was sitting among the audience. While he was still at school, Buck offered the young Oppitz a place in his music class. In 1971 Oppitz enrolled as a regular student in Stuttgart and moved to Munich in 1974 to attend Hugo Steuers' master class.
After Gerhard Oppitz became the first German to win the prestigious Arthur Rubinstein Competition in Tel Aviv only three years later, where the 90-year-old Rubinstein himself was one of the jury members, Oppitz's international career took off. Concert tours through the USA, Japan and Europe followed.
In 1978, the pianist finally recorded his first disc, which was followed by numerous other recordings and CD recordings. Another three years later, Oppitz took over the professorship at the Musikhochschule in Munich, which he held until 2013.
Important milestones in Oppitz's artistic career include numerous concerts in the world's most important musical metropolises. As a soloist, he has played with the Berlin and Vienna Philharmonic Orchestras, the Israel Philharmonic and the London Orchestra, the Philadelphia and Cleveland Orchestras, the symphony orchestras of Detroit, San Francisco, Boston, the Leipzig Gewandhaus Orchestra, the Dresden Staatskapelle, the orchestras of Paris and Munich.
His artistic output is also marked by his performance of complete cycles of works for solo piano, including Bach's Well-Tempered Clavier, the sonatas of Schubert, Beethoven and Mozart, and numerous compositions by Brahms.
In 2009, Gerhard Oppitz was awarded the Brahms Prize of the Brahms Society Schleswig-Holstein - a prize that had honoured musical greats such as Leonard Bernstein and Lord Yehudi Menuhin. In 2014, he was awarded the Bavarian Order of Maximilian for Science and Art: the highest award of the Free State of Bavaria. Here, too, Gerhard Oppitz follows in the footsteps of none other than Johannes Brahms.
In addition, Gerhard Oppitz is an enthusiastic pilot who likes to climb into the plane himself and fly across Europe for his concerts.

Booklet for Schumann: Piano Works