---
Album info
Album including Album cover
I`m sorry!
Dear HIGHRESAUDIO Visitor,
due to territorial constraints and also different releases dates in each country you currently can`t purchase this album. We are updating our release dates twice a week. So, please feel free to check from time-to-time, if the album is available for your country.
We suggest, that you bookmark the album and use our Short List function.
Thank you for your understanding and patience.
Yours sincerely, HIGHRESAUDIO
1

Capricho de Raphael

04:03

2

Capricho do Sul

02:29

3

Negro Samba

03:52

4

Sinhá

04:30

5

Capricho de Espanha

03:38

6

Capricho do Carmo

03:01

7

O Que Será

05:50

8

Desejo de Mulher

03:41

9

Capricho de Santa Cecília

03:42

10

Aboio

04:56

11

Pai

03:29

12

Teba

03:22

Total Runtime

46:33
Info for Trio

Virtuosic, brilliant and unique are some of the adjectives to describe this musician who thrills audiences around the world, building a career of countless awards. With superb technique and absolute Brazilianness, either on stage or in the studio, Hamilton takes the breath away with interpretations and performances full of emotion. His versatility allows him to perform with property in any formation.
His latest work, HAMILTON DE HOLANDATRIO, has a universal nature and an immediate identification with any audience in the world without affecting its 100% essentially Brazilian nature. It is formed by Hamilton de Holanda (10-string mandolin), Thiago Serrinha (percussion) and André Vasconcellos (double bass). Such formation recreates the best of two worlds: the acoustic intimacy and virtuosic density that Hamilton normally emanates in his solo concerts plus the characteristic pressure and joy featured in Hamilton de Holanda Quintet's work.
André Vasconcellos comes from a family with musical background. He is a reference point in Brazilian bass music and has played with Hamilton for a long time. This friendship has built a symbiosis – they know and trust each other's note paths. Thiago da Serrinha, percussionist, born and raised in the Rio`s Favelas, has the tradition of ''Jongo da Serrinha"- a cultural manifestation associated with African culture in Brazil with a powerful influence on the construction of the genre known today as "Samba" - running in his blood and name.
Hamilton, aged 37 and 32 years of professional career, started playing at 5. Since then, he has been regarded as a prodigy. At the age of 6, he was entitled to a performance on "Fantastico'', the most popular Brazilian TV evening show. Nowadays, around the world, he is a transgressor of the mandolin and creator of the technique of playing the 10-string mandolin, freeing the emblematic Brazilian instrument legacy from some of its influences and genres as well as featuring a new artistic language and rejuvenating the image of the Bandolim, also known as Mandolin.
Hamilton de Holanda`s signature is identified in his solos. His way of playing, the increased number of strings and the delicacy of his picking combined with the speed solos and improvisations inspired a new generation and a new sound. Whether it is jazz, samba, rock, pop, lundu or Choro, little does it matter. Hamilton`s search is for simplicity, music focused on beauty and spontaneity, not necessarily new. In his view, there is a new world full of possibilities and his guiding principle is "Modern is Tradition". What is important is not the past or the future, but the intersection between them both, the exact point at which they blend, right here, right now, the present moment, the "is" - here and now.
The repertoire covers Hamilton's new compositions and some of the 24 "Caprices" he composed, inspired by Paganini's Caprices, to serve as a method of studying the 10-string mandolin. In addition, there are songs by other composers and great Brazilian musicians like Chico Buarque, João Bosco and Baden Powell. Fasten your seatbelts and get ready with love and care to get loose.
Hamilton de Holanda, 10-sting bandolim, vocals
André Vasconcellos, double bass
Thiago da Serrinha, percussion, vocals
Produced by Hamilton De Holanda, Marcos Portinari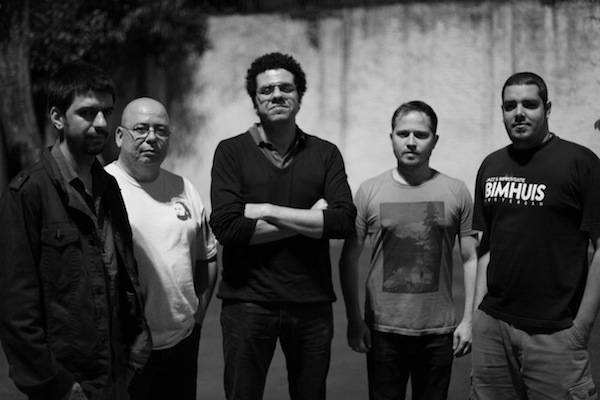 Hamilton de Holanda
ist in seinem Heimatland Top-Star. Sein Markenzeichen: Vielseitigkeit, Virtuosität, Ernsthaftigkeit, Spielfreude und seine 10-seitige Mandoline. Wie nur wenige Musiker überbrückt er mit Leichtigkeit unterschiedlichste Genres: von den brasilianischen Wurzeln des Bossa, Samba, Choro über Jazz, Pop und Rock hin zur Klassik.
Hierzulande wurde er durch seine Zusammenarbeit mit dem italienischen Pianisten Stefano Bollani bekannt. Gemeinsam spielten sie das Album "O Que Sera" für das ECM-Label ein. Die beiden Musiker verbindet ihre Offenheit und Neugier, sich neues musikalisches Material anzueignen. Weitere internationale musikalische Begegnungen hatte er u.a. mit dem französischen Akkordeonisten Richard Galliano, dem Pianisten Omar Soza und Wynton Marsalis.
Sein Ruf als außergewöhnlicher Instrumentalist hallt seit einigen Jahren verstärkt aus Brasilien heraus. Immer häufiger ist er zu Gast bei Festivals und besonderen Konzertabenden. Jedoch gab es, mit Ausnahme der ECM-Veröffentlichung, bislang keine Tonträger außerhalb Brasiliens. Obwohl er bereits eine üppige Diskografie mit 28 Alben vorweisen kann.
Auf dem MPS-Label findet Hamilton de Holanda nun eine neue Heimat für seine Veröffentlichungen. Vier aktuelle Alben und eine Compilation (zum Schnupperpreis aus den vier Alben) geben einen ersten Überblick über das Können des 39-jährigen Mandolinisten.
Geboren in Rio de Janeiro, zog Hamilton mit seiner Familie in die Hauptstadt als er ein Jahr alt war. Von seinem Großvater, auch ein Musiker, bekam er seine erste Mandoline zu Weihnachten 1981. Hamilton de Holanda war damals fünf Jahre alt. Da es keinen Mandolinenlehrer gab, lernte er zunächst Geige. Bevor er lesen und schreiben konnte, begann sein musikalischer Weg. Kurz darauf komponierte er bereits für Mandoline und Orchester.
Stets diszipliniert an seinem Instrument, hörte Hamilton de Holanda einfach alles. Er spielte in einer Rockband, von seinem Vater erbte er die Bewunderung für João Gilberto und die Bossa Nova, und an der Mandoline spielte er Lieder, die ein unglaubliches technisches Verständnis verlangten, solche wie "Desvairado" von Garoto, "O Vôo da Mosca" von Jacob do Bandolim und "Moto Perpétuo" von Paganini. Die Tatsache, dass er schon im jungen Alter die Geheimnisse des Choro kannte – ein in Rio de Janeiro Ende des 19. Jahrhunderts entstandenes Musikgenre, das sich Jahrzehnte später endgültig etabliert hat – führte schließlich zur Gründung von Dois de Ouro: Einer Gruppe mit seinem Bruder Fernando César, ein klassischer Gitarrist, und seinem Vater, ein Militär, der Musik liebte, klassische Gitarre spielte und alles tat, damit seine Söhne irgendein Instrument spielen lernten.
Im Jahr 2012, als er Deutschland besuchte, sagte der Mandolinist über seinen Ruf als Workaholic: "Ich habe eine Menükarte voller Arbeiten. Das was ich mache, unterscheidet sich von der Arbeit eines Popkünstlers, der nach einer Veröffentlichung zwei Jahre damit verbringt, das Album zu promoten. Der kreative Kopf erlaubt es einem nicht, sich ein Jahr lang mit ein und demselben Projekt zu beschäftigen. Heute mache ich etwas mit Edmar Castaneda (kolumbianischer Harfenspieler; Anm.d.A.), morgen mit Yamandu Costa (brasilianischer klassischer Gitarrist)".

This album contains no booklet.