---
Album info
Album including Album cover Booklet (PDF)
I`m sorry!
Dear HIGHRESAUDIO Visitor,
due to territorial constraints and also different releases dates in each country you currently can`t purchase this album. We are updating our release dates twice a week. So, please feel free to check from time-to-time, if the album is available for your country.
We suggest, that you bookmark the album and use our Short List function.
Thank you for your understanding and patience.
Yours sincerely, HIGHRESAUDIO
Ludwig van Beethoven (1770 - 1827):

1

Für Elise

04:47

2

Conga No. 5

03:38

3

f-moll Sonata I

04:43

4

Mondschein Sonata I

04:09

5

Mondschein Sonata III

03:29

6

Sturm Sonata

04:36

7

Pathétique Sonata I

02:43

8

Pathétique Sonata II

05:11

9

Pathétique Sonata III

03:14

10

Waldstein Sonata I

06:09

11

Symphony No. 7/II

03:13

12

Piano Concerto No. 3/I

05:08

13

Mambo of Europe

03:50

14

Türkischer Marsch

02:55

Total Runtime

57:45
Info for Beethoven Meets Cuba

Since its formation in 2000, the highly acclaimed quintet, Klazz Brothers & Cuba Percussion, has devoted itself to the creation and refinement of a mould-breaking sound, presenting a unique fusion of classic European music with elements of swing and latin jazz, enhanced by the rhythmic varieties of Cuban music. "Classic meets Cuba", the name of the first joint project has advanced to a sort of axiom for the ensemble's unique musical style. Several other extremely successful projects soon followed, all of which implicate the cooperation with Cuban and European musical tradition. Released in 2002 with Sony Classical, the album "Classic meets Cuba" was awarded with the "Echo Klassik", the "Jazz Award" in 2003 and received a Grammy nomination in the category "Best Classical Crossover Album" in 2005. Moreover, the press deemed "Classic meets Cuba", 'the most refreshing album in a long time,' (Bild) and the album was elected the 'salsa album of the month' (salsa portal "El Rumbero").
With "Classic meets Cuba", Klazz Brothers & Cuba Percussion breathe new life into the concert halls, presenting the classics of music history with unusual sounds and spiritedness. Their unconventional musical language discloses a refreshing approach to the works of Bach, Mozart, Beethoven and Brahms. The witty and canny arrangements by Tobias and Kilian Forster and Tim Hahn beckon the audience into a novel world of dance and passion along with a contagious zest for life. Hardly surprising, as here Mozart's symphony in G minor turns into "Mambozart", Brahm's Hungarian Dance transforms into a "Cuban Dance" as well as Beethoven's 5th symphony mutates into "Salsa No. 5". It doesn't matter whether Klazz Brothers & Cuba Percussion perform in cosy jazz clubs or at renowned concert halls and opera houses – their brilliantly arranged classics in the form of salsa, cha-cha-cha or Bólero presented with virtuoso ad-libbing, thrill music lvoers of all genres and generations.
Bruno Böhmer Camacho, piano
Kilian Forster, double bass
Tim Hahn, drums
Elio Rodriguez Luis, congas
Alexis Herrera Estevez, timbales, bongos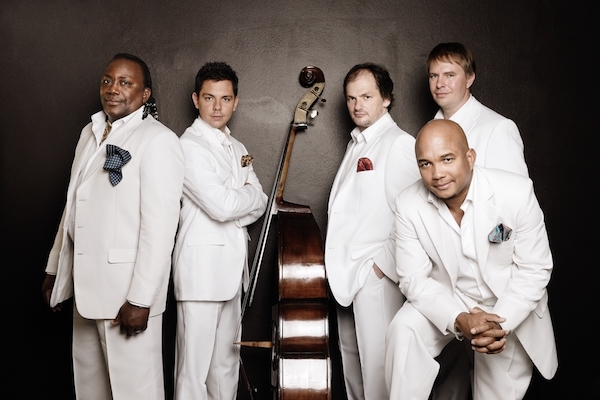 Klazz Brothers
Als Meister des Classical Crossover sind die Klazz Brothers längst kein Geheimtipp mehr. Mit der Gründung des Ensembles 1999 entstand die Idee von "Klazz" – ein Wortspiel, hinter dem sich die Verflechtung von Klassik und Jazz verbirgt. Aus diesem musikalischen Credo haben die Klazz Brothers ihren ganz eigenen Stil kreiert und gehören derzeit zu den wenigen Weltklasse-Musikern auf diesem Gebiet.
"Klazz" steht nicht nur für die Wandlung klassischer Werke in Jazz-Versionen, sondern auch für die Bereicherung des Jazz mit klassischen Stilelementen. So entstanden eigene Arrangements und neue Kompositionen, die von musikalischer Neugier und Experimentierfreude zeugen. Die jazztypische Improvisation wird da zum verbindenden Element zwischen den Welten, schließlich verstanden sich auch große Komponisten der Vergangenheit wie Bach oder Mozart bestens auf das freie Spiel. Faszinierend ist, dass hinter dem lässig-ungezwungenen Gestus der jazzigen Interpretationen, komplexe musikalische Strukturen stecken, aus denen die Klazz Brothers eigene innovative Klangwelten zaubern! "Klazz" bedeutet Musik ohne Grenzen, die Popularität mit hohem künstlerischem Anspruch verbindet.
Mit ihrer Musik haben sich die Klazz Brothers längst in der deutschen und internationalen Musikszene etabliert und sind auf den großen Konzertbühnen und Musikfestivals dieser Welt genauso zu Hause wie in der intimen Atmosphäre kleinerer Jazzclubs. Bisher acht CDs haben die Klazz Brothers (teilweise in erweiterter Besetzung) bei Sony herausgebracht. Je zwei Mal wurden sie mit dem Echo Klassik und dem Jazz Award ausgezeichnet sowie einmal für den Grammy nominiert. Das Erfolgsgeheimnis der Ausnahmemusiker liegt in ihrer verblüffenden musikalischen Vielseitigkeit. So sind sie nicht nur im Trio mit ihrem "Play Classics"-Programm erfolgreich, sondern holen sich gern auch Gäste auf die Bühne: neben dem brasilianischen Stimmjongleur Edson Cordeiro im Programm "Klazz meets the Voice" auch Stars wie Roby Lakatos, Paul Kuhn oder Klaus Doldinger. Seit Jahren sorgen Klazz Brothers & Cuba Percussion mit ihrer sensationellen Crossover-Reihe aus Klassik, Jazz und kubanischer Musik für Furore: angefangen bei Classic meets Cuba" (über "Symphonic Salsa" in sinfonischer Besetzung) bis hin zu "Opera meets Cuba". Darüber hinaus gehören mehrere Projekte in großer Besetzung mit Chor oder Sinfonieorchester zum festen Repertoire des Ensembles.

Booklet for Beethoven Meets Cuba