---
Album info
Album including Album cover
1

Cesca

05:07

2

First Light

05:48

3

Village Of The Sun

06:54

4

The Spanish Master

05:30

5

Tigris

05:13

6

Ted

04:15

Total Runtime

32:47
Info for First Light

Village Of The Sun is an enigmatic collaboration between UK jazz virtuosos Binker Golding & Moses Boyd and electronic music legend Simon Ratcliffe of Basement Jaxx fame.
Born out of a shared passion for improvised instrumental music, the new project sees all three of the artists steps into relatively new territory, combining their respective sensibilities to create something all at once atmospheric and danceable. Evocative of some of Simon's inspirations such as Alice Coltrane, Airto Moreira and Masters at Work, Village Of The Sun embodies a hybrid of electronic beats, heady jazz improvisation, and sheer, raw energy, breaking ground between pseudo-Samba rhythms, dreamy ambient textures, and explosive sax and percussion.
The new single "The Spanish Master" is a total embodiment of what Village Of The Sun is at it's heart. Combining atmospheric synth lines with percussive electronics, which gently ebb around Boyd's intricate drumming and Golding's expressive sax. With tension building around every element the track careens into a movement of frenetic drumming, electronic idiosyncrasies, and fervent sax breakouts, which find the trio performing at their energetic, adrenaline-fueled best.
The album is truly a project of passion and exploration, and one that refuses to follow just one path. Tracks such as "Cesca" and "Tigris" emphasise Ratcliffe's ability to weave shapeshifting keys and electronics around Golding and Boyd's interplay, changing the mood and direction of the track at a moment's notice. Whereas the title track "First Light" channels the sound of the current UK jazz scene with Ratcliffe imbuing a sense of dramatic tension and release with electronic atmospherics and keys that ferment alongside the almost shamanic, semi-free sax lines and uncomprimising drums.
As part of one of British dance music's biggest ever acts, Basement Jaxx, Ratcliffe and collaborator Felix Buxton led the progressive house sound in the 90s/00s with ground-breaking albums Remedy and Rooty, and by releasing a string of Top 10 singles including Red Alert, Rendez-Vu, Romeo, and Where's Your Head At?. Ratcliffe's own solo work includes the 1995 EP City Dreams and the 2011 EP Dorus Rijkers – both releases prove his musical versatility and virtuosity.
Speaking about the Village of the Sun collaboration, Simon says, "I've always liked improvised instrumental music. It has this intensity and eccentricity that takes me places. It connects with me deeply and resonates with me far more than traditional 'songs' with words." For Binker and Moses, the project sees the duo continue to defy expectations and pigeonholing. Both lauded artists in their own rights, as a duo they are frontrunners of a loose yet interconnected group of London-based jazz musicians that are influenced by the music that surrounds them including hip-hop, electronic, Caribbean rhythms, free improvisation as well as, of course, the jazz tradition. What began as experimental jams during soundcheck as part of Zara McFarlane's touring band has evolved into 2 studio albums, 2 live albums, multiple awards, a performance on Later… with Jools Holland, critically-acclaimed live shows, and an unquenched thirst to continue pushing musical boundaries to the limit.
Binker and Moses' incendiary debut album "Dem Ones" was recorded in 2014 from the live room at Mark Ronson's Zelig Studio to the 1/4" tape machine with no edits, overdubs or mixing, and released through Gearbox Records. This began their journey as "the big breakout stars of the London jazz scene" (The Guardian), and went on to win them a string of awards including the 2015 MOBO Award for Best Jazz Act, a Parliamentary Jazz Award and two Jazz FM Awards. Their second album, "Journey to the Mountain of Forever" (2017), was recorded in the summer of 2016 and included an expanded line-up of musicians; Yussef Dayes, Byron Wallen, Tori Handsley, Sarathy Korwar, and Evan Parker. Conceptually inspired by science fiction and fantastical prog/rock imagery with album artwork by Jim Burns (Blade Runner), the album was named MOJO's No. 2 Jazz Album of the Year and cemented their status as the leaders of the London jazz renaissance.
Earlier this year the duo released their new album "Feeding The Machine", which was recorded at Peter Gabriel's Real World Studios by legendary, GRAMMY-winning producer Hugh Padgham, and featured honorary third member Max Luthert on tape loops and electronics. The record saw the band garner an array of press and radio support including a 5* review at MOJO, and features across the likes of CRACK, Uncut, Jazzwise, the Quietus, Stereogum, Huck, The Observer, and many more.
Individually all three artists have huge credit to their names, and Simon's instigation and eagerness to delve into the ever-evolving London scene continues to display the adaptive and free-flowing potency that not only invigorates those involved but also the nominal genre. Contemplating on the new project, Binker said, "this is the future of life," and in the context of artists place in the current sonic landscape, we're inclined to agree.
Binker Golding, tenor saxophone
Moses Boyd, drums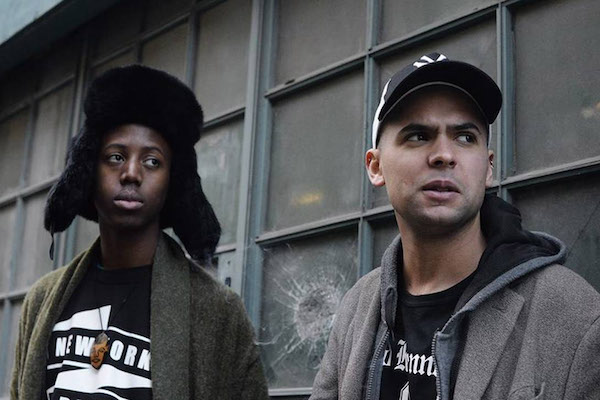 Binker Golding
Journey to the Mountain of ForeverBinker Golding is an award-winning jazz saxophonist, composer, and bandleader based in England. In addition to his own recordings solo and with drummer Moses Boyd in Binker & Moses, he's played on recordings by Sarah Tandy, Zara McFarlane, Ashley Henry, and Joy Ellis. He is the musical director of the celebrated Tomorrow's Warriors Youth Orchestra and has composed concert repertoire for and conducted the Nu Civilization Orchestra. Golding is well-versed in the jazz tradition with a fluid tone that alternately recalls Sonny Rollins, John Coltrane, Johnny Hodges, and Michael Brecker. He has learned from and played alongside prominent saxophonists including Steve Williamson, Jason Yarde, Denys Baptiste, and Gilad Atzmon. Golding and Boyd have recorded several albums as a duo and with guests, including the award-winning Journey to the Mountain of Forever in 2017 and Alive in the East. Golding also recorded Ex Nihilo, another duo offering with pianist Elliot Galvin.
Golding was born and raised in North London. He began playing the saxophone at age eight. He was genuinely fascinated in learning to play classical music but as he got older he gave more attention to his parents' record collection that contained a healthy sampling of jazz: Duke Ellington, Charlie Parker, Thelonious Monk, and Miles Davis. That said, he confessed in an interview that one of the albums that had a profound influence on him was Guns 'N' Roses Use Your Illusions II. At 15 and still in school, Golding decided to pursue music as a vocation. He studied jazz at Middlesex and the Guildhall School of Music and Drama before joining up with Gary Crosby's Tomorrow's Warriors, where he met Boyd. The pair bonded over their spectrum-wide love of jazz and soul. They initially worked together in McFarlane's live band and played together for the first time on her 2014 date If You Knew Her. They formed the Binker & Moses duo and cut their debut, Dem Ones, live at Mark Ronson's Zelig Studio for Gilles Peterson's Brownswood Recordings label in 2015. They won the coveted U.K. MOBO award (Music of Black Origin) as Best Jazz Act. The same year, Golding joined Boyd's Exodus band for the Footsteps of Our Fathers EP.
Two years later, Binker & Moses cut the double-length Journey to the Mountain of Forever. Recorded live in two days to quarter-inch analog tape at Ronson's studio, the finished reels contained five hours of music. While the first disc featured only the duo, on the second they were joined by saxophonist Evan Parker, trumpeter Byron Wallen, harpist Tori Handsley, tabla player Sarathy Korwar, and drummer Yussef Dayes. The album's release was met with universal acclaim across Europe and the U.S. It was voted number one Urban Album of the Year by MOJO magazine (beating Loyle Carner and Kendrick Lamar.) The same year, Golding played on a pair of singles by McFarlane and on jazz singer, pianist, and songwriter Joy Ellis' debut album Life on Land. Binker & Moses issued Alive in the East for Gearbox in 2018, a concert date that featured the same extended ensemble (sans Korwar) as the second half of Journey to the Mountain of Forever. Golding also worked on Moses Boyd Exodus' sophomore full-length, Displaced Diaspora, that also included Nubya Garcia on bass clarinet, Joe Armon-Jones on synthesizer, and Theon Cross on tuba, among many others.
2019 found Golding playing live with Armon-Jones' band, with McFarlane and producer Dennis Bovell on the East of the River Nile EP, on jazz pianist Sarah Tandy's debut album Infection in the Sentence produced by Ben Lamdin on Jazz Re:freshed, and with Ashley Henry on the pianist's debut Beautiful Vinyl Hunter. Golding and pianist Elliot Galvin issued the duo offering Ex Nihilo. The saxophonist formed his own quartet with Armon-Jones on piano, double bassist Daniel Casimir, and drummer Sam Jones. In September, he released his Gearbox solo debut, Abstractions of Reality Past and Incredible Feathers, to international acclaim. (Thom Jurek, AMG)
Moses Boyd
Drummer, DJ, Composer & Producer Moses Boyd combines jazz with swinging urban music and is regarded as one of the hottest talents of Jazz music at present. Boyd is a cornerstone of Zara McFarlane's band and also has a very successful partnership with saxophonist/soul mate Binker Golding, who makes up the other half of Binker & Moses. In 2015 Boyd and Golding released their debut album 'Dem Ones'. On top of working with the likes of Sampha, Little Simz as well as his own creative works ensemble "The Exodus", Boyd has founded his own record label and has a new BBC Radio 1Xtra residency, highlighting his multiple talents and contribution to the music scene. Being an admirer of Yamaha Drums from an early age on, Moses has chosen the PHX as his kit for live & studio.

This album contains no booklet.