---
Album info
Album including Album cover
I`m sorry!
Dear HIGHRESAUDIO Visitor,
due to territorial constraints and also different releases dates in each country you currently can`t purchase this album. We are updating our release dates twice a week. So, please feel free to check from time-to-time, if the album is available for your country.
We suggest, that you bookmark the album and use our Short List function.
Thank you for your understanding and patience.
Yours sincerely, HIGHRESAUDIO
Chad Lawson (b. 1975):

1

Lawson: irreplaceable

04:31

2

Lawson: the color of the sky

03:49

3

Lawson: to hold the stars in the palm of your hand

04:16

4

Lawson: fields of forever

04:50

5

Lawson: with you

04:09

6

Lawson: for such a gaze of wonder

04:27

7

Lawson: this is what love is

03:00

8

Lawson: letting go

04:40

9

Lawson: the sweetest sound (solo piano)

03:15

10

Lawson: beneath the moon's embrace (solo piano)

05:03

11

Lawson: irreplaceable (solo piano)

04:27

12

Lawson: the color of the sky (solo piano)

03:43

13

Lawson: to hold the stars in the palm of your hand (solo piano)

04:03

14

Lawson: fields of forever (solo piano)

04:48

15

Lawson: with you (solo piano)

03:57

16

Lawson: for such a gaze of wonder (solo piano)

04:13

17

Lawson: this is what love is (solo piano)

03:09

Total Runtime

01:10:20
Info for breathe

World-renowned pianist Chad Lawson has announced his luminous double album breathe, set for release on September 23 via Decca Records US. Featuring both solo piano compositions and orchestrated arrangements, breathe is a heart-felt invitation to pause and enjoy a cathartic moment of release. Each melody purposefully brushes across the canvas of emotions, allowing a tremendous depth of feeling to shine through every moment. "With this album I really wanted to create something where anyone can sit back, close their eyes, and release everything they've been holding inside," says the NC-based composer, who's devoted much of the past few years to studying the science behind calming music and its neurological effects. "My hope is that this music can help people exhale and finally let all that go."
Co-produced by Lawson and London-based orchestrator Geoff Lawson, breathe came to life at the legendary Abbey Road Studios (the same facility where he recorded You Finally Knew, whose standout track "Stay" climbed the Billboard Classical chart for 111 weeks). The lavishly orchestrated opening section features the lush string work of cellist Peter Gregson, violinist Esther Yoo, and members of the Royal Philharmonic Orchestra as Lawson muses on such matters as the durability of true love (on "fields of forever"), the sometimes-painful tension between family life and creative practice (on the breathtakingly bittersweet "with you"), and the pure euphoria of joyful infatuation (on "this is what love is," whose waltz-like movement perfectly echoes the nervous flutter of new romance). The album's latter half is comprised of solo piano arrangements that highlight Lawson's attentive sculpting of melody, an element he regards as the most vital channel for emotional expression.
Today, Lawson shares the hopefully-melancholic album opener "irreplaceable," which presents a nuanced meditation of grief with its cascading melodies and soul-stirring orchestral arrangement. Although breathe is about letting go, "irreplaceable" is an invitation to reflect and cherish what holds a special place in our hearts.
Before his solo debut, Lawson developed a thriving career as a touring jazz pianist but found himself feeling disconnected from the music. As he began to explore new musical territory, he ultimately found that the solo piano gave him comfort and a sense of healing that other music did not. "I started hearing from listeners who'd say things like 'I just lost a loved one and felt like you were holding my hand through the most difficult time in my life,'" says Lawson. "That's when things started making sense for me, in terms of making emotion the core of everything I do." Since his solo piano debut in 2009 called Set On A Hill, Lawson has established himself as a musical mindfulness advocate that continues modernizing the piano for the streaming age.
Lawson's 2020 Decca debut You Finally Knew has earned over 275 million global streams. Coinciding with the critically-acclaimed album's release, Lawson launched the iHeartRadio Award-nominated podcast Calm It Down, which seeks to help listeners recharge and recenter through the power of music. Today, Calm It Down has 60k listeners per week and over 1.5 million downloads to date. Last month, Lawson debuted his meditative solo piano EP irreplaceable, which inspired listeners to find peace through their own irreplaceables in life (read his recent AllMusic interview here). Also in May, Chad incorporated meditation and guided breathing techniques into his performance for a packed house in London at the Purcell Room at the Southbank Centre. breathe is the next chapter in a career dedicated to helping others as Lawson continues to forge a powerful new pathway for healing with piano music.
With the forthcoming release of breathe, Lawson hopes that listeners will allow themselves a retreat from the incessant noise of everyday life. "The past couple of years have shown me that people are in need of something soothing to the mind, and I'm happy that I can provide that in some way," he says. "At the end of the day, all I'm asking is for my music to be a place where people can go to tune out the outside world for a little while, and feel that emotional embrace that so many of us have been missing."
Chad Lawson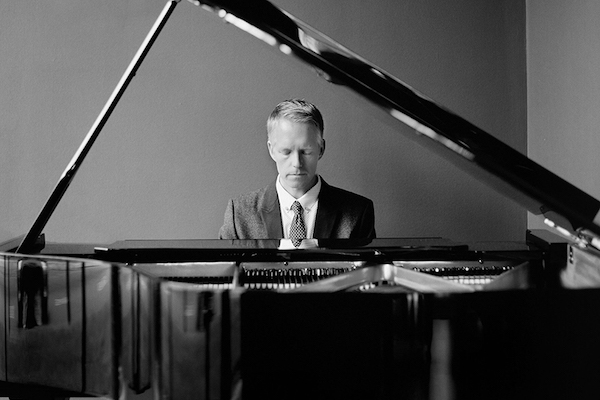 Chad Lawson
is just about the polar opposite of every other solo pianist out there. He has toured the world with Julio Iglesias, is an official Steinway performing artist, recipient of "Album of the Year" on Whisperings Solo Piano Radio and has scored several films.
Earlier, Lawson's trio recorded two wildly-successful albums for Summit Records. Dear Dorothy; the Oz Sessions—brought music from the Wizard of Oz to the national jazz charts. The CD was featured in Starbucks, showed up in Dawson's Creek, and the trio even toured Japan. Unforeseen, their second album, jumped to #8 on the national jazz charts, and included songs by the Police, Soundgarden, and the Beatles. However, all these successes were a blur, leading up to one night on tour in Spain with Iglesias—in yet another sold-out 10,000 seat venue. It was here that Lawson suddenly felt absolutely alone on stage and said, "It's time to do my own thing again."
Imagine standing in the middle of NYC, engulfed by all its energy. That same pulse stems from Lawson's music, in a more slow-burn sorta way. That's the kind of music Lawson writes: with listening—real listening—in mind. Listeners get the feeling they're participating in a musical conversation. That's because—unlike just about every other solo pianist out there—Lawson's music has a strong organic, improvisatory element to it. Chad Lawson is sort of like George Winston, but the audience Lawson's going for probably won't get that reference anyway. (Lawson has always made a habit of bringing jazz to new audiences, as if you couldn't tell by his credits.)
All Lawson's songs, in fact, give you the chance to hear the music, and simply exhale, to breathe. His music affords the time that most of us never take in the day to rest our mind—as if to say, things can be put on pause—even for just a few moments.

This album contains no booklet.