---
Album info
Album including Album cover
1

Survival

06:31

2

Unknown Silence

04:53

3

Espadarado

04:23

4

Summer Rain

03:21

5

My First Peace

02:39

6

Suddenly

02:38

7

Physical Groove

03:48

8

Between the Sun

04:36

Total Runtime

32:49
Info for My First Peace

Duesmann explains, "I was born 1996 in Leipzig, Germany. In my childhood I had 7 years piano and violin lessons. But till the end I had a hard time reading music and keeping on practicing. Instead I started composing my own songs. In 2014 I started teaching myself Fingerstyle. First I was strongly influenced by Pop music and thus by Sungha Jung and the Candyrats Record artists. Later I focused more on the origin of Fingerstyle and taught myself Travis-Picking, Slide and Lap Steel. So my style combines classical and modern elements of Fingerstyle. Today I'm living in Hamburg and am working as a project manager for Steinway and Sons. Till now the music is more a hobby, but it is growing. I think the tracks I wrote have a value and need to be heard."
"I wrote these tunes while in my teens and recently rediscovered then. Hearing again what I created back then made something in me click. These songs are more than just a sequence of tones or a collection of techniques. They are real and need to be heard. That is when I decided to publish and share them with you. Enjoy!" (Thomas Duesmann)
Thomas Duesmann, guitar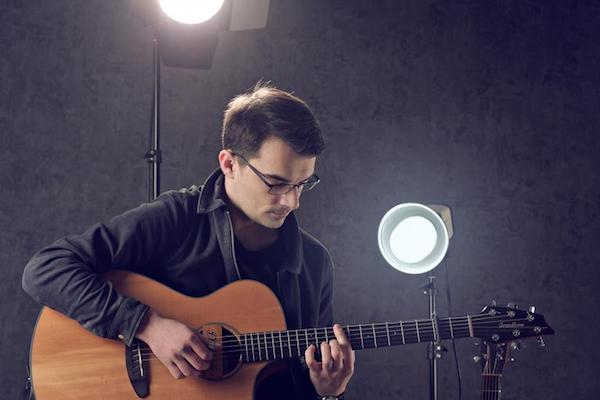 Thomas Duesmann
Part-time Fingerstyle, Fingerpicking, Slide and Lap-Steel guitarist. I was born 1996 in Leipzig, Germany. In my childhood I had 7 years piano and violin lessons. But till the end I had a hard time reading music and keeping on practicing. Instead I started composing my own songs. In 2010 I started teaching myself Fingerstyle. First I was strongly influenced by Pop music and learned percussive Fingerstyle. Later I focused more on the origin of Fingerstyle and taught myself Travis-Picking, Slide and Lap Steel. So my style combines classical and modern elements. Today I'm living in Hamburg and am working as a project manager. Till now the music is more a hobby, but it is growing.
I wrote these tunes while in my teens and recently rediscovered then. Hearing again what I created back then made something in me click.These songs are more than just a sequence of tones or a collection of techniques. They are real and need to be heard.That is when I decided to publish and share them with you. Enjoy!

This album contains no booklet.