---
Album info
Album including Album cover Booklet (PDF)
Simone Fontanelli (b. 1961): Dresden Septet "Homage to Beethoven":

1

Fontanelli: Dresden Septet "Homage to Beethoven": I. Energico, risoluto

08:59

2

Fontanelli: Dresden Septet "Homage to Beethoven": II. Andante

06:00

3

Fontanelli: Dresden Septet "Homage to Beethoven": III. Adagio

04:45

4

Fontanelli: Dresden Septet "Homage to Beethoven": IV. Deciso

07:37

Ludwig van Beethoven (1770 - 1827): Septet in E-Flat Major, Op. 20:

5

Beethoven: Septet in E-Flat Major, Op. 20: I. Adagio - Allegro con brio

10:00

6

Beethoven: Septet in E-Flat Major, Op. 20: II. Adagio cantabile

08:30

7

Beethoven: Septet in E-Flat Major, Op. 20: III. Tempo di menuetto

02:59

8

Beethoven: Septet in E-Flat Major, Op. 20: IV. Tema con variazioni. Andante

07:46

9

Beethoven: Septet in E-Flat Major, Op. 20: V. Scherzo. Allegro molto e vivace - Trio

03:29

10

Beethoven: Septet in E-Flat Major, Op. 20: VI. Andante con moto alla marcia - Presto

08:05

Total Runtime

01:08:10
Info for Fontanelli & Beethoven: Chamber Septets

A young ensemble backed with over 400 years of history is releasing its debut album with GENUIN: the Dresden Chamber Soloists are all members of the Sächsische Staatskapelle, one of the most tradition-rich orchestras in the world. The album proves, however, that for the top musicians, tradition is not merely a matter of maintaining the legacy but of passing the torch. On this album, the ensemble combines Beethoven's famous Septet (the composer's most successful piece of his lifetime!) with a new work written for the same instrumentation, Simone Fontanelli's gestural Dresden Septet - Homage to Beethoven. A worthwhile world premiere recording!
Dresden Chamber Soloists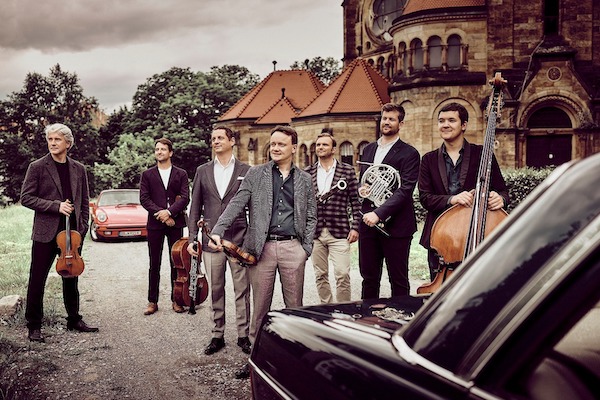 Dresden Chamber Soloists
The Dresden Chamber Soloists joined forces in 2019 for a CD project dedicated to Mieczysław Weinberg. Not only did the project have significance at the time, but it also quickly gathered momentum – an impulse that would be carried outward. At that time, the chamber ensemble members had already found a name that would both include Dresden as its place of origin and be understood internationally.
The ensemble performs as an ambassador of the legendary Dresden sound in formations that range from chamber music ensemble to chamber orchestra on the world's great stages . Federico Kasik (violin), Holger Christian Grohs (viola), Norbert Anger (violoncello), Philipp Zeller (bassoon), Robert Oberaigner (clarinet), Zoltán Mácsai (horn) and Viktor Osokin (double bass) are members of the Sächsische Staatskapelle Dresden as concertmasters, principals and solo wind players, respectively.

Booklet for Fontanelli & Beethoven: Chamber Septets