---
Album info
Album including Album cover
1

Violin Concerto in E Major, RV 269: I. Allegro (Spring)

04:39

2

Spring Is Here (Spring)

06:20

3

Honeysuckle (Spring)

03:17

4

Springtime Heartsong (Spring)

04:18

5

Green (Spring)

05:19

6

It Might as Well Be Spring (Spring)

06:48

7

Violin Concerto in G Minor, RV 315: III. Presto (Summer)

04:20

8

Summer Sun (Summer)

05:44

9

Light (Summer)

04:54

10

Summer Scale (Summer)

03:57

11

Jazzin' July (Summer)

04:08

12

August 4th (Summer)

04:32

13

Violin Concerto in F Major, RV 293: I. Allegro (Autumn)

03:28

14

Early Autumn (Autumn)

05:10

15

Rain (Autumn)

05:20

16

Thanksgiving (Autumn)

06:13

17

Ode to Chardonnay (Autumn)

04:16

18

Autumn in New York (Autumn)

06:50

19

Violin Concerto in F Minor, RV 297: II. Largo (Winter)

03:58

20

Valentine (Winter)

05:38

21

Snowfall (Winter)

03:41

22

Black-Eyed Peas (Winter)

02:46

23

Winter Moon (Winter)

05:03

24

Hope (Winter)

04:24

Total Runtime

01:55:03
Info for Four Seasons

The title of this double album is "Four Seasons". Every season starts with the original Vivaldi composition, transcribed for my jazz quartet. For the rest you'll hear jazz standards and original compositions for each of the different seasons.
About one year ago the world we live in changed dramatically. Our social and in some cases professional lives, have been reduced to almost nothing.
A stable factor in this turbulent year, however, was nature. The days passed like every year, season after season.
These changes of nature inspired Vivaldi in the early 18th century to compose his famous "Quattro Stagioni".
The four seasons are, indeed, very inspiring with all the different colours, sounds and wonderful perfumes.
They motivated me to produce this recording with my Hiptett, featuring different musical guests.
This album consists of four parts, each starting with a transcription of the original Vivaldi composition, supplemented with jazz standards and my own original compositions.
Vocalist Shaunette Hildabrand created lyrics for each season. Her input and that of Olaf Polziehn, Jos Machtel and Oliver "Bridge" Mewes are impeccable.
Bert Boeren, Hein de Jong and the vocal quartet add interesting textures to the album.
As always, Geurt Engelsman did a fabulous job with the recording.
Enjoy the Four Seasons with the Frank Roberscheuten Hiptett.
Frank Roberscheuten, saxophone, clarinet, trombone
Rossano Sportiello, piano
Martin Breinschmid, drums
Shaunette Hildabrand, vocals
Bert Boeren, vocals
Hein de Jong, vocals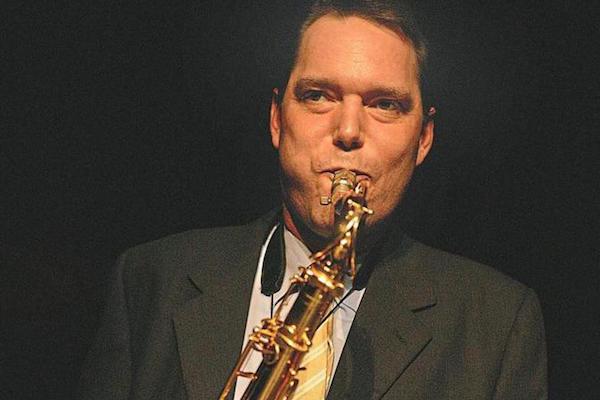 Frank Roberscheuten
was born in the village of Valkenswaard, The Netherlands, in 1962. Through a friend he became a member of the local woodwind orchestra where he was told to play the clarinet. At age fifteen he formed his first Dixieland band and has been a bandleader since.
In a national radio contest, Frank's band won first prize and the opportunity to perform at the Montreux Jazz Festival. In the early 1980's he studied classical clarinet at the Royal Conservatory in The Hague and from there went to the Brabants Conservatory in Tilburg studying with the great Walter Boeykens. He graduated "Cum Laude". In the meantime he was performing with many different New - Orleans style groups like "The David Livingstone Jazzmessengers" and "The Fondy Riverside Bullet Band". His style was influenced by the great traditional jazz clarinettists like Barney Bigard, George Lewis and Edmond Hall.
His first recording session dates from June 1984 with the "Burgundy Street Jazzmen". At the moment he can be heard on over 90 CDs. Eventually, after listening to the famous Swing Era saxophone players like Coleman Hawkins, Lester Young and Johnny Hodges, Frank became interested in the Swing Era music of the 1930s and 1940s. He joined the "Jojo Swingband" and started a new group called "The Swingcats". Being a fan of Duke Ellington, he formed and led the band "A Portrait Of Duke Ellington" with which he toured and recorded for the American label Arbors Records in 1999, the centennial Ellington year. Over the years Frank has played at most of the jazz festivals in Europe and visited New Zealand, Japan and the United States several times.
Although rooted in the traditional jazz, his style became more and more personal over the years. This can be heard in his current groups which you can find under "Bands". Apart from playing in these groups Frank has performed and recorded with many great orchestras like "The Metropole Orchestra", "The Dutch Swing College Band", "The Beau Hunks Saxophone Soctette", "Marty Grosz And His Hot Puppies", "Allotria Jazzband", "Les Haricots Rouges" ,"The Johnny Varro Septett", "The Echoes Of Swing Orchestra" and "Trevor Richards Trio". Besides his activities as a performer, Frank is musical director of The Hot Jazz Workshop in Ascona and Jazzin' July in The Netherlands. He also is the musical director of the Hotel Ascona Swing Festival.
He considers himself fortunate to perform with the best jazz musicians around. His current groups are listed in "Bands"
In March 2016 Frank was rewarded with the prize "Keeper Of The Flame" for his work in the field of Traditional Jazz.

This album contains no booklet.