---
Album info
Album including Album cover Booklet (PDF)
1

Chorinho em Paris

04:11

2

La Topa De Elegua

04:52

3

Gerundio

03:19

4

Les amants de barbès

05:30

5

Tanuana

05:40

6

Anteo

03:57

7

Naila

03:43

8

Qi Zai

04:13

9

En ton île

04:48

10

Danza de un Lugar Cercano

05:58

Total Runtime

46:11
Info for Danzas

The Cuareim Quartet was conceived in Mexico by the meeting of its four outstanding musicians. They are inspired by their love for world music and by sharing and improvising with other artists. Danzas is the album created through this love of traditional music and through an understanding of what they all have in common and also, of what makes them unique, dance.
Cuareim Quartet
Natascha Rogers, vocals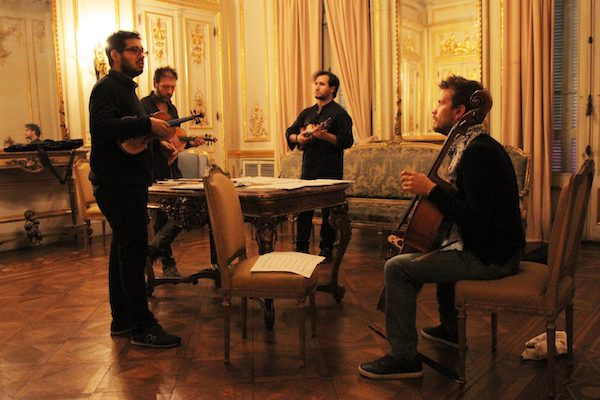 Cuareim Quartet
Rodrigo Bauzá and Federico Nathan met as young violin students in Uruguay back in 2001 and remained in contact during the following years although they were living in different European cities. They shared an interest in both classical and popular music and after spending ten years studying and building careers for themselves in both fields, they set out together to find like-minded musicians in order to found a new kind of string quartet. After meeting cellist Guillaume Latil and violist Mara Tieles, they founded the Cuareim Quartet in 2013 and began giving by concerts and master-classes at the Festival Instrumenta in Oaxaca (Mexico). Since then, they have given many concerts in France, Spain, Germany, Uruguay and Argentina.
While the focus of the four musicians is on contemporary jazz and improvised music, they eagerly embrace a wide variety of aesthetics and styles. The four musicians play original compositions and arrangements, hoping to break new ground by combining their very different backgrounds and experience in different genres
The quartet's first CD Cinco, recorded in 2015 with internationally acclaimed multi-instrumentalist Marcelo Moguilevsky, contains new songs by Bauzá, Nathan and Moguilevsky. The recording was warmly acclaimed by the press and elected "recording of the year" by the newspaper La Nacion in Argentina. The quartet presented the CD in Europe and South-America with Moguilevsky in 2015, including concerts at the Centro Cultural Kirchner and the Teatro Amihai in Buenos Aires as well as a lunch concert at the Berlin Philharmonic.
In 2016, the quartet were invited to play as soloists with the Orquesta Nacional de Musica Argentina. They were offered a unique opportunity to compose new pieces for a string quartet and symphony orchestra. The Cuareim Quartet, now playing with violist Olivier Samouillan, enjoyed the experience enormously and is looking forward to many new projects in the upcoming year.

Booklet for Danzas