---
Album info
Album including Album cover Booklet (PDF)
Sergei Prokofiev (1891 - 1953): Romeo and Juliet, Op. 64 (Excerpts Arr. V. Borisovsky for Viola & Piano):

1

Prokofiev: Romeo and Juliet, Op. 64 (Excerpts Arr. V. Borisovsky for Viola & Piano): No. 1, Introduction

02:30

2

Prokofiev: Romeo and Juliet, Op. 64 (Excerpts Arr. V. Borisovsky for Viola & Piano): No. 10, Young Juliet

03:17

3

Prokofiev: Romeo and Juliet, Op. 64 (Excerpts Arr. V. Borisovsky for Viola & Piano): No. 13, Dance of the Knights

05:53

4

Prokofiev: Romeo and Juliet, Op. 64 (Excerpts Arr. V. Borisovsky for Viola & Piano): No. 19, Balcony Scene

05:57

5

Prokofiev: Romeo and Juliet, Op. 64 (Excerpts Arr. V. Borisovsky for Viola & Piano): No. 15, Mercutio

02:18

6

Prokofiev: Romeo and Juliet, Op. 64 (Excerpts Arr. V. Borisovsky for Viola & Piano): No. 52, Death of Juliet

07:30

Sergei Rachmaninoff (1873 - 1943): Cello Sonata in G Minor, Op. 19 (Arr. V. Borisovsky for Viola & Piano):

7

Rachmaninoff: Cello Sonata in G Minor, Op. 19 (Arr. V. Borisovsky for Viola & Piano): I. Lento - Allegro moderato

14:12

8

Rachmaninoff: Cello Sonata in G Minor, Op. 19 (Arr. V. Borisovsky for Viola & Piano): II. Allegro scherzando

07:16

9

Rachmaninoff: Cello Sonata in G Minor, Op. 19 (Arr. V. Borisovsky for Viola & Piano): III. Andante

06:11

10

Rachmaninoff: Cello Sonata in G Minor, Op. 19 (Arr. V. Borisovsky for Viola & Piano): IV. Allegro mosso

11:20

Igor Stravinsky (1882 - 1971): Suite italienne (Arr. Jesus Rodolfo for Viola & Piano):

11

Stravinsky, Piatigorsky: Suite italienne (Arr. Jesus Rodolfo for Viola & Piano): I. Introduction

02:21

12

Stravinsky, Piatigorsky: Suite italienne (Arr. Jesus Rodolfo for Viola & Piano): II. Serenata

03:36

13

Stravinsky, Piatigorsky: Suite italienne (Arr. Jesus Rodolfo for Viola & Piano): III. Tarantella

02:17

14

Stravinsky, Piatigorsky: Suite italienne (Arr. Jesus Rodolfo for Viola & Piano): IV. Gavotte con due variazioni

04:17

15

Stravinsky, Piatigorsky: Suite italienne (Arr. Jesus Rodolfo for Viola & Piano): V. Minuetto - Finale

04:57

Total Runtime

01:23:52
Info for Remembering Russia

Violist Jesus Rodolfo makes his PENTATONE debut, accompanied by pianist Min Young Kang, with an album showcasing three iconic 20th-century Russian composers who all left their homeland: Prokofiev, Rachmaninov and Stravinsky. Rodolfo presents selections of Prokofiev's Romeo and Juliet and Rachmaninov's Cello Sonata in G Minor in arrangements by Vadim Borisovsky, while Stravinsky's Suite Italienne can be heard in his own transcription for viola and piano. The pieces performed revolve around love, decency, hope and optimism prevailing against mortality, mistrust, injustice and uncertainty. Within the context of a world slowly respiring from a severe pandemic, this has become a recording about the importance of the perseverance of hope, determination and love in the face of death and uncertainty.
Acclaimed for his exhilarating, passionate performances, innate musicality and technical prowess, Spanish violist Jesús Rodolfo has been praised by The New York Times Digest as "a star whose light transcends the stage."
Jesus Rodolfo, viola
Min Young Kang, piano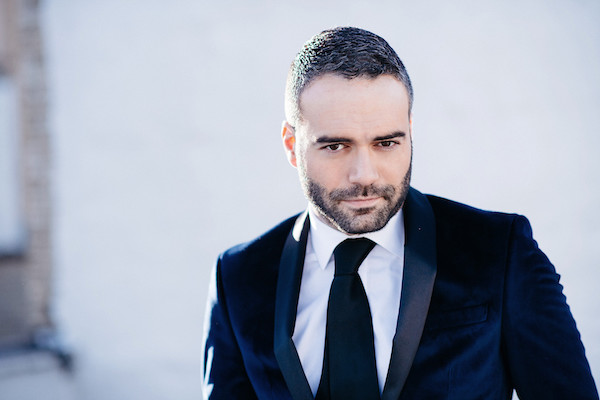 Jesus Rodolfo
Thirty-year-old Spanish violist Jesus Rodolfo Rodriguez is widely recognized for his performances, which combine the spontaneity and fearless imagination of youth with the discipline and precision of a mature artist. He has been praised by the New York Times, Digest, as "... Jesus Rodolfo is a start whose light transcends the stage...", his authority over the most complex technical demands of the repertoire as well as for the depth of his musical insight made his stand among the top young musicians in the world.
After joining the Gustav Mahler Jugendorchester (GMJO) in 2008, Rodolfo became its Principal Violist and Soloist in 2010. With the GMJO he has performed all over Europe with renowned conductors such as Claudio Abbado, Antonio Pappano, Herbert Blomstedt, Ingo Metzmacher and David Afkham.
Rodolfo has been a prizewinner of numerous competitions and awards, including, Mozart Competition, Mannes College of Music Concerto Competition, "Angel Muñiz Toca" prize, "Cajastur Young Artist" Scholarship and in 2008 and "CajaMadrid Chamber Music". He was finalist at Windsor Competition, Lionel Tertis Competition 2009 and Tokyo Viola Competition 2015.
Rodolfo made his debut as a Solo Violist at the age of 12 in the Auditorio Principe Felipe of Oviedo, Spain. Since then he has had numerous critically acclaimed performances with orchestras such as the Gustav Mahler Jugendorchester, Mannes Orchestra, Bratislawa Chamber Orchestra, León Symphony Orchestra "Odón Alonso", Youth Asturias Symphony Orchestra, Gijón Simphony Orchestra, Yale Philharmonia, under conductors such as Claudio Abbado, David Afkham, David Hayes, Marzio Conti, Dorel Murgu, Jean Stanienda, Shink Han, Óliver Díez, among others and has appeared in major concert halls throughout Europe, China and the US.
Jesús began his studies at the age of 7 with Violist Wieslaw Rekucki Krupa, followed by study at the Conservatorio Superior de Música "Eduardo Martinez Torner de Oviedo," where upon graduation he was awarded the prestigious Honorary Diploma. Since then he studied at Yale University, Juilliard School, Mannes College of Music, Manhattan School of Music and Stony Brook University, from where he just graduated with his Doctoral Music Arts Degree. His mentors are Paul Neubauer, Lawrence Dutton and Nicholas Cords.
He has offered recitals all over the worlds, including Carnegie Hall and Lincoln Center in New York. He is frequently guest artist at International Music Festivals such as Music@Menlo, Bowdoin, Malaga#Clasica, Bach Festival, Chelsea Music Festival and Luzern Festival.
In summer 2017, he released his first CD, Paul Hindemith Complete Sonatas for Viola and Piano, for Skillman Music label.
Jesus resides in New York City, is fluent in English, Spanish, Italian, German and French, and holds a Degree in Piano and Architecture.

Booklet for Remembering Russia