---
Album info
Album including Album cover Booklet (PDF)
1

As Above So Below

08:09

2

Renew Your Mind

05:51

3

El No Tiempo

04:27

4

The Fountain of Life

03:37

5

Rishikesh

05:35

6

Koine

08:24

7

Oracion del Remanso

05:42

8

Soy

01:24

9

Sacred Circle

08:33

10

Huye

05:13

11

Hexachordal Morning

05:13

12

Fragili

04:44

13

Azul

02:55

Total Runtime

01:09:47
Info for As Above So Below

"An aural experience, no duality or separation between spiritual and material, its simply my true self unfiltered finding my deepest well of inspiration in the process of creating something that starts in the mind and heart, and then materializes in sound.
The whole album is about spiritual transformation, the intimate union with God and with our higher self, the renewing of our minds, the seven universal laws, the beauty of impermanence, and finally the value and importance of the present moment awareness, a place where we can truly connect with ourselves, with the inner experience of peace and fulfillment returning to the spiritual dimensions that are our real home between the sphere of light above and the soul evolving below".
Israel Varela, lead vocals, drums, piano, Wurlitzer, keyboards
Alfredo Paixão, bass
Angelo Trabucco, Fender Rhodes, piano
Guests:

Sawani Mugdal, vocals, tanpura
  Josei Varela, backing vocals
Paola Repele, backing vocals
Pablo Varela Sr., keyboards
Emanuele Scarparo, electric guitar
Marco Scarparo, electric guitar
Recorded, mixed and mastered between January 15th and March 30th 2018 at Forward Studios, Grottaferrata, Rome, Italy
Engineer by Stefano Quarta
Mastering by Carmine Simeone
Produced by Israel Varela & Forward Music Italy
Executive producer: Massimo Scarparo & Israel Varela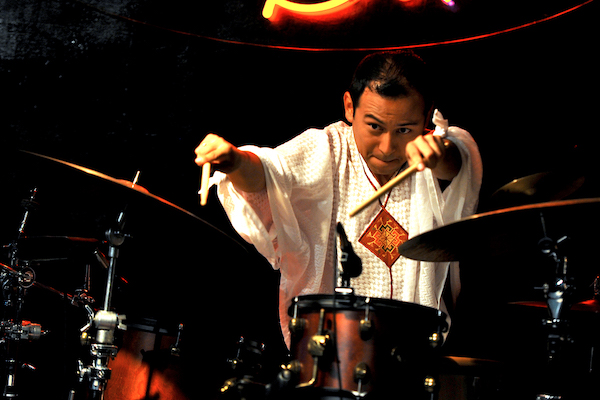 Israel Varela Trio
"Inside the  music of mexican multi-instrumentalist (drummer-composer-singer-pianist- producer-arranger) Israel Varela is a rare mix among mexican, andalusian, and contemporary jazz colors. Ultimately, though, the surprising Mexican artist from Tijuana has figured a way to integrate all three seamlessly in this dynamic and creative drumming and compositions, blending traditional forms with contemporary flamenco, and mexican traditional rhythms".
Since arriving in Rome, Varela has been one of the most in demand drummers in Europe, Asia and Middle East, capturing the attention of the international music scene. He has performed  with multitudes of renowned Jazz, Flamenco, Classical and Pop artists including rewarding gigs with:  Pat Metheny, Charlie Haden, Bireli Lagrene, Diego Amador, Mike Stern, Yo Yo Ma, Kamal Musallam, Jorge Pardo, Giovanni Hidalgo, Hiram Bullock, Abe Laboriel, Andrea Bocelli, Alex Acuna, Pino Daniele, Kai Eckhardt ,Montse Cortes, Otmaro Ruiz, Carles Benavent, Dwiki Dharmawan, Julian Heredia, John Pena, Fuensanta la Moneta, Joaquin Cortes, Karen Lugo, Rasha Rizk, touring with some of them in India, Indonesia, Mexico, Belgium. China, Tunisia, Spain, Swtzerland, Argentina, USA,  Chile, Peru, Jordan, United Arab Emirates, Qatar, France, Italy, Jamaica, etc. 
As a producer/arranger he has been very active for the last 10 years producing Jazz, Pop, R&B artists, in America, Europe, and Asia.
Born in 1979 in Tijuana, Mexico, Israel grew up in a family filled with singers, pianists, guitarrists and orchestral conductors(grandparents, parents, brothers). He began to perform in public at the age of five, singing and playing piano. Years later at the age of eleven he began doing gigs as a drummer with the best Tijuana local Jazz bands, and studied under Gonzalo Farrugia, and Andrei Tchernizev. 
A major turning point in his life happened in 1995 when his talent was discovered by the great Alex Acuna. 
At the age of fifteen he was studying in Los Angeles privately under Alex Acuna(1995-1998), and later under Dave Weckl (1998/2000) also privately. 
On 2000 he moved to Milan where he studied at the G.Verdi Conservatory. 
On 2003 he moved to Seville to explore all the demanding techniques, rhythms & harmonies of Flamenco Music under the great Diego Amador, Luis Amador, and Miguel Vargas at the gipsy village 3000 viviendas. This became an important period for Varela as during this period he developed his own voice as a drummer and as a composer knowing the flamenco tradition and using his own original style to add to it. 
Currently he lives in Italy leading his own Trio and touring around the world with his albums.

Booklet for As Above So Below