---
Album info
Album including Album cover Booklet (PDF)
Franz Joseph Haydn (1732 - 1809): String Quartet in G Major, Op. 77, No. 1, Hob.III:81 "Lobkowitz":

1

Haydn: String Quartet in G Major, Op. 77, No. 1, Hob.III:81 "Lobkowitz": I. Allegro moderato

07:42

2

Haydn: String Quartet in G Major, Op. 77, No. 1, Hob.III:81 "Lobkowitz": II. Adagio

06:16

3

Haydn: String Quartet in G Major, Op. 77, No. 1, Hob.III:81 "Lobkowitz": III. Minuet. Presto - Trio

04:31

4

Haydn: String Quartet in G Major, Op. 77, No. 1, Hob.III:81 "Lobkowitz": IV. Finale. Presto

05:15

String Quartet in F Major, Op. 77, No. 2, Hob.III:82 "Lobkowitz":

5

Haydn: String Quartet in F Major, Op. 77, No. 2, Hob.III:82 "Lobkowitz": I. Allegro moderato

05:13

6

Haydn: String Quartet in F Major, Op. 77, No. 2, Hob.III:82 "Lobkowitz": II. Minuet. Presto - Trio

06:25

7

Haydn: String Quartet in F Major, Op. 77, No. 2, Hob.III:82 "Lobkowitz": III. Andante

07:34

8

Haydn: String Quartet in F Major, Op. 77, No. 2, Hob.III:82 "Lobkowitz": IV. Finale. Vivace assai

05:14

Wolfgang Amadeus Mozart (1756 - 1791): String Quintet No. 6 in E-Flat Major, K. 614:

9

Mozart: String Quintet No. 6 in E-Flat Major, K. 614: I. Allegro di molto

09:54

10

Mozart: String Quintet No. 6 in E-Flat Major, K. 614: II. Andante

06:58

11

Mozart: String Quintet No. 6 in E-Flat Major, K. 614: III. Menuetto. Allegretto

04:38

12

Mozart: String Quintet No. 6 in E-Flat Major, K. 614: IV. Allegro

05:08

Total Runtime

01:14:48
Info for Haydn: String Quartet, Op. 77, Nos. 1 & 2 "Lobkowitz" & Mozart: String Quintet No. 6 in E-Flat Major, K. 614

Halifax based classical record label Leaf Music is pleased to announce that Canadian quartet Rosebud String Quartet is joining the label's roster. Comprised of principal players from the Edmonton Symphony Orchestra, Orchestras of the Canadian Opera Company and the National Ballet of Canada, the RSQ is one of Canada's most exciting young string quartets with a unique voice and a special love for the music of Joseph Haydn.
The Rosebud String Quartet (violinists Aaron Schwebel and Sheila Jaffé, violist Keith Hamm, and cellist Leana Rutt) was formed in 2013 in Rosebud, Alberta at the inaugural Rosebud Chamber Music Festival, an annual summertime chamber music showcase in the Alberta Badlands. The RSQ performs regularly in series across Canada, including Stratford Summer Music Festival, Xenia Concerts, Stereo Live, Richard Bradshaw Amphitheatre Chamber Music Series, Echo Chamber Toronto, Pocket Concerts, and Music Mondays. The quartet was recently featured in CBC Radio 2 'In Concert'.
The Rosebud String Quartet's first release with Leaf Music will be in the spring of 2022. The album will feature the Franz Haydn String Quartets Op. 77, No. 1 & 2, and Mozart Viola Quintet, K. 614.The ensemble will be joined by world-renowned Canadian violist Steven Dann for the Mozart.
In addition to recording their debut album, the ensemble has had a full slate of performances booked throughout Canada for the summer of 2021 including Toronto Summer Music Festival, Ottawa Chamber Music Festival, Sweetwater Music Festival, and the Rosebud Chamber Music Festival.
"We are thrilled to welcome the Rosebud String Quartet to our roster. They are four of the top young chamber musicians in Canada and we are delighted to be part of their upcoming album. Their musicianship and passion will continue to connect with music listeners in concert halls and streaming platforms alike in the years to come. It's a privilege for Leaf Music to help bring their music to the world." – Jeremy VanSlyke, owner – Leaf Music
Steven Dann, viola
Rosebud String Quartet:
Aaron Schwebel, violin
Sheila Jaffé, violin
Keith Hamm, violin
Leana Rutt, cello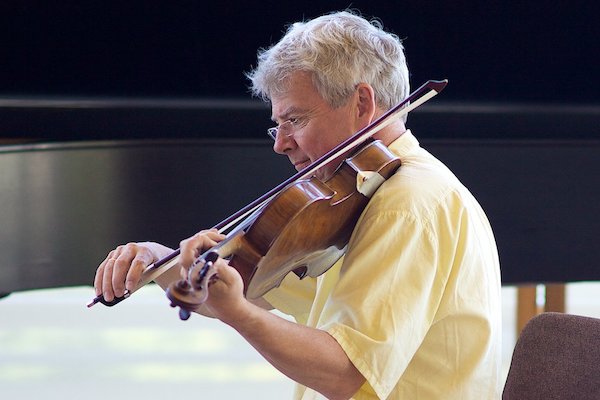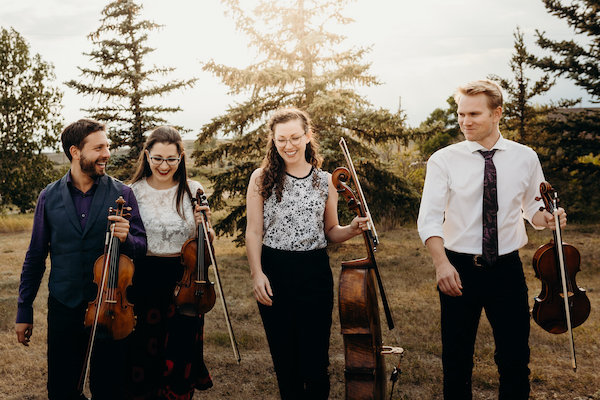 Steven Dann
was born on Canada's West Coast in Burnaby, B.C. His foremost teacher and mentor was the late Lorand Fenyves. Other significant influences along the way have included William Primrose, Robert Pikler, and Bruno Giuranna.
Upon graduation from university he was named Principal Viola of the National Arts Centre Orchestra in Ottawa, a position he subsequently held with the Tonhalle Orchestra in Zurich, the Royal Concertgebouw Orchestra in Amsterdam, the Vancouver Symphony and the Toronto Symphony Orchestra. He has served as guest principal of the Luzern Festival Orchestra under Horst Stein and Rafael Fruhbeck de Burgos, the Boston Symphony Orchestra under Seiji Ozawa, the City of Birmingham Symphony Orchestra under Sir Simon Rattle and, in both performance and recordings, the Chamber Orchestra of Europe under Nikolaus Harnoncourt, Paavo Berglund, Ivan Fischer and Pierre Boulez. He also led the viola section of the Canadian Opera Company for the opening of Toronto's Four Seasons opera house in performances of Wagner's Ring Cycle under Richard Bradshaw.
Steven Dann has collaborated as a soloist with such Maestri as Sir Andrew Davis, Rudolph Barshai, Jiri Belohlavek, Sir John Eliot Gardiner, Jukka-Pekka Saraste, Vladimir Ashkenazy and Oliver Knussen.
Since 1990 Mr. Dann has been a member of the Smithsonian Chamber Players in Washington D.C. and was a founding member of the Axelrod String Quartet. He is also violist of both the wonderfully eclectic Zebra Trio (with violinist Ernst Kovacic and cellist Anssi Karttunen) and Toronto's multi-Grammy-nominated ARC Ensemble. In solo and chamber music, Mr. Dann has recorded for Sony, Naxos, CBC Records, Marquis Classics, Centrediscs, RCA Red Seal, Ondine, Kairos, Chandos, ATMA Classique and Toccata Classics. The Stereo Record Review described his recording of the viola works of Brahms (ATMA Classique) as "without doubt, one of the most beautiful viola recordings I have ever heard". A second CD of rare French repertoire is also available on ATMA.
Mr Dann has a diverse solo and chamber music repertoire born of both the researcher's joy in uncovering forgotten treasures, and a love of taking part in new creations. To name a few, important solo works with large ensembles by Mark-Anthony Turnage, Christos Hatzis, Morton Feldman, Giya Kancheli, Alexina Louie, and Jonathan Harvey. Unearthed gems from the past, some recorded for the first time, by Rebecca Clarke, Julius Röntgen, Jerzy Fitelberg, Pierre de Breville, Pierre Tournemire, Paul Ben-Haim and Alberto Hemsi. And commissions including works from Peter Lieberson, R. Murray Schafer, Kaija Saariaho, Alexina Louie, Magnus Lindberg, Friedrich Cerha and Hans Abrahamsen.
As both a performer and teacher, Mr. Dann is a regular guest at many international festivals and arts schools. He teaches viola and chamber music at the Glenn Gould School in Toronto's Royal Conservatory of Music, and is the coordinator of chamber music programs at the Domaine Forget in Québec and the Music by the Sea Festival in British Columbia. With his colleagues in the Zebra Trio, a contemporary music seminar entitled Creative Dialogue France, involving young and established composers and performers, happens each August in the Loire Valley, France.
Mr Dann plays a wonderful viola, based on the "Primrose" Guarneri, commissioned from Joseph Curtin.

The Rosebud String Quartet
was formed in 2013 in Rosebud, Alberta at the inaugural Rosebud Chamber Music Festival, an annual summertime chamber music showcase in the Alberta Badlands. Comprised of principal players from the Edmonton Symphony Orchestra, Canadian Opera Company and National Ballet of Canada Orchestra, the RSQ is one of Canada's most exciting young string quartets with a unique voice and a special love for the quartets of Haydn.
The RSQ performs regularly in various Toronto-based series, including Stereo Live, Richard Bradshaw Amphitheatre Chamber Music Series, Echo Chamber Toronto, Pocket Concerts,Xenia Concerts, Off Centre Music Salon, and Music Mondays. The quartet was recently featured in CBC Radio 2 'In Concert'.
The RSQ has performed at Ottawa ChamberFest, Stratford Summer Music Festival, Music by the Sea in Bamfield, British Columbia, and Sweetwater Music Festival among others. Upcoming performances include Toronto's Off Centre Music Salon, the Rosebud Chamber Music Festival, Toronto Summer Music Festival, and Sunday Chatter in Albuquerque, New Mexico.
The RSQ had their chamber music education at the Domaine Forget, where individually they performed with members of the London Haydn Quartet, Chilingirian Quartet, Elias Quartet, ARC Ensemble, Florestan Trio and the Smithsonian Chamber Players.

Booklet for Haydn: String Quartet, Op. 77, Nos. 1 & 2 "Lobkowitz" & Mozart: String Quintet No. 6 in E-Flat Major, K. 614