---
Album info
Album including Album cover Booklet (PDF)
César Franck (1822 - 1890): Symphony in D Minor, FWV 48:

1

Symphony in D Minor, FWV 48: I. Lento - Allegro ma non troppo

17:32

2

Symphony in D Minor, FWV 48: II. Allegretto

10:04

3

Symphony in D Minor, FWV 48: III. Finale. Allegro non troppo

09:57

Variations symphoniques in F-Sharp Minor, FWV 46:

4

Variations symphoniques in F-Sharp Minor, FWV 46: Poco allegro

01:48

5

Variations symphoniques in F-Sharp Minor, FWV 46: Poco più lento

02:28

6

Variations symphoniques in F-Sharp Minor, FWV 46: Allegretto quasi andante

00:35

7

Variations symphoniques in F-Sharp Minor, FWV 46: Var. 1

00:37

8

Variations symphoniques in F-Sharp Minor, FWV 46: Var. 2

00:34

9

Variations symphoniques in F-Sharp Minor, FWV 46: Var. 3

00:31

10

Variations symphoniques in F-Sharp Minor, FWV 46: Var. 4

00:58

11

Variations symphoniques in F-Sharp Minor, FWV 46: Var. 5

00:30

12

Variations symphoniques in F-Sharp Minor, FWV 46: Var. 6

01:13

13

Variations symphoniques in F-Sharp Minor, FWV 46: A tempo

02:43

14

Variations symphoniques in F-Sharp Minor, FWV 46: Allegro non troppo

01:52

15

Variations symphoniques in F-Sharp Minor, FWV 46: Un pochettino ritenuto

00:33

16

Variations symphoniques in F-Sharp Minor, FWV 46: Tempo I

01:56

Total Runtime

53:51
Info for Franck: Symphony in D Minor, FWV 48 & Variations symphoniques, FWV 46

The Orchestre Philharmonique du Luxembourg and its Music Director Gustavo Gimeno present a composer portrait of César Franck. The album features the famous Symphony in D Minor, as well as the lesser known, but equally enchanting Symphonic Variations for piano and orchestra, with Denis Kozhukhin as soloist. Born in Liege but raised in Paris, Franck synthesized Wagnerism with French musical traditions, resulting in a fine equilibrium between a voluptuous orchestral sound and audacious harmonies on the one hand, and lucidity and graceful charm on the other. While the three-movement symphony follows a from-darkness-to-light trajectory, the delightful Variations oscillate between symphonic poem and miniature piano concerto.
The OPL and Gustavo Gimeno continue their acclaimed PENTATONE series of composer portraits that already featured monographs of Shostakovich, Bruckner, Ravel, Mahler, Stravinsky, Debussy and Rossini. Denis Kozhukhin adds another release to his extensive PENTATONE discography that already contains Grieg/Mendelssohn (2019), Strausss Burleske (2018), Piano Concertos by Ravel and Gershwin (2018), Tchaikovsky and Grieg (2016), as well as a Brahms solo recital (2017).
Orchestre Philharmonique du Luxembourg
Gustavo Gimeno, direction
Denis Kozhukhin, piano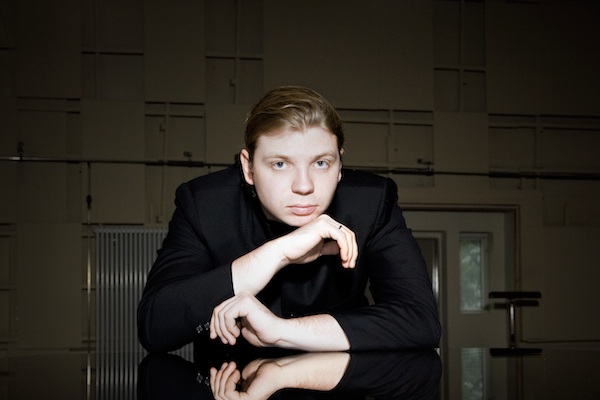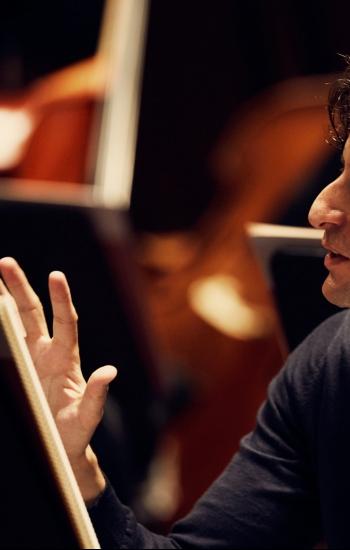 Denis Kozhukhin
Winner of the First Prize in the 2010 Queen Elisabeth Competition in Brussels at the age of 23, Denis Kozhukhin has established himself as one of the greatest pianists of his generation.

Kozhukhin's performances have been praised by critics as "spellbinding", "imperious", and "mesmerizing".
Technically flawless, Kozhukhin combines wisely the brilliance and power of his playing with a masterful sense of form, maturity, and a very unique sensitivity.
Kozhukhin frequently appears with many of the leading international orchestras, such as Royal Concertgebouw Orchestra, London Symphony, Staatskapelle Berlin, Chicago Symphony, London Philharmonic, Philharmonia Orchestra, Philadelphia Orchestra, San Francisco Symphony, Mahler Chamber Orchestra, HR-Sinfonieorchester, NDR Radiophilharmonie, Vienna Symphony, Orchestre National de France, Mariinsky Orchestra, St. Petersburg Philharmonic, Czech Philharmonic, Royal Stockholm Philharmonic, Oslo Philharmonic Orchestra, Orchestre de la Suisse Romande and NHK Symphony, among others.
He regularly performs under the batons of Daniel Barenboim, Sir Simon Rattle, Valery Gergiev, Vladimir Jurowski, Gianandrea Noseda, Paavo Järvi, Vladimir Ashkenazy, Jaap van Zweden, Thomas Dausgaard, Stephan Deneve, Jakub Hrusa, Vassily Petrenko, Kristjan Järvi, Emmanuel Krivine, Jaime Martin, Andrés Orozco-Estrada, Xian Zhang, Rafael Payare, Donald Runnicles, Vasilly Sinaisky and Yuri Temirkanov.
The 18/19 season brings for Kozhukhin the debuts at the BBC Proms, performing Shostakovich Piano Concerto No.2 with the Aurora Orchestra, National Symphony Orchestra, NDR Elbphilharmonie Orchester, Bamberg Symphony, Royal Philharmonic, LaVerdi Orchestra, Vienna Radio Symphony, Orchestre Philharmonique de Liege, KBS Symphony, Moscow State Symphony Orchestra, Iceland Symphony, Borusan Philharmonic, as well as the returns with London Symphony, Philharmonia Orchestra, St. Petersburg Philharmonic, Orchestra National du Capitole de Toulouse, Bournemouth Symphony and Royal Liverpool Philharmonic.

Kozhukhin will tour in Europe with the Cadaqués Orchestra under Vladimir Ashkenazy, performing Mozart Piano Concerto No.23, and will be artist in residence at the Schloss Elmau-Verbier Festival.
As a recitalist, recent and upcoming highlights include appearances at the Concertgebouw's Master Pianists Series, Wigmore Hall, Musikverein, Vienna Konzerthaus, Munich Herkulessaal, Rotterdam De Doelen, Cologne Philharmonie, Klavier-Festival Ruhr, Verbier Festival, London's International Piano Series, Flagey Series, Auditorio Nacional de Madrid, Accademia Nazionale di Santa Cecilia, Théâtre du Châtelet and Boulez Saal.
His debut recording for the label Pentatone, featuring Grieg Piano Concerto and Tchaikovsky Piano Concerto No.1 with the Radio Symphony Orchestra Berlin and Vassily Sinaisky was received with rave reviews, including Gramophone Editor's Choice and Disc of the month in Fono Forum and Stereophone.
His last album, including Ravel and Gerswhin Concertos with the Orchestre de la Suisse Romande under K.Yamada was released in April 2018.
An avid chamber musician, Kozhukhin is frequently invited to the most renowned festivals such as Verbier, Rheingau, Intonations Festival, JICMF, and collaborates with such artists as Janine Jansen, Julian Rachlin, Vadim Repin, Leonidas Kavakos, Michael Barenboim, Vilde Frang, Renaud and Gautier Capuçon, the Jerusalem Quartet, the Pavel Haas Quartet, Elena Bashkirova, Radovan Vlatkovic, Jörg Widmann, Emmanuel Pahud, Alisa Weilerstein, Nicolas Alstaedt, Julian Steckel, and Pablo Ferrández, among others. Born in Nizhni Novgorod, Russia, in 1986 into a family of musicians, Denis Kozhukhin began his piano studies at the age of five with his mother. As a boy, he attended the Balakirev School of Music where he studied under Natalia Fish. From 2000 to 2007, Kozhukhin studied at the Reina Sofía School of Music in Madrid with Dimitri Bashkirov and Claudio Martinez-Mehner.
Kozhukhin completed his studies at the Piano Academy at Lake Como where he received advice from Fou Ts'ong, Stanislav Yudenitch, Peter Frankl, Boris Berman, Charles Rosen and Andreas Staier, and with Kirill Gerstein in Stuttgart.
In recent years he has been mentored by maestro Daniel Barenboim.
Orchestre Philharmonique du Luxembourg
Since its foundation in 1933 as part of the broadcasting activities of Radio Luxembourg (RTL), the Orchestre Philharmonique du Luxembourg (OPL) has embodied the cultural vitality of the country at the heart of Europe. From 1996, the OPL has been publicly administered, and in 2005 it took up residence at the Philharmonie Luxembourg, where it performs in a hall with outstanding acoustics.
Uniting 98 musicians from twenty nations, the OPL is renowned for the elegance of its sound, which was developed by the successive chief conductors Henri Pensis, Carl Melles, Louis de Froment, Leopold Hager, David Shallon, Bramwell Tovey and Emmanuel Krivine, and is currently shaped by Gustavo Gimeno, now in his fifth year at the helm of the orchestra. For four seasons, the OPL has been collaborating with the classical record label Pentatone; so far, this partnership has yielded seven albums dedicated to works by Bruckner, Shostakovich, Debussy, Mahler, Ravel, Rossini and Stravinsky.
The orchestra's musical partners during the 2019/20 season include Artists in residence Isabelle Faust and Daniel Harding.
In Gustavo Gimeno's fourth season as Music Director (following Henri Pensis, Carl Melles, Louis de Froment, Leopold Hager, David Shallon, Bramwell Tovey, and Emmanuel Krivine), there is a particular emphasis on the scope of repertoire ranging from Bach, Haydn, Verdi, Tchaikovsky and Sibelius to Schönberg, Dutilleux and Verunelli. A recording collaboration with the label Pentatone, that started with the release of four volumes dedicated to Bruckner, Shostakovitch, Ravel and Mahler, will be continued in 2018 with works by Stravinsky and Debussy.
The orchestra's musical partners during the 2019/20 season include Artists in residence Isabelle Faust and Daniel Harding.
Since 2003 the orchestra has been highly active in offering concerts and workshops for students, children and families. It also enjoys close working relationships with the Grand Théâtre de Luxembourg, the Cinémathèque de la Ville de Luxembourg, CAPE in Ettelbruck and Radio 100,7.
After invitations to tour numerous countries, the orchestra undertakes its first tour of South America in the 2019/20 season.
The OPL is subsidized by the Grand Duchy's Ministry of Culture and supported financially by the City of Luxembourg. The orchestra's official sponsor is Cargolux and it also receives sponsorship from the Banque de Luxembourg, BGL BNP Paribas, Post and Mercedes-Benz. Since 2010 the cello «Le Luxembourgeois», made by Matteo Goffriller (1659–1742), has been placed at the orchestra's disposal, thanks to generous support from BGL BNP Paribas.
Gustavo Gimeno
Music Director of the OPL since 2015 Gustavo Gimeno leads the orchestra in multiple concert formats in Luxembourg and performs with the orchestra at main leading concert halls throughout Europe. With guest concerts in Germany, France, Sweden and a first visit to South America, he continues the successful touring activities of past seasons. Highlights of the season include Mahler's Third Symphony and the world premiere of Francisco Coll's Violin Concerto with Patricia Kopatchinskaja. Together with the classical music label Pentatone, he continues the series of recordings with the OPL begun in 2017.
In addition, Gimeno is a soughtafter guest conductor throughout the world. In 2019/20 he has invitations to the Royal Concertgebouw Orchestra, the National Symphony Orchestra Washington, the Cincinnati Symphony Orchestra, the City of Birmingham Symphony Orchestra, the Netherlands Radio Philharmonic Orchestra, the Orchestra Sinfonica Nazionale Rai Torino, the Munich Philharmonic as well as the Orchestra of the Eighteenth Century. Gimeno made his opera debut in 2015, leading Bellini's Norma in Valencia. At the Grand Théâtre in Luxembourg, he has conducted both Verdi's Simon Boccanegra and Mozart's Don Giovanni with the OPL and will also lead Verdi's Macbeth during the current season. In addition, he will make his debut at the Gran Teatre del Liceu in Barcelona in January 2020, conducting Aida. In February 2018 he made his debut with the Toronto Symphony Orchestra and was named the designated chief conductor of the orchestra in September of that same year. As the eleventh Chief Conductor of the TSO, he begins his five-year tenure in the 2020/21 season. A native of Valencia, Gustavo Gimeno began his international conducting career in 2012 – while he was a member of the Royal Concertgebouw Orchestra – as an assistant to Mariss Jansons. He gathered essential experience as an assistant to Bernard Haitink and Claudio Abbado, who mentored him intensely and had a lasting influence on his career in numerous ways.

Booklet for Franck: Symphony in D Minor, FWV 48 & Variations symphoniques, FWV 46