---
Album info
Album including Album cover
Raymond Deane (b. 1953): Marthiya:

1

Deane: Marthiya

13:14

Valentin Silvestrov (b. 1937): String Quartet, No. 3:

2

Silvestrov: String Quartet, No. 3

21:04

Raymond Deane: Embers:

3

Deane: Embers

09:44

Total Runtime

44:02
Info for Embers

As the pandemic goes on making regular concerts impossible, the Louth Contemporary Music Society continues its work in the studio. Last autumn's album release Meadow, featuring music by Linda Catlin Smith, won praise from leading critics on both sides of the Atlantic, including the New Yorker's Alex Ross. Now comes a follow-up, Embers, which again is devoted to music for strings – instruments that, in their intimacy, seem to touch our moment.
In the similarly titled radio play by Samuel Beckett, the main character stands at the sea shore, sifting through fragments of memory and story that are still living embers, hot to the touch. So it is in this recording, in which music by the distinguished Irish composer Raymond Deane robustly supports an important quartet by one of the great masters of our age, Valentin Silvestrov.
The opener, Deane's Marthiya, is named after a form of lament traditional in the Middle East, and is itself a lament over Iraq, composed as that country was suffering invasion, bombardment and dire economic sanctions. The music's "atmosphere of mourning", Deane writes, is "not unrelated to the devastation wreaked on Iraq since 2003, and to the wider carnage inflicted upon the Arab and Islamic world by the west over the last century."
Deane's other contribution is the title track, written thirty years earlier but by very much the same individual. Though perhaps more questioning than elegiac, Embers is music again on the edge of tears. Ideas, bits of tune, come and go, and recur, very much as things come and go, and come back once more, in the Beckett play. To quote the composer: "The piece obsessively turns over musical fragments which seem to have some remote but uncertain origin."
Silvestrov's music gives voice to the sense we may all feel of being bereft, left behind by what was once a social culture of sympathy and togetherness. Listening to his Third String Quartet, we seem to be watching from the dock as a great liner slowly slides away, taking with it our hopes and our dreams. Something of this feeling of being on the sidelines of history may come from the composer's inheritance as a Ukrainian. Ireland, he notes, is not so far away: "I believe there is some Irish accent, and some simple melodies, that permeate the whole work and may sound as symbols of this wonderful country, in whose destiny and historical legacy I perceive a close spiritual affinity to Ukraine, my homeland."
All three works are captured in intense, poignant performances by leading ensembles: Crash (for Marthiya) and the Carducci Quartet.
The Carducci Quartet:
Matthew Denton, violin
Michelle Fleming, violin
Eoin Schmidt-Martin, viola
Emma Denton, cello
Crash Ensemble:
Maria Ryan, violin
Nathan Sherman, viola
Kate Ellis, cello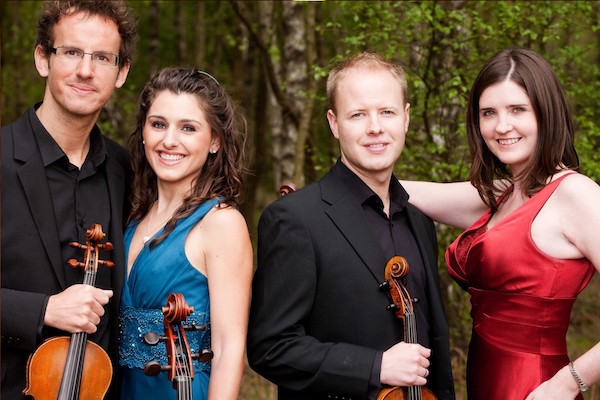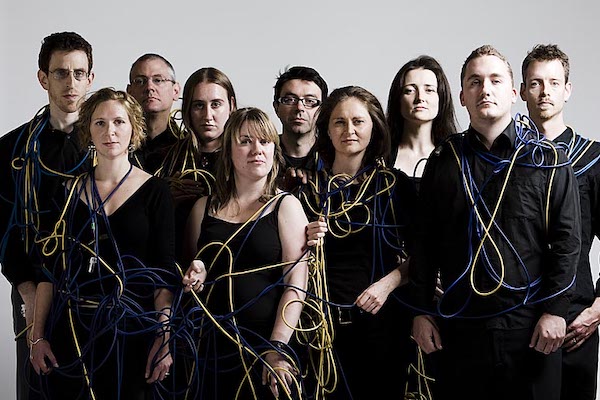 The Carducci Quartet
An internationally renowned Anglo-Irish string quartet based in the UK, the versatile and award-winning Carducci String Quartet has performed everything from brand new quartets, classic works by Haydn, complete Shostakovich cycles, and even partnered with folk-rock icon Ian Anderson of Jethro Tull. Founded in 1997, the ensemble has won numerous international competitions, including Concert Artists Guild International Competition USA 2007 and First Prize at Finland's Kuhmo International Chamber Music Competition 2004. In 2016, they took home a Royal Philharmonic Society Award for their performances of cycles of the complete Shostakovich Quartets. This Shostakovich15 project was accompanied by a recording of quartets 4, 8 and 11 for Signum Classics, to which the quartet added a further volume in spring 2019 (1,2 and 7) acclaimed by Gramophone Magazine for its "…athletic, upfront performances, clear in texture, forthright in tone and bold in articulation."
Described by The Strad as presenting "a masterclass in unanimity of musical purpose, in which severity could melt seamlessly into charm, and drama into geniality″, the Carducci Quartet is recognised as one of today's most successful string quartets. Performing over 90 concerts worldwide each year the quartet also run an annual Carducci festival in Highnam, Gloucester and are quartet in residence at Dean Close in Cheltenham, where they teach young string players and coach chamber music.
The Carducci Quartet appear at prestigious venues across the globe including the Wigmore Hall, London; National Concert Hall, Dublin; Tivoli Concert Hall, Copenhagen; The Frick Collection and Carnegie Hall, New York; Library of Congress and John. F Kennedy Center, Washington D.C.; St Lawrence Center for the Arts, Toronto; and Concertgebouw, Amsterdam. Festival residencies include Cheltenham, Ryedale, Lichfield, Presteigne, Kilkenny, Snape Proms, and West Cork.
In 2020 they will celebrate Beethoven's 250th anniversary with various immersive projects, including a weekend of concerts at London's Barbican Centre. This season also includes a return to LSO St Luke's, tours to Spain and Germany, and chamber music projects with clarinettists Julian Bliss and Emma Johnson, pianists Martin Roscoe and Kate Whitley, oud player Joseph Tawadros, and the Navarra Quartet.
Highly celebrated for their interpretation of contemporary repertoire, the Carducci Quartet has curated many diverse projects and is regularly invited to perform new works. Recent and upcoming premieres include works by Simon Rowland-Jones, Gavin Higgins, Karl Jenkins, Jonny Greenwood and Kate Whitley. In 2015 they curated projects around Philip Glass and Steve Reich as part of the Royal Philharmonic Society Award winning 'Minimalism Unwrapped' at Kings Place in London.
Education work is an important element of the Carducci Quartet's work, earning them a place on the Royal Philharmonic Society Award shortlist for their family concert 'Getting the Quartet Bug!'. The Carducci Music Trust was set up to support their work in schools and with young musicians. They are also The Carne Trust Ensemble in Residence at Trinity Laban Conservatoire of Music and Dance, London and perform a number of school concerts each year supported by the CAVATINA Chamber Music Trust.
Crash Ensemble
is Ireland's foremost contemporary music ensemble; a group of world-class musicians who play the most adventurous, ground-breaking new music of today.
Crash Ensemble, an Irish new-music collective with international cachet and considerable chops The Washington Post, 2011
Founded in 1997 by composer and Artistic Partner Donnacha Dennehy, the Ensemble features on recordings by labels such as NMC, Cantaloupe and most recently Nonesuch, with the release of Grá agus Bás by Donnacha Dennehy in May 2011 which has received international praise. *****(5 stars) The Guardian, 2011
The Ensemble has worked with many well-known artists from diverse musical backgrounds, such as Steve Reich, Gavin Friday, Dawn Upshaw, Terry Riley, David Lang, Íarla Ó Lionáird, Julie Feeney, Gerald Barry, Gavin Bryars, Michael Gordon, David Lang and Louis Andriessen.
The Ensemble is committed to broadening the repertoire on offer to audiences by commissioning, producing and performing new or recent works by internationally acclaimed composers, up-and-coming composing talents and collaborating with culturally relevant artists.
As well as performing regularly throughout Ireland, Crash has appeared in the Netherlands, Sweden, Denmark, Estonia, Germany, the UK, Australia, USA and Canada.

This album contains no booklet.