---
Album info
Album including Album cover
1

S'wonderful

03:39

2

A Foggy Day

04:28

3

I Love Paris

04:10

4

Embraceable You

04:42

5

Is You Is or Is You Ain't My Baby?

05:26

6

Let's Do It (Let's Fall in Love)

05:40

7

Love Me or Leave Me

04:09

8

They Can't Take That Away from Me

05:16

9

(Get Your Kicks) on Route 66

04:26

Total Runtime

41:56
Info for Let's Do It!

An einem Dienstag im Oktober '20 haben wir uns ziemlich spontan im Studio getroffen. Wie zu den legendären Blue-Note-Zeiten saßen auch wir gemeinsam in einem Raum und nahmen alle Spuren zusammen auf. Der technische Aufwand war bewusst gering, der musikalische Output dafür umso größer.
Denn an diesem einen Nachmittag entstanden die neun Titel für unser Debütalbum "Let's Do It!" (in Anlehnung an Cole Porters wunderbaren Standard). Die Zutaten? Sehr viel Gershwin, etwas Cole Porter und ein paar andere...
Das Rezept für einen Hit hat sich seit den 1920er Jahren nicht verändert: Eine Melodie, die im Ohr bleibt, ein Text, der ans Herz geht, und eine rhythmische Struktur, die durch kleine unerwartete Wendungen überrascht. Viele Songs auf diesem Album können ihre Herkunft vom Broadway nicht verleugnen. Ähnlich wie bei den Rezitativen in der Oper bereiten hier die frei vorgetragenen "Verses" die Bühne für den Song, geben ihm erst Spannung und anschließend den Raum sich zu entfalten. Dieser kompositorische Kunstgriff hat auch nach einem Jahrhundert nichts von seiner Eleganz eingebüßt. Die Kunst, einen guten Song zu schreiben, beherrschten besonders Cole Porter (1891 – 1964) und George Gershwin (1898 – 1937) mit seinem Bruder Ira (1896 – 1983) meisterhaft. Kein Wunder also, wenn ihre Melodien bis heute in aller Munde und aller Ohren sind und es zweifellos auch noch lange bleiben werden...
Cole Chandler, Gesang
Ben Hansen, Klarinette, Tenorsaxofon
Rainer Schnelle, Klavier
Gerold Donker, Kontrabass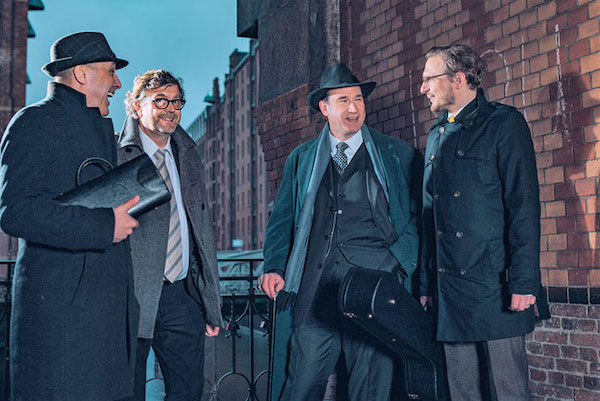 Cole Chandler Quartet
Sucht man nach einer ewig gültigen Essenz im klassischen Jazz, dann stolpert man unweigerlich über das "Great American Songbook". Diese nirgendwo abschließend kanonisierte Sammlung hat ihre Wurzeln in den Verlagsbüros und Songschmieden der legendären "Tin Pan Alley" und in den Theatern des Broadway. Schon lange bevor Rock 'n Roll und Disco die Welt der Jazzfans auf den Kopf stellten, waren diese swingenden Melodien allgegenwärtige Popular Songs - Popsongs im besten Sinne - und sind es bis heute geblieben!
Frisch, unverbraucht und stets elegant präsentiert das Cole Chandler Quartet ein Programm mit Nummern, die von legendären Songschreibern wie Cole Porter, Irving Berlin, George Gershwin und einem Dutzend anderer Größen des Showbiz geschaffen wurden; darunter Ohrwürmer wie "I Love Paris", "A Foggy Day", "They Can't Take That Away", aber auch gefühlvolle Balladen wie "Someone To Watch Over Me".
Ein Sänger mit einem sonoren Bariton und handverlesene Begleiter, die zur Crème des Norddeutschen Jazz gehören: Das ist das Cole Chandler Quartet!

This album contains no booklet.