---
Album info
Album including Album cover
Johann Sebastian Bach (1685-1750): Sonata for Flute and Harpsichord in B Minor, BWV 1030:

1

Sonata for Flute and Harpsichord in B Minor, BWV 1030: I. Andante

08:14

2

Sonata for Flute and Harpsichord in B Minor, BWV 1030: II. Largo e dolce

04:07

3

Sonata for Flute and Harpsichord in B Minor, BWV 1030: III. Presto

05:53

Violin Sonata in G Major, BWV 1019:

4

Violin Sonata in G Major, BWV 1019: I. Allegro (Transcripted for Flute and Harpischord)

03:47

5

Violin Sonata in G Major, BWV 1019: II. Largo (Transcripted for Flute and Harpischord)

01:45

6

Violin Sonata in G Major, BWV 1019: III. Allegro (Transcripted for Flute and Harpischord)

04:59

7

Violin Sonata in G Major, BWV 1019: IV. Adagio (Transcripted for Flute and Harpischord)

02:35

8

Violin Sonata in G Major, BWV 1019: V. Allegro (Transcripted for Flute and Harpischord)

03:37

Organ Sonata in C Minor, BWV 526:

9

Organ Sonata in C Minor, BWV 526: I. Vivace (Transcripted for Flute and Harpsichord in E Minor)

03:24

10

Organ Sonata in C Minor, BWV 526: II. Largo (Transcripted for Flute and Harpsichord in E Minor)

03:03

11

Organ Sonata in C Minor, BWV 526: III. Allegro (Transcripted for Flute and Harpsichord in E Minor)

03:45

Sonata for Flute and Harpsichord in A Major, BWV 1032:

12

Sonata for Flute and Harpsichord in A Major, BWV 1032: I. Vivace (Reconstruction by Rinaldo Alessandrini)

06:03

13

Sonata for Flute and Harpsichord in A Major, BWV 1032: II. Largo e dolce

03:08

14

Sonata for Flute and Harpsichord in A Major, BWV 1032: III. Allegro

04:11

Total Runtime

58:31
Info for Bach: Sonate a cembalo obligato e traversiere solo

The year 1736 was very important in the life of Bach: he was conferred the title of Royal-Polish and Electoral-Saxon Court Composer. In that same year he composed the only two autographed sonatas for flute and obbligato harpsichord. Both sonatas came to us as a step of an elaborative process which could also have consisted of a diverse instrumentation. Such a practice was of inspiration in choosing two sonatas, originally conceived for other instruments, to be inserted in a project dedicated to the equal dialogue between flute and harpsichord. We have no certainties regarding the dedicatee for the autograph sonatas. The relationship with Dresden maintained by Bach in those years, leads us to theorize that it might have been the flute virtuoso Pierre-Gabriel Buffardin, a close friend of the Bach family. The choice of the instrument for this recording is due to the eventful rediscovery in 2015 of the only known flute trademarked BUFFARDIN LES FILS. A copy of it can be heard here for the first time. This particular instrument throws new light on the works that Alessandrini and Pontecorvo have selected to record after many concerts and recording projects with Concerto Italiano.
Laura Pontecorvo, flute
Rinaldo Alessandrini, harpsichord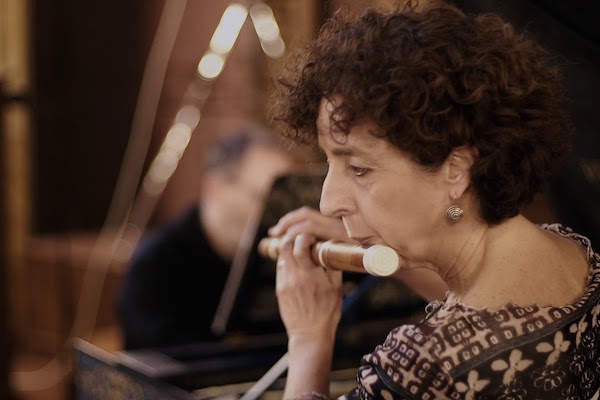 Laura Pontecorvo
Studied flute with Marianne Eckstein, graduating in 1984 from the Conservatory in L'Aquila, Italy. In 1989, and with top scores, she completed a three-year postgraduate course held by Peter Lukas Graf at the Accademia superiore di musica in Biella, and in 1991 the three-year postgraduate course in chamber music held by Felix Ayo at the Accademia di S. Cecilia in Rome. The need for greater in-depth musical studies led her to attend, from 1986 to 1991, the lessons of composer Giampaolo Chiti. Her interest for ancient music compelled her to then concentrate her studies on the Baroque and Classical transverse flute with Marc Hantai.
From the outset, her artistic activity has been centered on chamber music, a constantly cultivated interest from which also arose her participation in the competition for the teaching of this subject in conservatories, leading, in 1999, to a professorship.
Two chamber music experiences stand out in her activity with the modern flute, the Quadrifolio (quartet flute and string trio) and L'altro quartetto (flute, viola, cello and guitar). In the first case, her concert activity was aimed at the appraisal of the notable, and in great part unknown, repertoire which has existed for this type of group since the late 18th century to modern days, L'altro quartetto came into being from a performance of a famous composition by Franz Schubert to then explore contemporary repertoire and transcriptions, with specific attention to the relationship between theater and musical performance.
Her interest for the historical flute led her naturally to the formation of a group, the Quartetto Raro, with which to perform the repertoire for flute and string trio from the late18th century – 19th century , with period instruments. From this experience, besides a remarkable concert activity, came the recording as world premiere, of the three Quartets op.145 by Ferdinand Ries, published in 2005 for Inedita. From this interest in the Quartet repertoire came the recording, in 2003, of the quartets for flute and strings by Domenico Cimarosa for Stradivarius.
Since 1998, Ms. Pontecorvo has worked with the Concerto Italiano (Rinaldo Alessandrini) as first flute, performing both as soloist with the orchestra (in this role she has also played in Japan, the United States, Colombia, Holland, France, Germany, Italy, Portugal, Belgium and Austria) and in the performance of chamber and orchestral repertoire in Festivals and Concert Seasons of numerous countries all over the world, such as: the Het Concertgebouw in Amsterdam, Gotham Early Music Foundation at Lincoln Center in New York, Kioi Hall in Tokyo, the Theatre des Champs Elysees in Paris, the Accademia Nazionale di S.Cecilia in Rome, the Festival internacional de musica de Cartagena (Colombia), the Accademia Filarmonica Romana, Teatro Colon in Buenos Aires, the Teatro Municipal in Santiago Cile and Rio de Janeiro, the Sociedad de cultura artistica di Sao Paulo, the Opera House in Oslo, the Accademia Chigiana in Siena, Concertos Portugal Telecom in Lisbon, the Lufthansa Festival of Ancient Music in London, Palau de la Musica in Valencia-Spain, the Flanders Festival, the Bath Festival, the Beaune Festival and many others.
She has taken part in a great many Concerto Italiano recording projects; besides the performance of orchestral repertoire, 2004 marked the publication of a CD with her performance of the Concerto for flute and orchestra La Notte by A. Vivaldi for the Naive recording company. In 2005 she recorded J.S. Bach's V Brandenburg Concerto, and in 1999, an original orchestration of the Art of the Fugue.
Ms. Pontecorvo has worked with numerous groups specializing in the performance of 18th and 19th century repertoire with period instruments, among which: Europa Galante (Fabio Biondi), Accademia Bizantina (Ottavio Dantone) , Divino Sospiro (Enrico Onofri), Accordone (Guido Morini), La Cappella della Pietà dei Turchini (Toni Florio), the Jerusalem Baroque Orchestra and others, with which she participated in concert seasons such as: La Folle Journee in Tokyo, the JBO Season in Jerusalem and Tel Aviv, the Gulbenkian Foundation in Lisbon, the Radio ORF Concert Season in Vienna, the Stagione e Dias de Musica of the Centro Cultural of Belem in Lisbon, the Mozartiana in Gdańsk in Poland, the Festival a La Chaise Dieu in France and others.
From these professional encounters several recordings arose for the labels of Opus 111, Nichion, Stradivarius and Amadeus. Worthy of note is the recording of the most important sonatas for flute and fortepiano by Muzio Clementi made in collaboration with Andrea Coen and published by Dynamic in 1999, just as the recording in 2013 of the Quartets for flute, viola and harpsichord obbligato composed by Carl Philipp Emanuel Bach in the last year of his life. This latest production will come out in 2014 for Brilliant Classics on the 300th anniversary of the birth of the composer. The last frontier of interest for historic flutes is the interest in the so-called flute of Assisi, an anonymous transverse flute, one of its kind, preserved with other seven ancient wind instruments at the Holy Convent in Assisi. Exploration of 17th century repertoire with this particular instrument led to the creation of the ensemble Helianthus, with which, besides her concert activity, Ms. Pontecorvo has made a monographic CD with music by G.B. Buonamente which came out in 2012 under the Brilliant label, recorded with copies of the instruments in Assisi. Also, during her recent sabbatical year she conducted in-depth research in the archives of the Holy Convent library on the origin of this collection.The essay, the fruit of this work, Strumenti e strumentisti nel secolo XVII al Sacro Convento di Assisie l'attuale collezione di strumenti musicali, was published in 2013 in the journal Recercare.
Teaching had always a very important role in Laura Pontecorvo's efforts; at the present time, besides teaching chamber music at the Conservatory of Music in Ferrara, Italy, she teaches historical flute with short-term contracts for regular courses and master classes in institutions both in Italy and abroad such as: the Higher Institute of Musical Studies G. Briccialdi in Terni, the Escola superior de musica in Lisbon, the Real Conservatorio de Musica in Madrid, the Universitat fur musik und darstellende Kunst in Vienna. From 2005 till 2014 Ms. Pontecorvo has been a professor at the International Course of Ancient Music "Ottaviano Alberti" in Orte, since 2015 she teaches baroque flute at MusicanticaMagliano summer course held in Magliano in Toscana (GR). Teaching activity in Rome is mainly focused on BAROCCO ROMANO project developed with the harpsichordist and composer Guido Morini. Short courses of chamber music with period instrument, held 4-5 times per year, are addressed to instrumentalists and singers at any level. Info on FB Barocco Romano and www.baroccoromano.it.
Rinaldo Alessandrini
In addition to his activities as Founder-Director of Concerto Italiano, Rinaldo Alessandrini is renowned as a conductor and recitalist on the harpsichord, fortepiano and organ. He is considered one of the most authoritative interpreters of Monteverdi worldwide, and has a profound knowledge and love of the Italian repertoire naturally reflected in programmes reproducing the essential, but often elusive, expressive and cantabile elements so fundamental to Italian music of the 17th and 18th centuries.
Rinaldo has performed in Japan, Canada, USA, and throughoutEurope, and is in increasing demand to direct leading international orchestras: Scottish Chamber Orchestra, Orchestra of the Age of Enlightenment, Freiburger Barockorchester, Boston Handel and Haydn Society, Maggio Musicale Fiorentino Orchestra, Italian RadioOrchestra, Orchestra Sinfonica Ciudad de Granada, the Orchestra of the Spoleto Festival, Orchestra Regionale della Toscana, Orchestra Toscanini, Orchestra of Montpellier Radio France, Orchestra of Bordeaux Opera House, Oviedo Symphony Orchestra, Orchestra of Lyon Opera House, Munich Radio Orchestra, Koeln Radio Orchestra, Copenhagen Radio Orchestra, Portland Baroque Orchestra, Philarmonia Baroque Orchestra, Liverpool Royal Philharmonic, Orchestra Haydn Bolzano, Melbourne Symphony Orchestra, Washington Symphony Orchestra, New World Symphony Orchestra in Miami, Orchestra of Santiago Opera House (Chile), Capitole Orchestra in Toulouse, San Francisco Symphony Orchestra, Basel Kammerorchester, Seattle Symphony Orchestra, Italian Radio Orchestra, Genéve Chamber Orchestra, Bergen Philarmonich Orchestra, Deutsche Symphonie Orchester Berlin.
Recent engagements as an opera conductor include Handel's "Orlando" in Cardiff with the Welsh National Opera, and in Dresden; Purcell's "Fairy Queen" at Berlin Philharmonie; Mozart's"La finta semplice" in Munich; Gluck's "Orfeo" and Mozart's "Figaro" in Oslo as well as Mozart's "Don Giovanni"in Liege. He also recently presented the complete Monteverdi opera cycle at La Scala, directed by Bob Wilson.
2017 sees Rinaldo Alessandrini and Concerto Italiano celebrate the 450th anniversary of Monteverdi, with tours to China, Hong Kong, Australia, Japan and the USA. Further highlights include concerts with the orchestra of Badisches Staatstheater, Wroclaw Baroque Orchestra, Hessischer Rundfunk, Grafenegg Tonkuenstler-Orchester, RIAS Kammerchor and Akamus, Orchestre National du Capitole. Rinaldo is also music director of the "Purtimiro" Festival in Lugo. His recordings (Opus 111, Astrèe, Arcana, Deutsche, harmonia mundi) include not only Italian music, but Bach and his contemporaries. Rinaldo has garnered the highest critical acclaim, including 5 Gramophone Awards, 2 Grand Prix du Disque, 3 Deutscher Schallplattenpreis, Prix Caecilia, the PremioCini and 4 Midem Awards in Cannes.
Rinaldo Alessandrini was nominated Chevalier de l'ordre des Arts et des Lettres by the French Minister of Culture, and together with Concerto Italiano was awarded the Italian music critics' prestigious Premio Abbiati. He was editor for Baerenreiter's editions of Monteverdi's Orfeo and Ulisse.

This album contains no booklet.