---
Album info
Album including Album cover Booklet (PDF)
I`m sorry!
Dear HIGHRESAUDIO Visitor,
due to territorial constraints and also different releases dates in each country you currently can`t purchase this album. We are updating our release dates twice a week. So, please feel free to check from time-to-time, if the album is available for your country.
We suggest, that you bookmark the album and use our Short List function.
Thank you for your understanding and patience.
Yours sincerely, HIGHRESAUDIO
1

Buzzing Bee

03:22

2

People Tell Me / Les gens me disent

02:36

3

Lullaby

02:25

4

Une errante sur la Terre

04:01

5

Mille rivages

04:00

6

L'amour incompris / Azza Fi Hawak

03:54

7

I'll Tell You Something

04:11

8

Lonely

02:27

9

Maladie d'amour

03:25

10

Nos contradictions

03:19

11

Baby

03:37

12

Coração Transparente

03:39

13

La mer

03:49

14

The End - Meditation (Instrumental)

01:55

Total Runtime

46:40
Info for Gabi Hartmann

After a first EP released at the end of 2021 and listened to more than 2 million times on the platforms and a noticed opening act for Jamie Cullum at the Salle Pleyel, the very talented Gabi Hartmann unveils a magnificent eponymous first album between Chanson, Jazz and Folk, where her 'so beautiful' voice works wonders.
Accompanied by the songwriter and producer Jesse Harris (Norah Jones, Melody Gardot, Madeleine Peyroux...), the young woman seems to have already lived several lives to irrigate her music with so many nuances and colours, perfectly melted in a so personal voice and songs with an already superior dimension.
When Jesse Harris offered to produce her album, she saw it as an invitation to "bring together everything I am", she says - her love of Billie Holiday and Billie Eilish, her friendships with Sudanese flautist Ghandi Adam and Guinean guitarist Abdoulaye Kouyaté, her admiration for the great crooner Henri Salvador and her memories of travels in Africa. Gabi is constantly evolving, offering songs in English such as her second single Buzzing Bee, I'll Tell You Something and Baby, in Portuguese (Coração Transparente) and of course in French with the magnificent Une errante sur la terre, l'amour incompris or the first single Mille Rivages for a most remarkable and striking result, which highlights her talent and her unique voice.
It must be said that the singer and guitarist has given herself the means to embrace music in a way that belongs only to her, lavishing the beauties of the world that she apprehends with her emotions as her only compass. Brazil, South Africa, Guinea, Portugal, the United States, Paris where she grew up, London where she studied ethnomusicology: travel and encounters have given her art a kind of evidence. An obviousness mixed with curiosity, translated into three languages - French, English, Portuguese - that she has chosen to give herself over to, in a sincere and disturbing abandonment, thanks to which jazz, blues, bossa, soul and song are embodied in the intensely lived experience.
Gabi Hartmann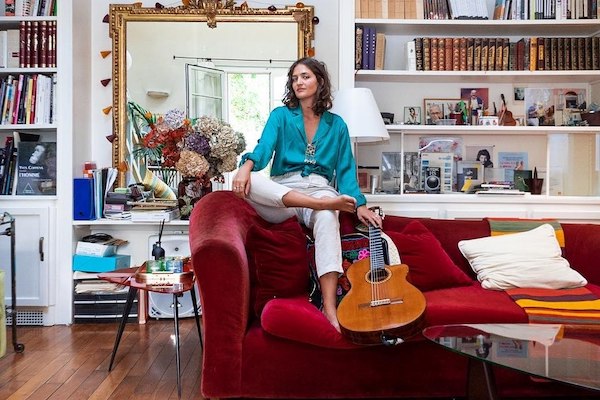 Gabi Hartmann
We can talk endlessly, but we don't necessarily know very clearly where Gabi Hartmann's voice takes us: a jazz bar in the basement, a tropical beach at dusk, a terrace on a slope in Lisbon, the background of a Parisian brasserie on a winter's night? We close our eyes and pass, entwined, the shadow of a jazz legend, a bossa nova diva, a great lady in black from French or Portuguese song, somewhere at the crossroads of exquisite chic and vertiginous melancholy, consoling sweetness and shared spleen.
Fifteen months after an introductory EP, Gabi Hartmann's first album is finally released, produced with Jesse Harris. They met in 2018 in New York during a recording session. He brings everything that makes the glory of his collaborations with Norah Jones, Madeleine Peyroux or Melody Gardot.
Gabi Hartmann also brings a personal musical history in the making, but already rich. Childhood with a Parisian family listening to chansons, rock, and music from everywhere. Classical piano until the age of fourteen, when she exchanged it for her brother's guitar to write songs. Jazz arising in rewind after her discovery of Amy Winehouse and her covers of Ella, Sinatra or Nat King Cole. Music lessons at the Schola Cantorum then at the Conservatory, a detour through Brazilian music by living two years in Rio de Janeiro, a year of ethnomusicology in London, returning to Paris to intertwine projects in ten genres and three languages.
When Jesse Harris asks her to make an album, she sees it as an invitation to "bring together all that I am", she says - the love of Billie Holiday and Lhasa de Sela, her friendships for the Sudanese flautist Ghandi Adam and for the Guinean guitarist Abdoulaye Kouyaté, her admiration for the great crooner Henri Salvador and her memories of travels in Africa, and venerable songs written before the birth of her parents...
From their meeting, the two musicians write and record between New York and Paris. Little by little, the coherence emerges from Gabi's songs between her love of the great jazz standards and her confessions as a young french woman of her century, between her fascination for the music of the Tropics and her Parisian poetic instinct...
While preparing this album, she opened for Jamie Cullum and Melody Gardot, regularly appeared at the famous Parisian jazz club Le Duc des Lombards, and watched a buzz around her name spread... At the start of 2021, the five tracks of her EP announced a great voice that is both popular and studied. And here is what the album confirms: warm and precise tone with an ounce of elegant casualness, equally tightrope walker charm in French, English and Portuguese (and also for a few verses in Arabic), timeless aesthetics with a frank look at its time (La Mer, tragic title on the fate of migrants in the Mediterranean sea), introspective author and plural composer... Here is the first album of the enchanting singer Gabi Hartmann who's offering us the evocation of several worlds and several lives, where reverie and sweet melancholy are mixed.

Booklet for Gabi Hartmann