---
Album info
Album including Album cover Booklet (PDF)
Ludwig van Beethoven (1770 – 1827): Cello Sonata No. 1 in F Major, Op. 5 No. 1:

1

Beethoven: Cello Sonata No. 1 in F Major, Op. 5 No. 1: I. Adagio sostenuto

02:47

2

Beethoven: Cello Sonata No. 1 in F Major, Op. 5 No. 1: II. Allegro

14:06

3

Beethoven: Cello Sonata No. 1 in F Major, Op. 5 No. 1: III. Allegro vivace

07:00

Cello Sonata No. 2 in G Major, Op. 5 No. 2:

4

Beethoven: Cello Sonata No. 2 in G Major, Op. 5 No. 2: I. Adagio sostenuto ed espressivo

04:46

5

Beethoven: Cello Sonata No. 2 in G Major, Op. 5 No. 2: II. Allegro molto più tosto presto

09:55

6

Beethoven: Cello Sonata No. 2 in G Major, Op. 5 No. 2: III. Rondo (Allegro)

08:24

Cello Sonata No. 3 in A Major, Op. 69:

7

Beethoven: Cello Sonata No. 3 in A Major, Op. 69: I. Allegro, ma non tanto

11:45

8

Beethoven: Cello Sonata No. 3 in A Major, Op. 69: II. Scherzo (Allegro molto)

05:23

9

Beethoven: Cello Sonata No. 3 in A Major, Op. 69: III. Adagio cantabile - Allegro vivace

08:27

Total Runtime

01:12:33
Info for Beethoven Sonatas for Fortepiano and Cello, Vol. 1

Bruno Cocset, an eminent ambassador of the Baroque cello, here makes a teenage dream come true: to record the Beethoven sonatas. 'When we rediscover it from the inside, this music overwhelms us: its art of the mise en abyme, its ability to deviate from the formal scheme, to dare to go as far as the uncontrolled surge of frenzy or the break in tempo . . . On the part of a champion of the metronome (Beethoven took a hand in its creation), this imperious seizure of freedom creates immeasurable spaces, thrusting performer and listener into unknown, unforeseen depths . . . The piano and the cello are bound together throughout the narrative by a fertile, pungent, exhilarating complementarity.' At the fortepiano, a longstanding musical partner, Maude Gratton, plays two different instruments, chosen according to the character of each sonata: a Viennese piano after Johann Andreas Stein and an original John Broadwood from 1822, a model that circulated in Vienna and which Beethoven himself played. In order to tackle this repertory at the cusp of Classicism and Romanticism, Bruno Cocset commissioned a new cello from another faithful partner.
Bruno Cocset, cello
Maude Gratton, piano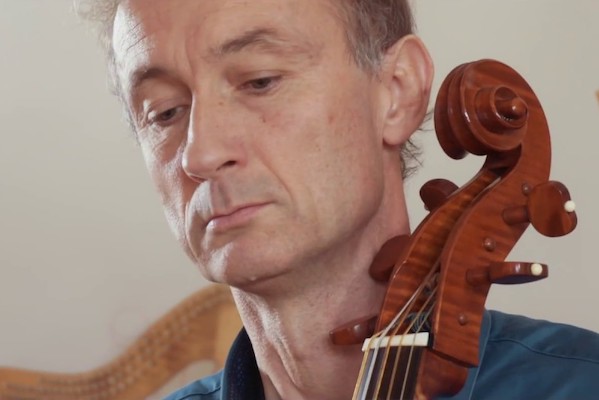 Bruno Cocset
An insatiable musician-researcher, atypical cellist, renowned teacher and founder of Les Basses Réunies, Bruno Cocset gives the Baroque cello its own individual voice, nourished by a constant quest for the perfect synergy of the instrumental and musical gesture. This work on sonority and organology carried out in tandem with the luthier and instrument maker Charles Riché has given birth to nine instruments, imagined, conceived and played for different concert and recording programmes.
It was after his studies in Tours and a period at the Conservatoire National Supérieur de Lyon that Bruno Cocset began to play the Baroque cello with its gut strings, first of all teaching himself, then working with Christophe Coin (he was the first graduate from Coin's class at the Conservatoire National Supérieur de Musique et Danse de Paris in 1986). He also attended masterclasses under the cellist Anner Bijlsma and the violinist Jaap Schröder.
After this, he spent twenty years as a 'nomadic cellist', a period rich in musical encounters and experiences with the most ardent champions of the Baroque scene. His most frequent home bases in those days were Gérard Lesne's Il Seminario Musicale and Jordi Savall's Le Concert des Nations and Hespèrion XX-XXI. In 1996 he founded Les Basses Réunies and recorded the cello sonatas of Vivaldi (winner of the Premio Vivaldi of the Fondazione Giorgio Cini), the first release in an abundant discography on the Alpha label.
Bruno Cocset is regularly invited to play in France and the rest of Europe, in Québec and in Russia, and also devotes much of his time to transmission: he has taught at the CNS MD in Paris since 2001 and the Haute École de Musique in Geneva since September 2005, and from 2002 to 2013 he also taught at the Escola Superior de Música de Catalunya in Barcelona, where he created the historical cello class.
In 2011 he founded the Vannes Early Music Institute (Brittany), which comprises notably a European academy of early music, an instrument-making workshop and a resource centre devoted to repertories from the Renaissance to the nineteenth century.
Maude Gratton
Born at Niort, Western France, in 1983, Maude Gratton enjoys an international career as keyboard soloist on organ, harpsichord and piano. She also performs regularly alongside such musicians as Jerome Hantai, Philippe Pierlot, Damien Guillon, and Bruno Cocset. For several years, she has been a member of the Collegium Vocale de Gent under Philippe Herreweghe and of Le Concert Français under Pierre Hantai.
She is a founder member of Il Convito, a chamber music ensemble formed in 2005. It was prizewinner on the Declic programme sponsored by Cultures France in 2007. The ensemble has appeared at numerous festivals in France (La Folle Journee, Saintes,la Roque d'Antheron...) and abroad (North, South and Central America, Belgium, Sweden...). In recent years, she has founded and now directs various projects in Western France, including L'Academie de Musique de Saint-Loup, and the Musiques en Gatine festival. She also takes part in the Vannes Early Music Institute directed by Bruno Cocset.
Her first solo recording featured works by Wilhelm Friedemann Bach. It won a Diapson d'Or in 2009 and was Editor's Choice in Gramophone magazine. She was organ soloist in music by JS Bach on the debut CD of the Banquet Celeste, conducted by Damien Guillon, as well as in music by [the German Baroque organist Matthias] Weckmann, directed by Philippe Pierlot.
Several CDs have appeared on Mirare in 2014 and 2015 : sonatas for cello and piano by the eighteenth century Anglo-French composer Geoges Onslow with soloist Emmanuel Jacques, and JS Bach's The Musical Offering with the Ricercar Consort. Still to come is a second volume of WF Bach's harpsichord concertos of. A disc of organ solos by JS Bach will appear on Phi, Outhere music, in 2016.
Maude Gratton is a graduate of the Paris Conservatoire (Conservatoire National Superieur de Musique) in harpsichord, basso continuo, organ and Renaissance counterpoint. She took second prize in the Concours International d'Orgue at Bruges, 2003, and was declared Young Soloist of the Year 2006 on Radios Francophones Publiques (French Public Radio).

Booklet for Beethoven Sonatas for Fortepiano and Cello, Vol. 1