---
Album info
Album including Album cover
Wolfgang Amadeus Mozart (1756 - 1791): String Quintet No. 1 in B-Flat Major, K. 174:

1

String Quintet No. 1 in B-Flat Major, K. 174: I. Allegro moderato

09:09

2

String Quintet No. 1 in B-Flat Major, K. 174: II. Adagio

06:57

3

String Quintet No. 1 in B-Flat Major, K. 174: III. Menuetto ma allegretto

03:27

4

String Quintet No. 1 in B-Flat Major, K. 174: IV. Allegro

05:53

String Quintet No. 3 in C Major, K. 515:

5

String Quintet No. 3 in C Major, K. 515: I. Allegro

13:17

6

String Quintet No. 3 in C Major, K. 515: II. Menuetto. Allegretto

05:47

7

String Quintet No. 3 in C Major, K. 515: III. Andante

08:15

8

String Quintet No. 3 in C Major, K. 515: IV. Allegro

07:25

String Quintet No. 4 in G Minor, K. 516:

9

String Quintet No. 4 in G Minor, K. 516: I. Allegro

10:56

10

String Quintet No. 4 in G Minor, K. 516: II. Menuetto & Trio. Allegretto

05:12

11

String Quintet No. 4 in G Minor, K. 516: III. Adagio ma non troppo

08:04

12

String Quintet No. 4 in G Minor, K. 516: IV. Adagio - Allegro

10:11

String Quintet No. 2 in C Minor, K. 406:

13

String Quintet No. 2 in C Minor, K. 406: I. Allegro

08:12

14

String Quintet No. 2 in C Minor, K. 406: II. Andante

03:27

15

String Quintet No. 2 in C Minor, K. 406: III. Menuetto in canone

04:15

16

String Quintet No. 2 in C Minor, K. 406: IV. Allegro

06:10

String Quintet No. 5 in D Major, K. 593:

17

String Quintet No. 5 in D Major, K. 593: I. Larghetto - Allegro

09:08

18

String Quintet No. 5 in D Major, K. 593: II. Adagio

05:58

19

String Quintet No. 5 in D Major, K. 593: III. Menuetto. Allegretto

04:52

20

String Quintet No. 5 in D Major, K. 593: IV. Allegro

05:19

String Quintet No. 6 in E-Flat Major, K. 614:

21

String Quintet No. 6 in E-Flat Major, K. 614: I. Allegretto di molto

07:35

22

String Quintet No. 6 in E-Flat Major, K. 614: II. Andante

06:19

23

String Quintet No. 6 in E-Flat Major, K. 614: III. Menuetto. Allegretto

03:57

24

String Quintet No. 6 in E-Flat Major, K. 614: IV. Allegro

05:35

Total Runtime

02:45:20
Info for Mozart: The String Quintets

The Klenke Quartett, based in Berlin and Thuringia, was founded in 1991 at the Musikhochschule Weimar. Since then, and still in its original formation, it has enriched the concert life "as one of the most distinguished European ensembles." (Gewandhaus-Magazin). The quartet regularly plays with violist Harald Schoneweg. Their close artistic bond and homogeneity in interpretation makes this new complete recording of Wolfgang Amadeus Mozart's Six String Quintets, released in a premium 3-CD box set, a recording with reference character, unveiling all the nuances between joy and contemplation, the distinct refinement and condensation, and most of all of all the soundscapes and compositional techniques in Mozart's Quintets.
Says first violinist Annegret Klenke: "Interpreting Mozart is always a challenge. Approaching his work requires humility first and foremost. As a musician, you can't hide anything when dealing with Mozart. Everything lies open. And it is well known that simplicity, straightforwardness, and reduction to the bare essentials are often what makes the music so appealing. We love the honesty that Mozart's music demands of an ensemble."
The Klenke Quartett, based in Berlin and Thuringia, was foun-ded in 1991 at the Musikhochschule Weimar. Since then, and still in its original formation, it enriches the concert life "as one of the most distinguished European ensembles." (Gewandhausmagazin).
Klenke Quartett
Harald Schoneweg, viola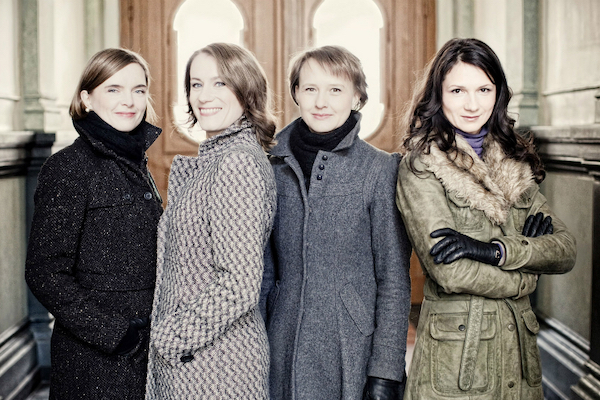 Klenke Quartett
Seit über 25 Jahren bereichert das Klenke Quartett in unveränderter Besetzung das internationale Konzertleben. Bestehend aus vier Musikerinnen hat sich das Ensemble als eines der bedeutenden deutschen Streichquartette etabliert und gilt "als eine der profiliertesten europäischen Formationen" (Gewandhaus- Magazin). Tiefgründigkeit, Gesanglichkeit, intimes Musizieren gepaart mit einer starken Programmdramaturgie sowie einer Klangintensität bis in den leisesten Ton zeichnen das Klenke Quartett aus.
Zahlreiche CD-Aufnahmen dokumentieren das umfangreiche Schaffen des Klenke Quartetts. Ihre eindrückliche Live-Aufnahme der instrumentalen Passionsgeschichte "Die sieben letzten Worte unseres Erlösers am Kreuze" von Joseph Haydn (Berlin Classics, 2008) wurde von der französischen Zeitschrift Le Monde de la musique mit dem begehrten Choc du Mois prämiert. Bis 2010 erschienen ihre Gesamteinspielung der Zehn Berühmten Streichquartette von Wolfgang Amadeus Mozart (Hänssler). Diese Einspielung erhielt in Cannes den Midem Classical Award und gilt dem Harenberg Kammermusikführer als Referenzaufnahme. Über ihre jüngste CD mit Werken von Schubert urteilte die Luxemburgische Pizzicato 2015 "Diese Schubert-CD ist ein Glücksfall und ein absolutes Must!" und zeichnete das Ensemble zum wiederholten Male mit dem Supersonic Award aus. Ihre kommende Veröffentlichung umfasst eine CD-Box mit Mozarts Streichquartetten mit Harald Schoneweg und wird bei Accentus Music erscheinen.
Konzerte führten das Klenke Quartett 2018 in den Iran, nach Japan und in die Niederlande sowie zu zahlreichen deutschen Kammermusikserien. 2019 begeht das Klenke Quartett das 100-jährige Bauhausjubiläum mit einem Festprogramm mit Werken von Beethoven, Webern, Tailleferre und Schulhoff und ist damit u.a. beim MDR- Musiksommer zu erleben.
Ihre exquisite Weimarer Konzertreihe "Auftakt" verstehen die vier Musikerinnen als eine Hommage an ihren Gründungsort Weimar (Ensemble-Gründung 1991 an der Musikhochschule Weimar).
Wichtige Mentoren waren dem Ensemble im Laufe seines Bestehens Norbert Brainin (Amadeus Quartett), Ulrich Beetz (Abegg Trio), Harald Schoneweg (Cherubini Quartett) und Sándor Devich (Bartók Quartett). Die Zusammenarbeit mit Musikerkollegen ist dem Ensemble eine wichtige Inspiration. So war und ist das Klenke Quartett u.a. mit Martin Stadtfeld, Ragna Schirmer, Christina Fassbender, Clemens Trautmann, Matthias Kirschnereit, Alexander Bader sowie dem Auryn- und Vogler-Quartett zu erleben.
Die europäische Erstaufführung des Konzertes "The Rave and the Nightingale" des 1968 geborenen Australiers Matthew Hindson durch das Klenke Quartett mit der Jenaer Philharmonie unter der Leitung von Nicolas Milton wurde im Sommer 2008 von Publikum und Kritik begeistert gefeiert. Neben diesem Werk zählte auch das Konzert für Streichquartett und Orchester von Arnold Schönberg zum Repertoire des Klenke Quartetts.
Ein besonderes Anliegen der vier Musikerinnen (selbst Mütter von insgesamt 9 Kindern) ist es, mit Kinder- und Familienprogrammen bereits die ganz junge Generation für die Kammermusik zu begeistern. Die Kindermusikproduktion "Die kleine Hexe" nach dem Kinderbuchklassiker von Otfried Preußler führte das Klenke Quartett in die Tonhalle Düsseldorf, die Kölner Philharmonie, die Luxemburger Philharmonie, die Hamburger Laeiszhalle sowie in das Wiener Konzerthaus.
Harald Schoneweg
Der Geiger und Bratscher Harald Schoneweg zählt Igor Ozim, Nathan Milstein und Sandor Vegh zu seinen wichtigsten Lehrern. Er studierte an den Musikhochschulen in Köln und Düsseldorf und absolvierte 1980 sein Konzertexamen. Als Mitglied des Cherubini-Quartetts gewann er zahlreiche Wettbewerbe und bekam 1988 einen exklusiv Schallplattenvertrag bei EMI – Electrola. Außerdem war er als Geiger im Rubin-Trio und als Bratscher im Linos-Ensemble tätig. 1987 gründete Harald Schoneweg ein Kammermusikfestival in Badia Passignano (Florenz), bei dem er als künstlerischer Leiter bis 2003 Musiker aus aller Welt zu besonderen Konzerten in die Toscana einlud. Seit 1997 ist er Professor für Kammermusik an der Musikhochschule Köln. Führende Ensembles der jüngeren Generation wie u.a.. das "Trio con Brio" ,das Leibniz Trio, das " Cuarteto Casals " das " Twins Quartett ,das "Schumann" Quartett, das "Klenke und das Schnitzler- Quartett haben mit ihm gearbeitet.
Neben seiner Unterrichtstätigkeit spielt er zurzeit im Goldberg-Trio und verschiedenen Kammermusikensembles. Er unterrichtet in regelmäßigen Abständen bei Meisterkursen und ist Juror bei verschiedenen internationalen Wettbewerben.

This album contains no booklet.