---
Album info
Album including Album cover
I`m sorry!
Dear HIGHRESAUDIO Visitor,
due to territorial constraints and also different releases dates in each country you currently can`t purchase this album. We are updating our release dates twice a week. So, please feel free to check from time-to-time, if the album is available for your country.
We suggest, that you bookmark the album and use our Short List function.
Thank you for your understanding and patience.
Yours sincerely, HIGHRESAUDIO
1

On Raglan Road

04:12

2

Dirty Old Town

04:17

3

Black Is The Colour

03:55

4

Oh Shenandoah

04:13

5

The French March

02:07

6

Only Our Rivers Run Free

03:53

7

Greensleeves

02:56

8

My Lovely Rose Of Clare

03:01

9

Four Green Fields

04:41

10

Graih Foalsey

03:14

Total Runtime

36:29
Info for Grace

"Grace" - The first studio album by Angelo Kelly in over 10 years!
In Angelo Kelly's new album "Grace" you experience the musician as close and personal as never before. Because it is an album with those "songs [...], some of which have accompanied me all my life and which mean a lot to me", according to the artist himself.
The special thing about it: all songs are "one-takes" and were recorded and mixed analog with a tape machine. The unique voice of Angelo Kelly is accompanied by the Irish traditional tones and melodies of the musician. Nothing retouched or jazzed up, just real and authentic!
"It's just the most honest way to produce an album. The album is full of emotions and I think it will touch many people - and that's what music is all about!", says Angelo Kelly.
With "Grace," the artist takes listeners on an intimate musical encounter. During the recording sessions, all the musicians were together in one room. This created a kind of "campfire romance" that perfectly captures the vibe and passion of each musician.
Angelo Kelly about the making of the album:
"Grace" is an unusual album and you could say it came about by accident.
In the summer of 2022, I was on tour with my wife, our five children and our band. It was the first time in three years, because some of our tours had to be cancelled or postponed due to the worldwide events in 2020/2021. Finally, we were able to continue our live activities as a family band and we had just started working on a new "Angelo Kelly & Family" studio album. The plan was to record it and release it in the spring of 2023.
I have been a collector of vinyl records for many years, so I wanted to do something special for the vinyl edition of the next "Angelo Kelly & Family" album. I wanted to add an extra vinyl record to a full album that was only available on the bonus vinyl, and that's how these recordings came about. I had the idea to go into the studio for a few days with my musicians and record songs that I grew up with and that meant a lot to me. Very simple and straightforward, without overproduction. We just played a few songs together in a room.
During the open-air tour in the summer, I realized that things had changed a lot since the last time we toured as a family. The kids were growing up and starting to make their own lives and plan their futures. I realized that it was going to be much harder for us to continue as a family band in the years to come, and that it wasn't going to be the same.
This realization dawned on me more and more. When we had a show in Kelbra, Germany, it finally hit me: I knew it was over. The chapter of "Angelo Kelly & Family" as a band was over, and I knew I had to accept the fact that the tour would be over in a few weeks. I was devastated and cried for hours. For the past 10 years we had been active as a band, recording albums and touring. I was very proud of what we had been able to accomplish together. I had put so much time and energy into it, and now I had to let it all go. That night we had to give a concert, and it was one of the most difficult concerts I have ever experienced.
I was very sad and could hardly sing, but my wife, our children and also the band helped me get through it. The very next day I was supposed to go to the 'Renaissance Studio' in Cologne with Tom, Adam, Calum, Matthias and Claus to record this "bonus" album. A bonus album for an "Angelo Kelly & Family" album that I now knew was not going to happen. I wasn't sure I could sing at all because I was still very emotional and heartbroken. I thought about stopping the recording. Everyone involved would have been fine with that, but I said to myself, we're here anyway and I'm going to give it a try.
We set up in a circle in a room with our instruments and a couple of microphones. We didn't wear headphones and just listened to each other as if we were in our living room. We started playing these songs that have meant a lot to me for most of my life, and I felt a huge portion of grace being poured out on me. I was surrounded by my friends, some of whom I've been playing music with for over 20 years. I sang songs that gave me a sense of direction and a sense of heritage. I could hear every note of all the instruments around me, without any technology, and felt caressed and inspired to sing. Also, the way we recorded was something I had wanted to do for so long. We worked on a song for a while until we all knew what we wanted to play, and then we recorded the song in one take. That was it. The whole album wasn't edited and there were no computers involved. We just played the songs all together, without any overdubs, and recorded them on an analog tape machine, just like the old days.
That felt so right and honest. That feeling gave me a lot of peace of mind. I didn't know why we were recording these songs, since there wasn't going to be a new "Angelo Kelly & Family" album, which meant this wasn't going to be a "bonus" album anymore. But I didn't care why or what we were recording these songs for. I was just open to see what would happen, and in that moment it became an amazing healing process for me.
These recordings are full of pain, but also full of happiness, and they mean a lot to me. It's definitely not a perfect album, but in a moment when I was on my knees, God poured grace on me in the form of these recordings. That's why I decided to share them with you guys. I'm very grateful to all my friends in the studio who helped me in that moment and inspired me to sing with all my heart."
Angelo Kelly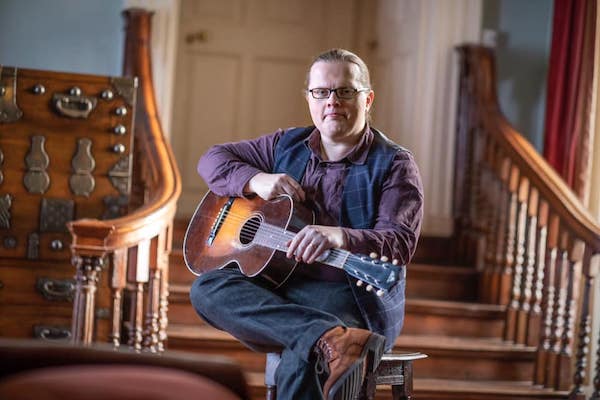 Angelo Kelly
As the youngest member of the pop and folk band The Kelly Family, Angelo Kelly was already a star as a child and started his solo career in 2006. Since 2015 he has been performing successfully with his wife and their five children and continues the musical family tradition. Tickets for the concerts of Angelo Kelly & Family are no less popular today than those of the Kelly Family.
Angelo Gabriele Kelly was born on December 23, 1981 in Pamplona, Spain, as the twelfth child in the family. Before he is a year old, he loses his mother. Angelo and his siblings grow up in modest circumstances and travel with their father Dan Kelly for street concerts across Europe and the USA. Angelo Kelly's first singing passages at the age of three are found on the 1985 single "Hiroshima, I'm Sorry".
Angelo Kelly has been constantly on tour since he was three years old as lead singer. Angelo Kelly's first self-written song, "Pee-Pee", appeared on the 1989 album "Keep On Singing". Angelo Kelly also mastered several instruments early on. At first he performs with guitar and small percussions. He was later fascinated by drums: he became a master student of jazz drummer Billy Cobham.
After several years of average success as street musicians, the Kelly Family made their commercial breakthrough in 1994 with the album "Over The Hump". The single "An Angel" from the album made 12-year-old Angelo Kelly and his brother Paddy overnight stars.
Angelo Kelly demonstrated his talent as a composer at the age of 13: he wrote the title "I Can't Help Myself" for the Kelly Family's ninth studio album "Almost Heaven", which was released in 1996. The single release storms the charts and reaches the top position in Germany and Switzerland, among other places. Remarkable: This song is the first performed by Angelo Kelly after his voice broke.
At one of the typical street concerts of the Kelly Family in Rostock-Warnemünde in 1991, Kira Harms entered Angelo Kelly's life: Angelo's sister Maite was friends with the girl. A year later, teenie Angelo falls head over heels in love with the Rostock resident, who is almost three years her senior.
Shy, full of heartbreak and happiness, Angelo Kelly processes his feelings in songs. In addition to the hit "I Can't Help Myself", he writes other successful songs for Kira, including "Once In A While", "Because It's Love" and "I Will Be Your Bride". But it was only after years of close friendship that Kira found Harms and Angelo Kelly together as a couple in 1998. They married in the summer of 2005. He lives in Ireland with her and their five children.
Angelo Kelly continued to appear in the Kelly Family shows until 2007. But even then he begins to reorient himself musically. Increasingly focused on drumming, he released Call And Response DVD in 2004 with his teacher Billy Cobham. He also plays the drums for various CD productions – including the musical "Pech undulphur" composed by Hans Rudolf Kunze.
Angelo Kelly started his solo career in 2006 with his own label "Ten 4 One" and the album "I'm Ready". Further studio albums followed, including "Rejoice And Be Glad" in 2007 and "Lost Sons" in 2008. Various live albums were also released and in 2016 the anniversary compilation "10 Years - Angelo Kelly".
However, since the release of the album "Irish Christmas" in 2015, Angelo Kelly has celebrated the greatest successes after his career together with the Kelly Family - the first production together with his wife and children as Angelo Kelly & Family.

This album contains no booklet.