---
Album info
Album including Album cover Booklet (PDF)
Kurt Weill (1900 - 1950): Der Silbersee - Ein Wintermärchen (Excerpts):

1

Weill: Der Silbersee - Ein Wintermärchen (Excerpts): Overture

02:43

2

Weill: Der Silbersee - Ein Wintermärchen (Excerpts): No. 3, Der Bäcker backt ums Morgenrot

03:28

3

Weill: Der Silbersee - Ein Wintermärchen (Excerpts): Spoken Introduction to Was zahlen Sie

00:51

4

Weill: Der Silbersee - Ein Wintermärchen (Excerpts): No. 7, Was zahlen Sie für einen Rat

05:08

Symphony No. 1 "Berlin":

5

Weill: Symphony No. 1 "Berlin"

18:56

Symphony No. 2 "Symphonic Fantasy":

6

Weill: Symphony No. 2 "Symphonic Fantasy": I. Sostenuto - Allegro molto

08:35

7

Weill: Symphony No. 2 "Symphonic Fantasy": II. Largo

10:55

8

Weill: Symphony No. 2 "Symphonic Fantasy": III. Allegro vivace - Presto

06:41

Total Runtime

57:17
Info for Weill: Orchestral Works

Although Kurt Weill's principal legacy lies in music theatre works of both popular appeal and intellectual weight, he was equally at home in purely orchestral works as evidenced by his two symphonies. Written just over a decade apart, they reveal his chameleon-like ability to work with any range of style and form. The Symphonie in einem Satz (Symphony in one movement), completed when he was barely 21, adopts an expressionist idiom that shows intricate writing, dense counterpoint and quick shifts reminiscent of Schoenberg's First Chamber Symphony. Completed in France in 1934 after Weill had to flee Nazi Germany, the Fantaisie symphonique is filled with allusions to the 'sung ballet' The Seven Deadly Sins, composed at the same time.
Opening the programme is a selection from the 'play with music' Der Silbersee (The Silver Lake), a commentary on commercial greed. As in The Threepenny Opera, the vocal parts were composed for singing actors rather than opera singers. Steeped in the world of Weill, conductor, composer and chansonnier HK Gruber performs the songs himself in his own inimitable way, giving an unusual authenticity to the interpretations.
Swedish Chamber Orchestra
Heinz Karl Gruber, conductor and voice (tracks 2—4)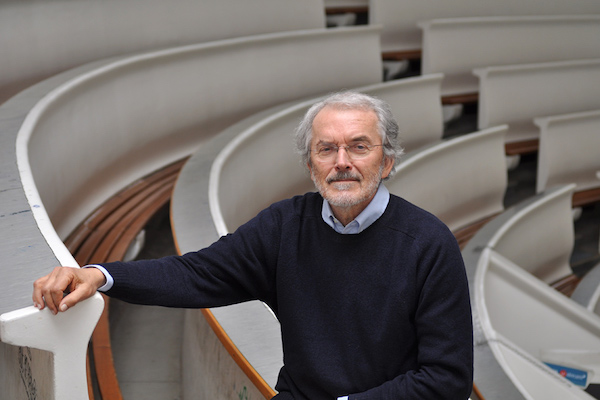 Heinz Karl Gruberr
Composer, conductor and chansonnier, HK Gruber was born in Vienna in 1943 and sang with the Vienna Boys' Choir as a child, going on to study at the Vienna Hochschule für Musik. In 1961 he began playing double bass with Ensemble 'die reihe' and from 1969 to 1998 was a member of the Radio Symphonieorchester Wien. Gruber first began performing as a singer/actor with the 'MOB art and tone ART' ensemble which he co-founded in 1968 with fellow Viennese composers Kurt Schwertsik and Otto Zykan.
He composes in his own highly individual style, and his music is performed internationally by the world's leading artists and orchestras such as the Vienna Philharmonic, New York Philharmonic, Berliner Philharmoniker and at the Lucerne Festival, Carnegie Hall and BBC Proms. Gruber is particularly noted for his concertos, including the percussion concertos Rough Music and into the open..., Aerial for trumpeter Håkan Hardenberger and his Cello Concerto written for Yo-Yo Ma and premièred at Tanglewood in 1989.
Gruber was awarded Austria's most prestigious cultural prize, the 2002 Greater Austria State Prize, and in 2009 was announced as an honorary member of the Wiener Konzerthaus, following a great tradition of musicians to also receive this accolade, including Igor Stravinsky, Pierre Boulez, Leonard Bernstein and Claudio Abbado. Gruber is an honorary lifetime trustee of the Kurt Weill Foundation.
The Swedish Chamber Orchestra (SCO)
was founded in 1995. Thomas Dausgaard was chief conductor from 1997 until 2019, a collaboration which placed the SCO on the international arena. Since August 2019 the orchestra's chief conductor has been Martin Fröst, with whom it continues its touring and recording activities.
The tightly-knit ensemble of 39 regular members is internationally established as a unique voice with a wide range of repertoire and styles. The orchestra made its UK and USA débuts in 2004, performing at the BBC Proms and the Lincoln Center's Mostly Mozart Festival. Since then, the SCO has toured regularly throughout Europe, made its début in Japan, and has been invited to festivals including Bergen, Schleswig Holstein, Rheingau and Salzburg. Highlights include performances of Beethoven's Missa Solemnis in 2017 at New York's Lincoln Center and The Brandenburg Project at the BBC Proms in 2018.
For BIS, the orchestra has recorded complete Schumann, Brahms and Schubert symphony cycles with Dausgaard, as well as acclaimed discs of contemporary works in collaboration with conductor/composers HK Gruber and Brett Dean.
Through its high level of commitment, the orchestra has additionally built up an impressive list of visiting artists, including Pierre-Laurent Aimard, Håkan Hardenberger, Lisa Batiashvili, Leif Ove Andsnes, Michael Collins, Isabelle Faust, Andrew Manze, Richard Tognetti, Nina Stemme, Pekka Kuusisto, Jörg Widmann, Nikolaj Szeps-Znaider, Thomas Zehetmair, Tabea Zimmermann and François Leleux.

Booklet for Weill: Orchestral Works